...and more off-piste
PROOF that Savile Row continues to attract young people to whom the Row epitomises style and glamour is Jasper Littman. He does not reside in the Row, instead giving a mobile service for fittings, but has a 'sitting' within the premises of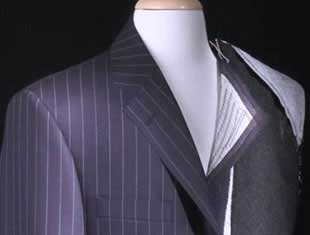 cloth merchants, Holland & Sherry. A sitting is a long established practice of the trade, whereby tailors are accomodated within the premises of others.
He dates much of his customer base back to when he worked for Burberry's visiting service, and when that closed many clients followed him to Gieves & Hawkes, and then to Kilgour. When he started his own business 4 years ago, they remained loyal. He has continued to build on the young-ish City/West End profile of these customers, who value the fact that he will come to them.
Now, he is working on creating a signature line, to represent his take on a classic Savile Row suit. "It will be classic but with a modern twist. A styling a 30-year old could wear and not look as though he is wearing his grandad's hand-me-down. Not too military, with a natural shoulder line, and lots of waist suppression." Above, a work in progress.
He has no plans to move into Savile Row, having looked at the available premises. "The cost would contradict my reason for setting up the company as a visiting service, which was to save on overheads."
East End base for international success
Timothy Everest is perhaps one of the best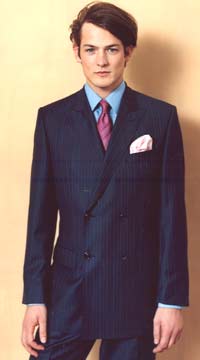 known and most commercially successful of tailors. He emerged from the sparkling coterie of the Tommy Nutter establishment and opened his own shop in London's then run-down area of Spitalgate in 1991, now very fashionable. He wanted to be apart from the "stuffiness" of Savile Row.
Since then, he has gone on to establish a classic bespoke business as well as a wide portfolio of design and collaborative work on an international basis. Daks, Marks & Spencer and Levi's are just some of the major brand names that have acquired his services, he has a major retail operation in Japan, and launched a new ready-to-wear collection 'White Label' for this autumn.
It seemed he wanted to return to his roots. He reserved one the new shops on the site that formally housed Anderson & Sheppard in Savile Row. But on reflection, he told us, he has decided against it. "I'm not saying that I will never go back. But I just don't feel right about this site, at this time." So he is currently concentrating his efforts on seeing the English soccer team smartly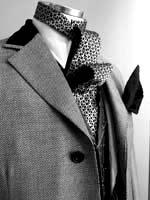 turned out this season, as their official supplier. Two of his designs are seen here.
Other notables outside the Row include: John Pearse, another Soho-ite, who has probably dressed more show-biz/pop stars than anyone else; Tom Brown, the firm that has probably dressed more future Prime Ministers than anyone else, as tailors to Eton school, with premises there and in Savile Row's neighbouring Sackville Street; and Fallan & Harvey, also in Sackville Street, classic bespoke firm run by Peter Harvey.