Get the butler to find your ancestors
Tracing your ancestors has become something of a craze, boosted by recent TV programmes and aided by the internet. But ahead of the trend were the Americans, who have been fetching up in remote parts of England, Scotland, Wales and Ireland in search of their roots for years.
Now, the splendid Shelbourne Hotel in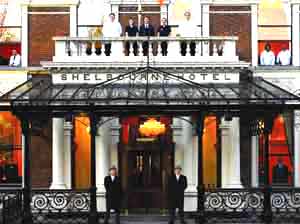 the heart of Dublin has come up with a whiz of an idea to help them. They have appointed a Genealogy Butler.
This appointment comes after years of assisting guests start out on the trail of their Irish ancestry on an ad hoc basis and aims to ensure that they don't get led up the garden path by well meaning Blarney.
Dublin native Helen Kelly has been helping people of Irish ancestry trace their roots for the past 13 years and now is the newly appointed genealogy butler at the recently restored and reopened Shelbourne. As an experienced professional genealogist and a member of the Professional Association of Genealogists, she is well qualified to help guests sifts through information and she will draw up a practical research plan for Irish genealogical repositories. Finally, she will help plan visits for guests to their own Irish homeland.
The service may be booked on-line once reservations are confirmed at The Shelbourne and an on-line assessment form will then be sent to complete prior to arrival in Dublin, so that the Genealogy Butler can begin research before they arrive. Cost for the service is £70/$140 per hour, which includes the initial research and then an appointment with Ms. Kelly.
There's no guarantee of course that anyone is going to be reunited with long lost relatives or trace back to their imagined idyllic homestead but at least armed with Ms Kelly's advice they can set out on the trail with some assurance.
It provides an enjoyable way to see Ireland – and the butler will also be only too happy to check the searchers into other hotels within the Marriott Group dotted around Ireland if they wish. There's a treat. www.marriott.c0m
Beat out that fury on a drum
For the man who has everything, what about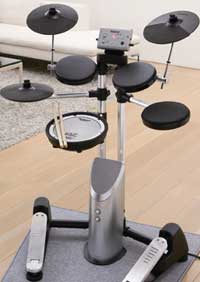 a drum kit? As presents go, this might not be a treat for the neighbours but for frustrated Keith Moon's a new home electric drum kit could provide hours of joy and a release for pent-up frustrations.
This latest development comes from Roland, modestly claimed to be the leading electronic drum maker on the planet. The kit takes up just over one square metre of space, so may be neatly positioned in the sitting room or garden shed, and is easy to set up and play.
We're puzzled by the claim that it is remarkably quiet - who wants a quiet drum set? But evidently the volume can be turned up, which is the joy of electronic sets, and has the same technology as Roland's professional drum kits, so the sound quality is said to be outstanding. At just £500 compared with the £2,000 for a professional set, it could put some happy man on the road to stardom. www.roland.co.uk/hd1.