DRESS UP - IT'S PARTY TIME!
Pulling on a T-shirt and stepping into torn jeans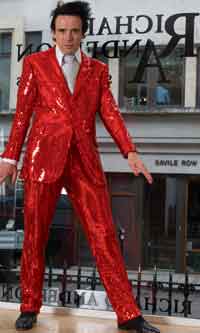 can't match tying up a white tie and brushing off a set of tails.
Anticipation and preparation are half the joy of going out on the town and though white tie occasions are now few and far between, the pleasure and confidence given by dressing up in evening wear is what good clothing is all about.
So, as the party season gets underway, let's hope more young men are rediscovering these delights. Certainly, tailors report increasing demand for dinner jackets and suits, especially from those young City boys, splashing their cash on clothes for their evening high life.
Classic black may be the benchmark for most men and most occasions but, as shown here, Savile Row has its wild side too. Its a brave soul who will turn up at a formal do in a white dinner suit - but for clubs, dining and wining, white and coloured options are made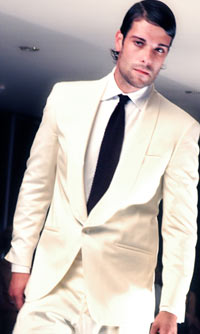 by the Row's tailors, many for showbiz names, plenty for young men keen to attract attention.

Scarlet sequin suit above made by Richard Anderson for artist Sebastian Horsley. Shawl-collared white suit left by Mark Powell.
But even the classic black dinner jacket/suit is subject to subtle style variations, making updated versions desirable - though judging by many seen at seasonal events, its often a once-in-a-lifetime purchase. Not so at the annual tailors' get-together, in February, which is easily the best-dressed male occasion of the year.
Shoulders for this season are soft and natural, there's some waist suppression, and lapels perhaps a little wider to emphasis the slight shaping, while a counter tendency is towards a skinnier shape with narrow lapels. Though black remains the classic choice, variety is provided by cloth with a self stripe patterning or a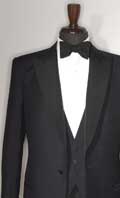 slight sheen or some texture.
Muted coloured versions, particularly for jackets, may be worn - but they need a man with personal style to carry them off to ensure that the wearer is not mistaken for a waiter. White at formal occasions is only for summer.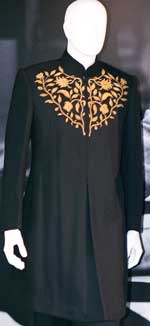 Trousers are straight and lean, with one stripe down the side – it is a double stripe on the trousers of a tail suit.
Wing collared shirts continue to be popular, though unfortunately often look awful, the points sticking out when they should be behind the bow tie, and made-up ties are all too obvious from the clip that is visible above the collar of the coat. Better to go for a plain collared dress shirt. If with studs, they should be black.
A boutonniere adds a note of colour. But never, ever, a made up flower arrangement or a flower held in a small glass phial. A plain red or white carnation, with the flower's calyx pushed through the buttonhole so that the flower is flush with the lapel is correct.
Classic dinner suit above right by Norton and Son; gold embroidered shirwani dress jacket in black wool worsted barathea, left, from Dege & Skinner, matching trousers with a gold lace stripe.