Floating home to sea the world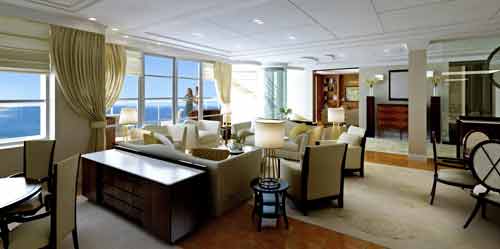 A life on the ocean waves takes on a whole new perspective when viewed with the Four Seasons Ocean Residences in mind. This isn't so much a ship as a floating city, a nautical equivalent of the Star Ship Enterprise, with every mod con and high tech refinement built in.
To be launched in 2010, it is offering a range of luxury apartments that go on sale as from this summer. A one bedroom starts at just £1.875m going up to £20m for a four bedroom triplex penthouse, and on top of this there is the £52,000-plus annual service charge.
The ship, a cooperation between BV International Holdings of Florida and the luxury Four Seasons hotel group, is but one of a number of such nautical ventures. It is part of a remarkable resurgence of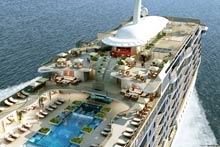 great liners in recent years, spurred by a demand for luxury travel, greater security and a certain amount of disenchantment with jet planes. Cruising has become popular, not just with the more mature, but with a younger generation of sea lubbers whose interests are specifically catered for on many cruise ships. And though the environmental impact of large vessels cannot be inconsiderable, there is a certain 'naturalness' about travel on water that has timely appeal.
But these latest vessels are going beyond the traditional cruise or port to port journeys.These are for people who want to live on a vessel that will put to sea but doesn't go bob-bob-bobbing along and provides every creature comfort of home – and then some. Forget house boats and yachts. This is gracious living in a way that meets wanderlust requirements without leaving luxury home.
The 48,600 ton vessel is 719 foot in length, offers 112 residences, and provides all the top class services associated with the Four Seasons hotel group. Only a limited number of the residences will be made available in specific regions of the world, so those keen to join this floating community should check out www.savills.com/fsor
The Ocean Residence is but the latest in a clutch of liners that have been built as floating homes for the rich and famous. The Seven Wonders of the Seas and The World of Residensea are just two others of the mega-ton vessels that are taking to the oceans. With more in the pipeline, the world's shipping lanes are in danger of becoming as crowded as land highways. So much for the loneliness of the long distance sailor.