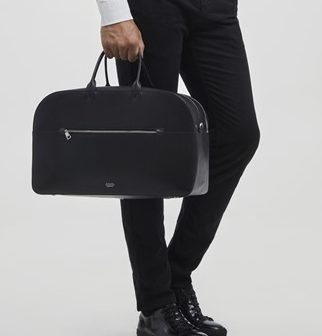 THE LAST DETAIL: By Robin Dutt
It is surely a given. Unless your choice is supremely judicious, a bag can simply ruin the silhouette of your suiting. You don't need a cross-body to trammel your intent – useful as that can be for shall we say, a hands-free experience?  Even an example carried in your hand might ruin, that all important 'line'.
I have always been a fan of elegant bags – streamlined, linear, reliable, glossy. But I have learnt a most important lesson, which to most will or could seem obvious. The more capacious, the more cram.
I have a small collection of vintage briefcases – and one especially for musical scores, with the tell-tale steel bar.  They are of no particular provenance, but the Dolphin label, handmade example delights and also the Parisian Texier document case with the retractable handles so you can carry and clutch.
And then, my sturdy barrel-chested Italian opera star of a conveyance, my cherry-black Condotti, with the Arctic white overstitch, hinting at a suiting pin or chalk stripe looking at any moment to break into 'O Sole Mio'!  Another for high days and holidays is a Moroccan saddle bag studded with ancient coinage.
If you are in the market for a good bag for whatever purpose, do have a checklist of how you'd like it to perform for you. For me, the inclusion of an outer pocket for the newspaper and immediately get-attable choses is an instant attraction and of course, it has to be streamlined.
Somehow (beloved of the French and Italians) the 'clutch' bag with a wrist strap does a suit no favours and, however masculine might be one's bent, a simple thing like this spells 'fey'. And of course, there is nothing wrong with that if, fey's your way.
So, thank heavens that Sandquist is on hand – literally. A particular favourite with the style brigade who like their generously styled box bags which are thankfully deliberately anonymous, these accessories complement your suits and add an elegant dimension of their own.
They may be roomy but crucially, they are slim too. Could this be really possible? Yes. Sanquist bags make you seem that you are carrying a work of art, in the finest, minimalist taste.
Sandquist is renowned for being ground breakers in the eco-friendly stakes, too and their Soho-based boutique has a more than fine selection of cases and bags for the discerning gent.
All products of the brand are made using organic cotton or vegetable-tanned leather and all synthetic materials contain recycled fibres. These bags are so metropolitan, so simple and classic that, in some cases, playfully oversize, they still look totally correct.
And they won't ruin the cut of yer jib.