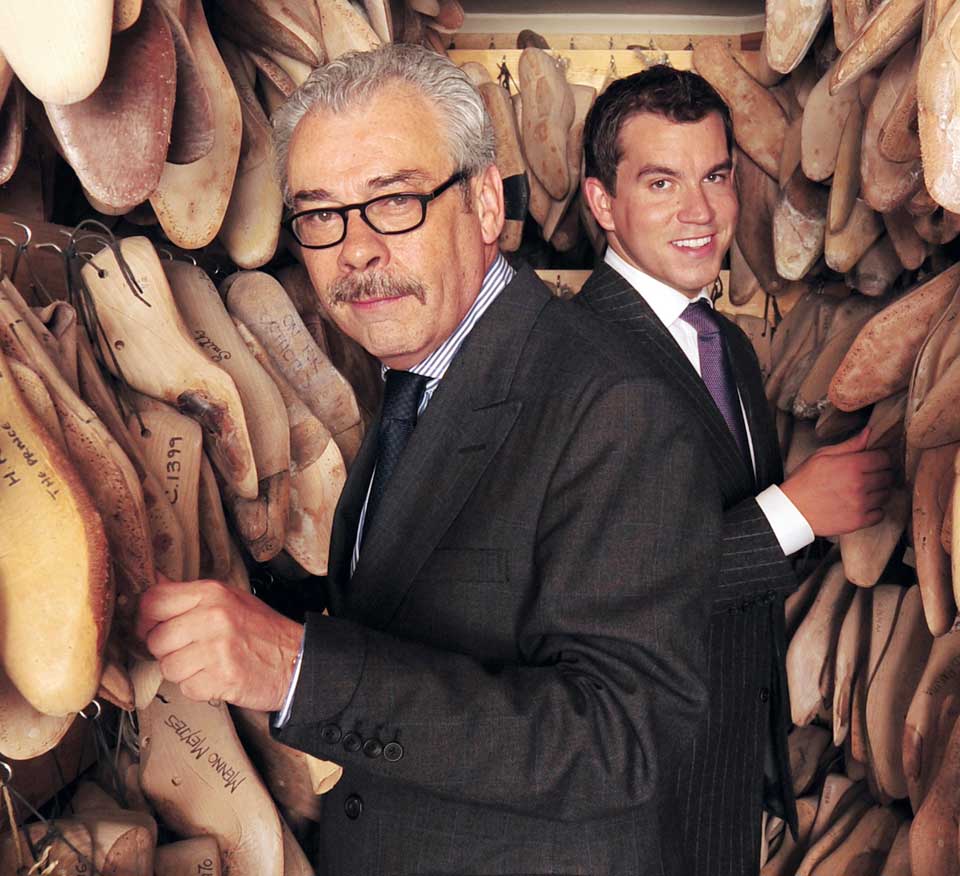 Some might baulk at paying more for a pair of shoes than a suit but there's a body of men around the world only too happy to belong to what is, admittedly, a pretty exclusive 'club'
G.J.Cleverley is the maker of handmade shoes that counts these men as its customers – though managing director George Glasgow maintains that most of them are friends. From Fred Astaire's twinkling toes to Charlie Watts drumbeat feet, Cleverley has shod the rich and the famous over the years, and continues to do so, using the same hand crafted methods as when George Cleverley first set up shop in 1958.
Since then, a steady stream of illustrious customers have stood in their stockings on a ledger while a line is hand drawn around each foot, and its vital proportions/peculiarities noted. This record forms the basis of what is a long and laborious process that can take up to a year before the final, exquisite, deliciously seductive pair of shoes is ready to be worn. "Do any of our customers actually need another pair of shoes?" asks George. "Of course not. But they can't resist them."
An affable, hail-fellow-well-met sort of chap, known to all as George, he is passionate about shoes and shoemaking. He was trained by George Cleverley, to whom he refers as the Don of Shoemakers, and is dedicated to maintaining the standards the Don set. So there are no short cuts, no scrimping on materials, no hurrying of craftsmen. Some may take a week to complete a particular task, which others may do in 2 or 3 days, but the individual decides how long it takes.
"Most of our team have been with us for years. They know what they are doing. This is concentrated hand work and there are not many who want to do the years of training and labour over a shoe all day. The tailors might not agree, but our bespoke task is more difficult than making a suit," he says with a grin.
"As Mr Cleverley used to say, if your feet are not right, your head's not right. A suit can't hurt you, but shoes can."
Not Cleverley shoes of course, made to fit to perfection, to be comfortable immediately, and to last if not for ever then certainly to provide many years of wear.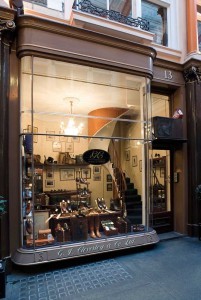 The working environment for the Cleverley team is, to say the least, somewhat compact. Above a tiny shop in Old Bond Street's Royal Arcade, a small room sees wooden lasts being honed, patterns made, skins cut, uppers formed, bottoms stitched, heels layered and finished shoes 'resting'. Five craftsmen manage not to get in one another's way, most of the time. Up another floor on the spiral stairway, George presides, but the major space here is taken by a treasure trove of lasts, the wooden shapes of each individual's foot dimensions, which go back to the days when Hollywood stars came to Cleverley.
"We keep the famous ones, but in general, if we don't hear from a customer in 10 years, we have to assume he may not be coming back or perhaps is having his shoes made upstairs!"
Styling is entirely up to the customer, who can dictate whatever odd embellishments he may desire. A signature detail of the Cleverley shoe is what its creator, George Cleverley, called "a suspiciously square toe," a softly chiselled line that continues to be popular. In Mr Cleverley's day, any customer who asked for a different toe shape was politely advised to go elsewhere, but "it's a different world now," says the present M.D.
He travels a lot visiting customers in Japan, Korea, Australia, Europe and America – "God bless the Americans, they really appreciate quality" – where his son, George Jnr, now runs an outpost in Beverley Hills. A new development is a small ready-made collection for Anderson & Sheppard, with whom he shares a lot of customers.
Outside of working hours, he says he goes to the gym, but don't we all. He lives in Chelsea, hard by the Thames, and is a life long supporter of Chelsea Football Club, and may enjoy a session in the pub after a game.
But really his heart is in shoemaking. "I get here early, have a coffee and a little mooch around the workroom to see what's on, what's in process. And I'm the happiest man in the world!"
Looking at the passing cavalcade of male footwear on the average British High Street it might be easy to believe that we have become a nation of sporting enthusiasts. So ubiquitous has the dreaded trainer become that it is all too easy to see why so much of Britain's once vaunted shoemaking industry has disappeared.
Yet there are still those dedicated to making fine shoes, both handmade bespoke and bench made. And new additions to their ranks indicate a continuing and even renewed appreciation of the importance of the bottom line. After all, traditionally, one could tell a man by his shoes.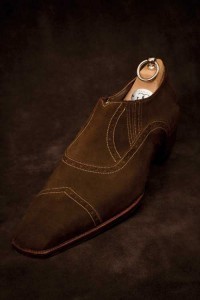 New arrival upon Savile Row is the shoe shop of Gaziano & Girling, which opened in April. Tony Gaziano and Dean Girling, both bespoke shoemakers, established the company just eight years ago. It has rapidly become known for high quality shoes both in the classical mould and also for fresh designs, and the launch of the Row shop emphasises its bespoke credentials. There are also benchmade designs.
Newer is the collection from Justin FitzPatrick, launched at tailor Timothy Everest's shop in Shoreditch earlier this year. This comes after his training around bespoke makers and combines traditional designs with some quirky details. He is responsible for the styles and then the shoes are benchmade in Spain.
Only available online at www.theshoesnob.com
Peerless bespoke shoe and boot maker is John Lobb Ltd. The company has been making them for around 150 years, over which time the great and the good have made their way to the fine, oak-panelled old building in St James's that is its only shop. It is still run by the Lobb family. The John Lobb on Jermyn Street is a separate company.
Carreducker has a workshop on-site at Gieves & Hawkes, so that customers can go straight from ordering a new suit to ordering shoes to complement. The company doesn't just make its own bespoke shoes and boots, but also helps others make theirs, running courses and offering supplies and consultancy on every aspect of shoe making.
Cheaney is a fine old English shoe brand, one of the few remaining in Northampton. By a quirk of fate, it is now again owned by the Church family, to which it was first sold nearly 50 years ago. Church, once great rivals of Cheaney, was subsequently acquired by Prada, and then the Church brothers, Jonathan and William, bought out Cheaney. They remain committed to handcrafted benchmade shoes in the factory where Cheaney has been based since 1886.
The latest shoe brand entry is Duggers, concentrating upon an online service at www.duggersoflondon.co.uk. Founded by a father and son team, the collection offers traditional British designs with quality benchmade production in Portugal, and at a reasonable price level.