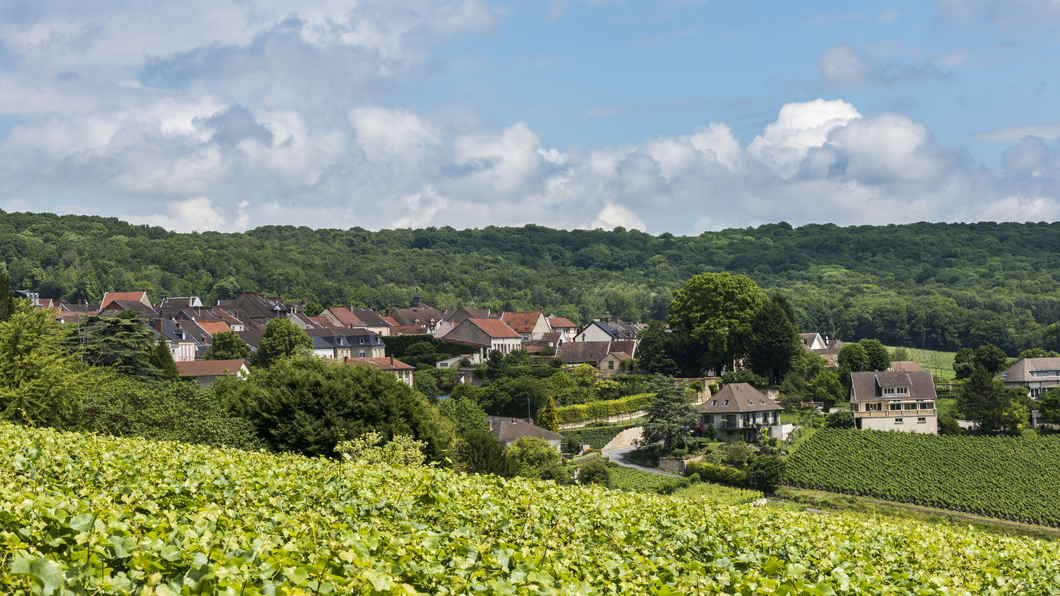 By Helena Nicklin, wine correspondent
Understated elegance and purity or stylish opulence and glamour. Which do you prefer? If you ask me, I'll say both (and in magnum, please!) but for different moods, if not different occasions. Krug and Dom Pérignon are two of Champagne's most iconic houses, but they couldn't be more different. I went behind the scenes to meet the faces behind the names and see if the individual experiences matched what I found inside those rather beautiful bottles.
Champagne Krug
Everything about Krug screams luxury. From the elegant labels flecked with gold and the unmistakable bottle shape, to the Krug house itself and the all people in it. Decked out in just the right amount of gold and red-purple (the house pantone, of course), offset with the stone of the ancient family house, at Krug you notice all the details – and there are many: The K tessellation in the dark gold wallpaper, the gold leaf in the delicious dessert; even the monogrammed napkin rings look like they could double up as gold bangles. I'm tempted to slip one onto my wrist.
We meet Olivier Krug, the sixth generation "Prince of Krug" as I like to call him. He is well-dressed and composed, looking slick in his perfectly tailored suit. He is every inch the charming gentleman and the embodiment of all that Champagne Krug feels to be. He talks to us about the house's approach to making their wine: "Krug is unique," he says. "This is a Champagne that you cannot compare with any other Champagne." On flavour profile alone, no one would question that. Krug is famous for its dark golden hue and rich, multi-layered, baked-bread and brioche notes. So, how do they achieve such unique and complex flavours which change subtly every year, yet maintain that quintessential Krug style? The answer is simple: expert blending and an enormous library of reserve wines.
The Krug Approach: Perfecting the Blend
One advantage of being a Champagne house that goes back for generations is the opportunity to hold an incredible amount of "library" stock, i.e. small amounts of vintage wines going back many years. In Krug's case, they have 400 wines to play with, "like a painter's palette," says Olivier. A pretty analogy. The use of these aged wines from several vintages, along with their use of small oak casks, goes a long way to explaining the richness of flavour in the Krug wines.
No ordinary Non Vintage: The Krug editions explained

While Krug do make vintage wines in exceptional years and a rather beautiful rosé, their best known wine is arguably the Grand Cuvée: a "Non Vintage" wine, (one made from a blend of several years). But this is no ordinary Non Vintage (NV). NV wines are traditionally seen as more "everyday" and are made to a house style that doesn't change. At Krug however, each bottle of Grand Cuvée, despite technically being NV, tells a story. Here's why:
The Grand Cuvée has always been made up of base of wine from the current vintage (growing year), which is then blended with between 25% and 35% reserve wines. With every new year and every new blending however, a subtly different flavour profile is created – a new painting if you like. Krug calls these batches "editions". "Everything is mixed," says Olivier, "but the idea behind the edition is to give a way to follow the story." By story, there is a good one: Krug work with 200 family grape growers and each of the grower plots are vinified and tasted separately, so there are a lot of "colours" to play with every vintage. The first Grand Cuvée that was launched with its own ID as an "edition" was the 163rd edition, based on the 2007 vintage and blended from 183 wines from 12 different years (the oldest being 1990). With the ID number, the makeup of every bottle is available to those keen Krugistes who love to know all the details, from the vintage years that go into it the wine to the vineyard parcels used.
Krug Collection explained
In the Krug stable, alongside the famous Grand Cuvée, the rosé, the vintage whites and the single vineyard vintage wines (Clos D'Ambonnay, which is 100% Pinot Noir and Clos Mesnil which is 100% Chardonnay), there sits Krug Collection. These are vintage wines that have been sitting in perfect conditions at the Krug cellars to age for a few years before release. They are tasted frequently until they are deemed to have reached a new peak of drinkability. At this point, they are disgorged (several years after bottling), and sold as second revelation. 1990 Krug collection for example, sat on its lees for 25 years before disgorgement and its subsequent second release. These are truly special wines offering a new, unique view on a particular vintage. A fabulous initiative by the Champagne house and one you may recognise if familiar with Dom Pérignon's Plénitude range. At least this is one place where the two great houses have a similar vision. And it's a rather tasty one.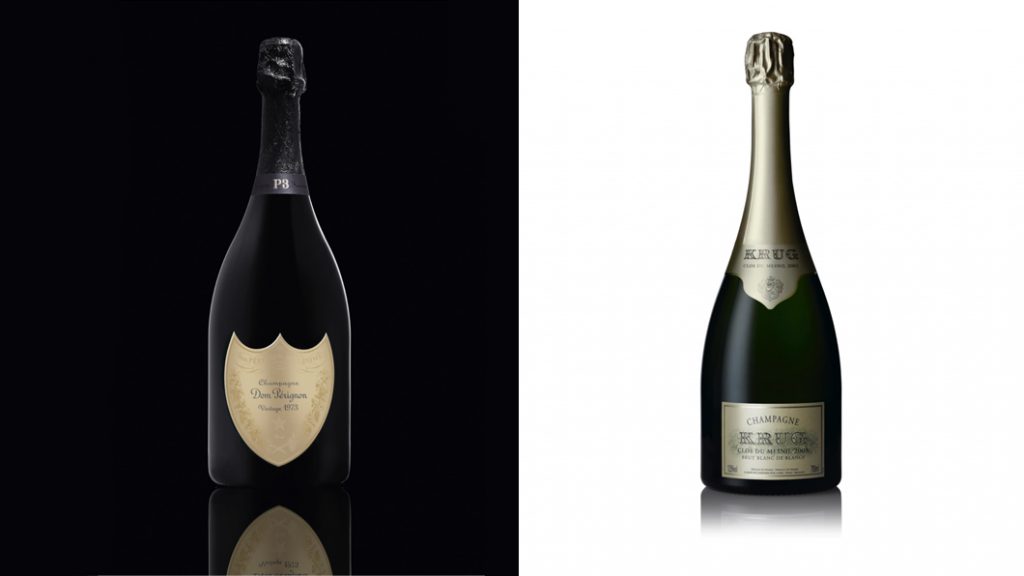 Champagne Dom Pérignon
We drive from the Krug house in the centre of busy Reims into the undulating, vine-covered hills of Hautvillers: home to the top cuvée from the Moët & Chandon stable and probably the most famous Champagne in the world: Dom Pérignon. While comparisons are not exact – we dined in the Krug's private house and did not visit the vineyards – it seemed fitting that our first stop with the Dom Pérignon Chef de Cave Richard Geoffroy was overlooking the vineyards from the walls of the famous Abbey itself. We visit the cellars that the monk Dom Pérignon kept for so many years before heading to the Abbey for a tasting in a large room with nothing in it but a long, dark wooden table; the only colour against the stark, white-washed stone walls. If Krug was intimate, cosy and packed full of eye-catching detail in sumptuous colours, this was precisely the opposite. The wines had, literally, nowhere to hide.
From humble beginnings as the youngest of seven children to a local clerk, Dom Pérignon entered the order of Saint Bénédict at the age of 17, transferring to the Abbey of Saint-Pierre d'Hautvilliers in his 30th year, where he stayed as cellar master until his death in 1715. Contrary to popular belief, Dom Pérignon did not invent champagne. In fact, he spent many years trying to prevent the secondary fermentation that creates the bubbles in the first place, as many injuries happened and much wine was spoiled by re-fermenting bottles exploding under pressure in the heat of the summer months. What Dom Pérignon did do, however, was advocate natural winemaking techniques, harvesting grapes at cooler temperatures, smaller yields and the disposal of rotten grapes, all of which come together to make a wine that is better quality, more stable and elegant. "He wanted the wine to be excellent because he wanted it to be for God," the vineyard manager tells us.
Hearing the story of Dom Pérignon, it is hard not to look at Richard Geoffroy as the Dom himself, dressed humbly as he is, with the rustic air of a man who spends most of his time outdoors. His descriptions of each wine are famously poetic and it's clear that, for him, the only thing that matters is the wine. No distractions. We are spoiled by a technical tasting of several wines side by side as we were at Krug, but the big difference here is that the focus is on the vintage rather than the blends of several years.
The Dom Pérignon Approach – Perfecting the Single Vintage
At Dom Pérignon, only vintage wines are made, i.e. with grapes all grown in a single year. What this means of course is that if the weather is not kind and the grapes are not deemed worthy, then an entire harvest can be written off. "That element of risk-taking is essential," says Geoffroy. "It's about stepping outside the comfort zone if you want to innovate. Champagne should not get so stuck on style," he says. "If it's too safe, in the long run, the brand loses vibrancy." And so, thus informed, we taste several vintage wines side by side as Geoffroy talks us through the conditions of each growing season in perfect detail as if reciting a favourite play. "You must have a clear understanding of the vintage," he says, "to memorise what each individual wine (parcel) is all about … only then can you go into the mental process of blending."
With such assistance, we have a masterclass on the effects of vintage on Champagne with the most delightful examples to play with. Purity and precision are the key words and the 1973 knocks our socks off at the end with its lemon cream and honeyed, tropical notes, all the while still lithe and elegant. We try some of them in their second – and third – plénitudes.
Dom Pérignon Plénitude explained
Wines of all kinds have an arc of development when they age. A little like all of us, they are first fruit-forward in youth, then close down for a while, to reopen energised and with less of the youthful fruit perhaps, but with more of the complexity that comes with age. If they are great wines truly worthy of long ageing, then they may also have the chance to go through this process one more time.
Despite being worlds apart in style and story, it seems that these two iconic Champagne houses are aligned on one thing: the idea of holding back some superb vintages until they are ready to blossom again in their second – or even third – revelation or plénitude. And so, whether we need a dose of power and a touch of glamour or something more linear and contemplative, at least we know we have a wealth of styles to choose from. Lucky, lucky us.
Stockists for Krug & Dom Pérignon: Clos19.com, Berry Bros & Rudd and other independent wine merchants.