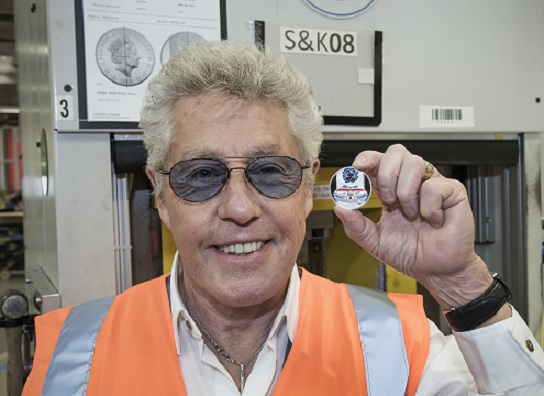 With possibly one of the most iconic band names in rock history, The Who typified the spirit of a generation, writes Robin Dutt.
With their instantly recognisable motifs – the Union Jack, "bull's eye" patriotic target (and Mod emblem) and of course, that cheeky and suggestive arrow emerging from the 'O' in 'Who', the group epitomised a very English, very electric rock 'n' roll wizardry – Pinball or otherwise.
The Royal Mint has launched a new collectible coin range to honour the British rockers and lead singer, Roger Daltrey visited the Mint's HQ to strike one of the first examples.
"It is an honour to have a coin produced to celebrate The Who's musical legacy," he said. "The coins' design captures the true essence of the band and what we represent."
And lead guitarist, Pete Townshend is said to be delighted with the range of coins, calling it "fantastic". Of course, what the band represented was that unique English rebellion in rock with swirling performances, edgy stage costumes and that emphasis on being loud – shatteringly so – from the destruction of musical equipment to the near ear-bleeding level of overall volume and strategic, rebellious cacophony laced through structured harmony.
Such destructive theatricals were nothing new. Many groups seemed to use an anarchic and rebellious approach – John's Children smashing up stages, Jimi Hendrix burning his guitar, Marc Bolan, classically camp (and gloriously so) whipping his and the Sex Pistols typifying visual anarchy. But one might say that The Who's was a most original contribution.
John Entwistle, Pete Townshend and Roger Daltrey were the shock-rock originals only to be joined later by that glorious one-off in his own right: drummer, Keith Moon and the band has a musical credential spanning well over half a century with 100 million albums sold worldwide and more than a billion global streams.
The coins feature images from the band's live performances – a Union flag, Mod logo and legendary speaker-smashing Rickenbacker guitar (no wonder many refer to this instrument as an 'axe') and together, the icons form a pinball table, inspired by the 1969 single, 'Pinball Wizard' and the iconic album, 'Tommy' – one of the most audaciously original compilations of songs with a brilliant, unforgettable film too which mixed fantasy, surrealism and hard rock, starring amongst others Tina Turner and Elton John.
A number of newly-struck coins will feature a special "shockwave" effect radiating from the speaker.
I've often wondered whether there might have been more efficacy and suggestion had the band considered using a question mark after the name The Who as a cheeky suggestion. Given the group's legacy, however, it would have been totally unnecessary.
The cost?
The Who 2021 UK Half Ounce Silver Proof Coin RRP £65 (Mintage – 10,010)
The Who 2021 UK Gold Proof Coin RRP £68,380 (Mintage – 12)