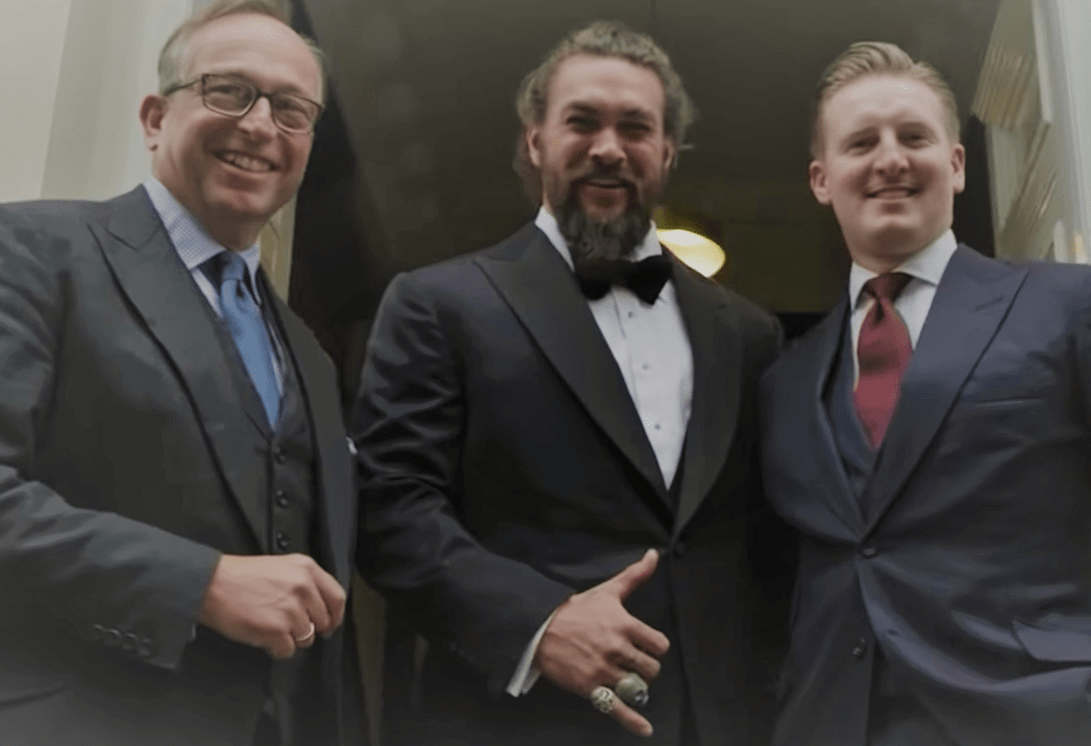 Jason Momoa with Henry Poole's Simon Cundey, left , and Daniel McDonald, right
By Daniel Evans
It's not often that Hollywood's finest take time out to travel across London to visit a particular store in search of clothes but that is exactly what Jason Momoa, of Aquaman and Dune fame, did when he wanted to have the very best in Savile Row tailoring.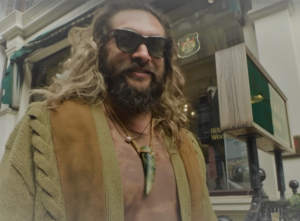 Jason knocked on the door at Henry Poole & Co on two Saturdays, only to find them closed. He then called up on a Monday and explained, as a busy actor, he could only get over at the weekend. Daniel McDonald, a cutter at Henry Poole, recognised the name and, soon enough, arranged a Saturday appointment for the American star.
Simon Cundey, managing director at Henry Poole, says Jason certainly does turn heads when he visits. "We have a blast every time he comes," says Simon. "He shakes up Savile Row by bringing his classic cars or some friends who are amazing characters – skateboarders, rock climbers. You never know who you are going to meet when Jason's in town."
Some of the items Henry Poole has worked on with Jason recently have been for film premieres – the James Bond blockbuster No Time to Die, the Ridley Scott film House of Gucci, and Dune, in which Jason plays Duncan Idaho. In the book, Idaho is described as 'a handsome man with curling black hair to whom women are easily attracted' … Sounds like a role Jason was born to play.
Jason's suit-making exploits on Savile Row have been brilliantly captured on a video which is available on YouTube. The opening scene sees Jason pull up on the Row, exit his impressive motor and tell his viewers: "This is the first time I've had a hand-made bespoke suit made on Savile Row. Since I was 21 or 22, I've been walking past Henry Poole, looking in the window. It's my favourite window. I've always wanted to get myself a suit and now, 20 years later, I'm getting my first English-made bespoke suit."
As he chats and interacts with the staff at Henry Poole, Jason tells Daniel: "I want a seersucker suit."
"Do you want to keep it classic or do you want it to go a little bit funky?" asks Daniel.
"It's important to have both," says Jason. "Keep it classy and go funky."
Simon explains the secrets of a good seersucker suit. "It's super lightweight, very much a summer suiting," he says. "It's cotton-based and has a crushed look to it. The traditional colours are mid blue and white and it's still popular in America – in the Carolinas, New Orleans and Georgia."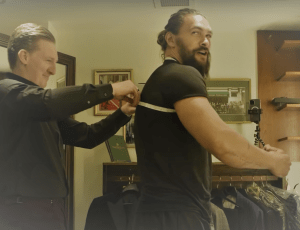 As Henry Poole get closer to finishing the suit for the Dune premier – where Jason walked the red carpet in a claret cotton velvet jacket with a burgundy brocade waistcoat – they decide they need something a little bit different so they go over the road to Hawthorne and Heaney, the embroidery experts, where Claire Barrett adds some delightful finishing touches. As Simon explains: "We can sketch out something we like, and they make it work."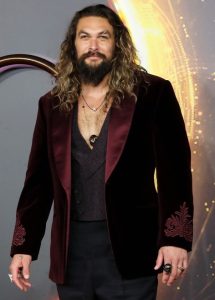 Simon is clearly delighted to have Jason as a regular client. "He enjoys people and is passionate about many things in life. He's inspired by creativity and craft," says Simon. "When he's here at Henry Poole, he makes a point of going round to see everybody in the workshop. And the thing about Jason is that he is super fit. He's up there with his 50-inch chest but he's also got a 36-inch waist. And it's not often you get guys with that sort of shape."
The video itself has already had nearly 400,000 views and the comments show just how popular the man is. One fan writes: "Out of all the very rich and famous people who have walked through (Henry Poole's) door, I bet they have never met anyone quite so genuinely down to earth as Mr Jason Momoa" while another says: "Congratulations to Henry Poole & Co for amazing work. They are definitely the gold standard. So is the embroidery shop across the street. And Jason has such an amazing vibe."
Yet another writes: "(Jason's) excitement at getting a bespoke Savile Row suit was genuine and lovely to see. They were truly amazing suits. A man immediately carries himself better and looks more confident when he's wearing a great suit" while other comments include: "After knowing about Henry Poole & Co for so many years it's really fascinating to get such a great look inside their establishment … Henry Poole, you went from Winston Churchill to Jason Momoa; not bad going guys, truly not bad… …. Wow, so much goes into the making of these suits. Absolutely amazing craftsmanship …. Those suits were beautiful, especially the one for Dune – just gorgeous!"
But let's leave the last words to the man himself. After the suit fittings and film premieres, Jason closes the video by saying: "You've turned me into a changed man, Mr Henry Poole."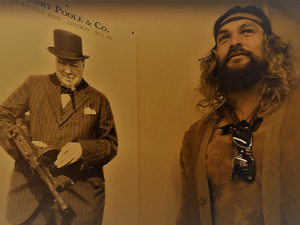 Watch the video here