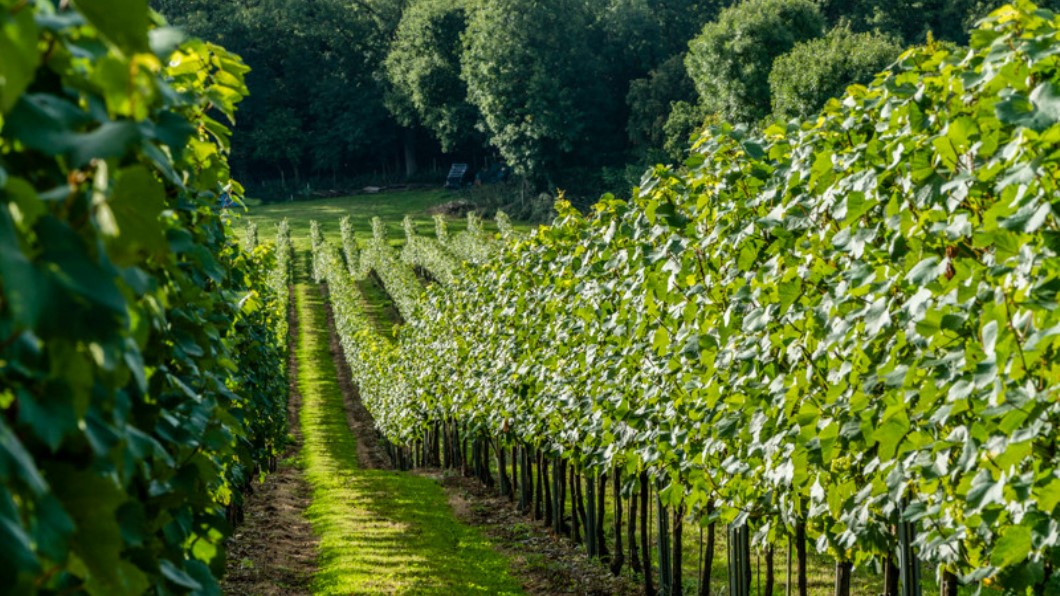 Introduction to Greyfriars
Greyfriars was one of the first vineyards in England to plant the classic Champagne grape varieties (Pinot Noir and Chardonnay) in 1989. The original planting was on a 'hobby' scale of one and a half acres on the south facing chalk slopes of the Hog's Back (the North Downs) located a few miles outside Guildford in Surrey. Mike and Hilary Wagstaff, the current owners, took over Greyfriars in 2010 with the aim of expanding the vineyard to become a commercial scale producer of quality sparkling wine reflecting the unique local geology, climate and heritage of the Surrey North Downs.
Since then they have expanded the business to a total of 50 acres under vines on three sites. The 2017 harvest produced 120 tonnes of grapes and they bottled over 70,000 bottles last year. Greyfriars also now has a state of the art winery and has just completed digging a 3,500 sq. ft storage 'cave' in the chalk slopes of the Hog's Back.
The company released tiny volumes of its two first 'signature' wines in 2013 and 2014 (Sparkling Rose Reserve and Blanc de Blancs) from the 2011 and 2012 vintages. The 2013 vintage represented the first crop from new plantings which has allowed them to expand our range of wines in 2016 as well as give sufficient volume of wine to expand distribution. The wines are now available from an ever increasing number of stockists or direct from the Greyfriars shop or online via www.greyfriarsvineyard.co.uk
What Others Have Said About Us
Oz Clarke. (Oz's Wines for Easter 11th April 2017) "Greyfriars Blanc de Blancs, Brut, England. Greyfriars Vineyard makes several sparklers, but this fizz, in particular is a cracker. It comes from the estate's Chardonnay grapes and is fuller, rounder and creamier and nuttier than most English fizz because they ferment and age the wine in oak barrels before giving the wine its bubbles. You still get the mouthwatering, crisp acidity of England, but it is married with a rich softness like lemon curd smeared on a warm brioche." 
Decanter Worldwide Wine Awards (July 2017) 95 Points. Gold Medal. Greyfriars Blanc de Blancs Brut, Surrey 2013. Intense note of ripe lemon, toast and yeasty notes. Fresh palate with defined flavours of lovely ripe apple fruit. Chewy texture and an excellent fruit filled length. 
Julia Harding (Jancis Robinson Website June 2017) 'The variety that stood out for me as offering real potential was Pinot Gris. The example from Greyfriars managed to achieve impressive depth of fruit and flavour even at a modest alcohol level, supported by fermentation in old oak." 17/20 the highest rated English still wine.
Susie Barrie (Decanter Magazine August 2017) Greyfriars, Rose Reserve Brut, Surrey 2013. 94 Points. "Made from 100% Pinot Noir with a third of the blend fermented in old oak this antique gold-coloured rose is full of spiced plum fruit and creamy, roasted nut flavours. A rich-textured and toasty style that's a great match for food."
Tom Stevenson (World of Fine Wine Q3 2017) Greyfriars Blanc de Blancs Brut, Surrey 2013. Absolutely Gorgeous. Lovely lemony-toasty fruit aroma. Classy, long great intensity and finesse (98 points). His top rated English sparkling wine; Greyfriars, Rose Reserve Brut, Surrey 2013. Very pale peach-cum-apricot colour, hints of oak and Pinot, delicate fruit, fine mousse. Exemplary (92 points).