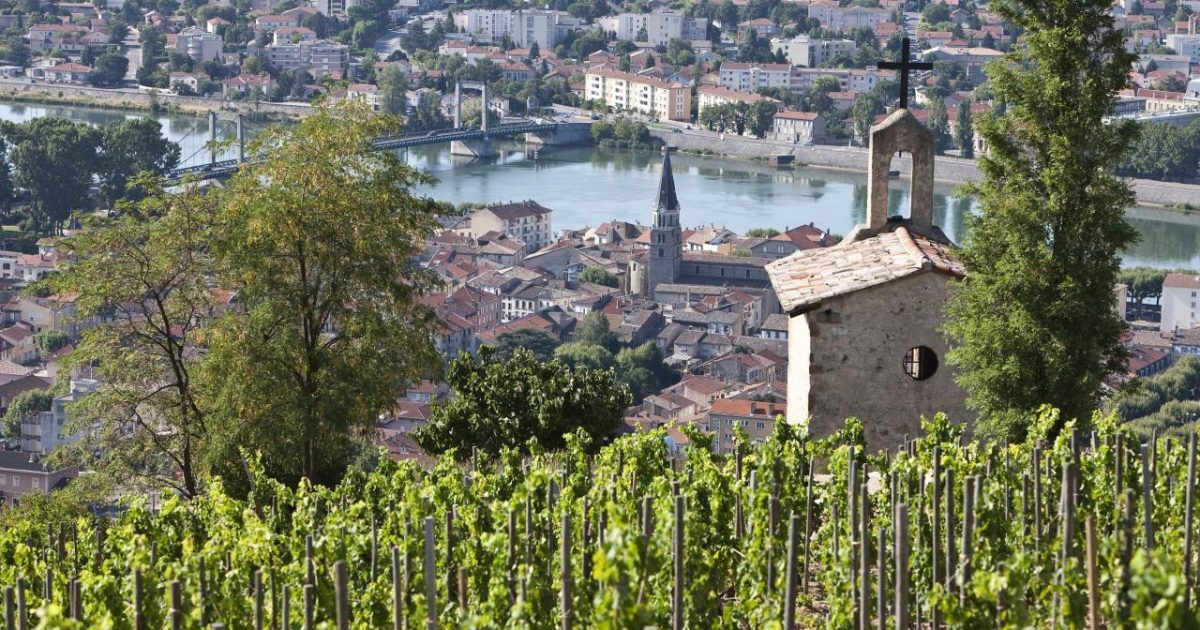 Rhône Valley reds are easy to love. In the north, spiritual homeland of the Syrah grape, wines are brooding and silky with characteristic notes of violets, herbs, plums and grilled meat. In the 'blender's paradise' of the south, Syrah is just one of a trio of grape superstars, sitting majestically alongside Grenache and Mourvedre as the three kings of most blends, including Châteauneuf-du-Pape (the most famous wine appellation in the southern Rhône). Follow Helena Nicklin as she sets out a 4-day itinerary starting from Lyon for enthusiasts to savour the best of food and wine in the Rhone Valley
Rhône is one of the three most revered French wine regions and yet when you travel there, it doesn't feel like 'wine Disneyland' in any way. It's super easy to drive around and there's no need to find highfalutin food establishments to drink the best wines. In fact, the Rhône is where you can put together a picnic from the most incredible fresh food markets you've ever seen then head to the hills with a great bottle. Do this at least once with some good friends and have the most memorable food and wine experience ever. Having said that, there are some fine dining establishments that alone are worth the plane ticket. My suggestion would be to go for a long weekend and do a bit of both. I know this, because I just came back from doing precisely this with another foodie couple. There are many ways you can do a long epicurean weekend in the Rhône Valley, but here's one itinerary that's tried and tested…
Thursday: Fly into Lyon from London, to arrive late morning. Pick up a hire car (nice and simple here) and drive for 30 minutes to La Pyramide: a 4-star Relais & Chateaux hotel with impeccable service, a bistro for easy-going meals and the unmissable icing on the cake: Patrick Henriroux's 2-star restaurant. Leave the car here, unpack and get a cab five minutes down the road to Bistro de Serine for light-ish lunch. This is a cosy bistro with a great outdoor space and a view of the vineyards in Ampuis. It also has pretty good, affordable food and an epic wine list. Do with this last bit of information what you will. It is around Ampuis that some of the greatest Rhône wine producers are located (think Guigal, Ogier, Rostaing, Gerin). Tastings at these places are often by appointment only but the prices for their wines in Serine's enoteca are sensible enough to buy some to try at your leisure. Take a little walk, get a cab back to La Pyramide where you can freshen up, have a stroll and be back in time for a cheeky little Viognier in the garden before your 2 Michelin star meal.
Friday: You won't really be hungry but the breakfast at La Pyramide is photogenic and completely delicious. There are lots of little quirky homemade bits of this and that, from tiny cakes to mini cheese plates, bread, omelettes and edible flowers. After breakfast, jump in the car and take a slow drive (1hr ish) down south to Valence in the Drome, perhaps stopping off to take some photos of the iconic vineyards of Condrieu, which produce world famous Viognier-based whites. Carry on down to Valence, a delightful town with authentic, French shopping, stunning views of the gorges and an old town where you can get lost in the rickety, narrow streets looking for pretty little churches, art galleries or a cosy spot for a cool beer. In Valence, there are plenty of charming, low key eateries serving tagine, pizzas, fish… whatever takes your fancy. There are also plenty of decent, basic hotels that over deliver for the price, such as the Hotel de France, where we stayed. This place was central, with its own car park and we could walk to the old town in five minutes. You'll probably want to reign it in a little bit during the day because in the evening, you could find yourself at the 3-star restaurant Anne-Sophie Pic at Maison Pic, just down the road. Now, this was an experience. Anne-Sophie Pic's dishes are so delicate and beautiful, with Japanese influences. This restaurant has been awarded 3 Michelin stars since 1933 and remains a fabulous gastronomical experience that's best not rushed. You can stay here too in the beautiful hotel rooms if you're feeling flush.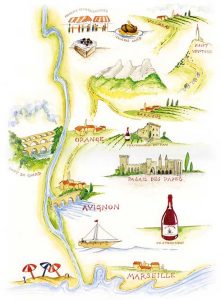 Saturday: Chances are, you will be feeling the need to eat simply today and Valence is the best place to do that. After breakfast, head out for a stroll to take in the sights. Every Saturday morning in the centre of the old town, there is the most gorgeous food market. Full of locals buying their weekly fare rather than tourists, you'll see the plumpest red strawberries, tomatoes bigger than your head, fresh bread, crazy cheeses, dried fruits, charcuterie and more. This is where you can stock up for a picnic. Check out and take your goodies to the car to drive back up north towards Lyon. On the way, there is an unassuming, pretty little town called Tain, that red wine lovers will get very excited about. When there, look up to the hills full of vines. You might just be able to make out the tiniest of chapels. This teeny building is 'La Chapelle' of Hermitage wine fame and the vines surrounding it make some of the best red wines on the planet (look for producers Jaboulet, Chapoutier and Chave). You can drive the zig zag routes through the vines to get relatively close to La Chapelle for your picnic. From here, you can see the whole of the Rhone Valley with vines and the river in the foreground. There is no better place to feast on the simple delights you brought up with you from Valence.
Make your way slowly back and hop into the car to head back up to your hotel in Lyon. An evening stroll pre-dinner through Lyon's old town is an absolute must before a typically French bistrot meal such as Daniel et Denise at the top end or the simpler Café Comptoir Abel.
Sunday: Lyon is a great place to explore briefly or all day. If you have some time before your flight, the Roman Theatre of Fourviére is an interesting stop as is the famous 17th century Musée Des Beaux-Arts, but even just walking around is an absolute delight.
The Rhône Valley is the wine and food tourism road less travelled and it's so easy to do. I'm going back for more in the Autumn and suggest you do the same.
Helena Nicklin is an award-winning drinks writer and presenter of The Three Drinkers TV show on Amazon Prime. Tweet her @thewinebird or @the3drinkers of find her on instagram @winebird @thethreedrinkers