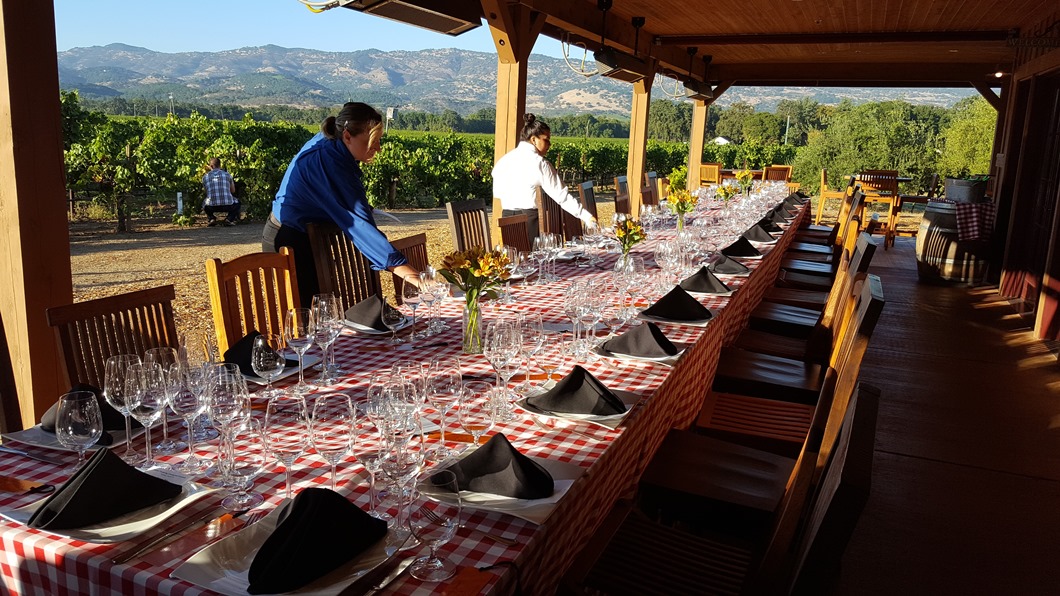 Helena Nicklin travels to the west coast of America and finds vineyards punching well above their weight
When most people imagine Napa Valley, they tend to conjure up pictures of enormous, state of the art wineries, perfectly positioned tasting rooms and miles of perfectly tended, sun-kissed vines making hearty reds from Cabernet Sauvignon and buxom, buttery whites from Chardonnay. Large and luxurious, everything is "just so".
Indeed, I was expecting all these things during a recent trip to Napa and I wasn't disappointed. On closer inspection, however, there was a lot more that I hadn't quite given Napa credit for and a lot more reasons to keep tasting. Here's why California's most famous wine region is still king for beautifully made, fine wines and tips for some exciting new styles to try.
History made in one day 
Napa Valley is one of the youngest wine regions in world (they've been growing grapes for less  200 years; a snip in winemaking time), which means that, a bit like my younger sister, it had the luxury of being able to look at what everyone else was already doing and take the best bits of advice for itself.
As a region, it shot to fame in 1976 after a now famous wine tasting in Paris, organised by a wine merchant called Steven Spurrier. Having visited Napa, Steven was so convinced by the quality of the wines, he got some of the world's top tasters to try them against some of the most famous red wines from Bordeaux and white wines from Burgundy. He decided to show the wines 'blind' so that the tasters didn't know which wines were which. In what has since become known as the Judgement of Paris tasting, the Californian wines scored the highest among both the red and the whites.
The one journalist who turned up, wrote about it in Time Magazine and the story exploded. With this one tasting, the wine world was turned on its head, showing that incredibly fine wines could be made in the New World. Perhaps unsurprisingly, Cabernet Sauvignon and Chardonnay became the focus for the region after that but it wasn't always so and the story is now changing.
Beyond the Paris tasting
Long before Cabernet and Chardonnay took centre stage, it was Zinfandel and Petite Sirah (a crossing of the Syrah with the Peloursin grape) that ruled the red grape roost, with over half of all Napa vineyards being planted with these varietals. You can still find well-preserved, ancient Zin and Petite Sirah vineyards that make some cracking wines by the likes of Robert Biale vineyards.
Make sure you try some to get a handle on proper Napa heritage. That can be your excuse, anyway. Other grapes are also producing some glorious red wines from the lesser known sub regions of Napa. The cool, minerally slopes of Mount Veeder for example, are the next spot tipped for incredible Malbec and Syrah. Cabernet Franc, Merlot and Pinot Noir are also doing increasing well as the right terroirs and microclimates for them to truly shine are found.
A new Sauvignon in town 
On the white side, Chenin blanc and Riesling were the pre-Chardonnay stars, but there's recently been a sizeable move towards Sauvignon Blanc, but not as you may know it. While there are still a lot of early drinking, zesty Sauvignons around (much like those we easily find elsewhere), there's a growing trend for a more 'Bordeaux style', i.e, where Sauvignon is blended with Semillon and often fermented or aged with some oak, making the wine more age-worthy and gastronomic in style. Just about every winery we visited (and there were lots of them), offered us a glass of Sauvignon blanc – a very different story from my last visit ten years ago. It is definitely the white grape from Napa to watch.
 A sixth the size of Bordeaux
 While the growth of Sauvignon blanc alongside such show-stopping Cabernet may remind us a lot of Bordeaux, that's pretty much where the similarities end. "People compare us to Bordeaux because of the Cabernet, but we're actually a lot more like Burgundy," says Anthony Truchard, GM of Truchard Vineyards in Los Carneros. "We are farmers, it's very agricultural and there are no grand Chateaux; it's all family businesses," he goes on to say. Another Napa misnomer, is that the region is massive. It is, in fact, the opposite of massive: Napa is one of the smallest wine regions in the world despite its tremendous reputation, being just 30 miles long and five miles wide at its broadest point. That's about a sixth of the size of Bordeaux.
The sheer diversity of soils and microclimates also beggars belief, making it, geographically speaking, arguably the world's most diverse wine region or as another winemaker calls it, "a terroir junkie's dream". From the cool, foggy hills of Los Carneros in the south, to the sun traps of the valley floor in Rutherford further to the north, it's little wonder that Napa can make everything from citrussy Sauvignons and sparkling wines to figgy Zinfandels and powerhouse Cabs.
What's next for Napa, I wonder? Well, as I was told at Trefethen Vineyards, "every generation brings something new and wants to experiment. The progress is astounding." Couple this with an almost universal dedication across the region to the sustainable "Napa Green" programme and there will be plenty more positive surprises yet – and for many generations to come. 
Napa Valley wine recommendations 
Brace yourself; Napa wines are never cheap and prices go way higher than these delicious wines I write about here, picks that will move you seamlessly from autumn into winter.
The Classics: Cabernet & Chardonnay 
Raymond Vineyards Coombsville Cabernet Sauvignon 2011, £58.80 from Hedonism Wines
A cool, elegant style with a hint of Bordelais-style minerality and an extra kiss of Napa fruit. 
Cakebread Cabernet Sauvignon 2011, £63 from Corney & Barrow
Classic Napa Cabernet with rich, dark fruit and spice with a powerful, dignified structure.
Truchard Chardonnay 2014, Circa £37 from Hedonism Wines and Ministry of Drinks
Golden and refined, refreshing with perfectly integrated oak and exceptional balance. Classy.
Sauvignon blanc 
St. Supéry 'Virtu' 2014, £24.95 – £29.99 from Jeroboams and Noel Young Wines
A gorgeous, vibrant blend of Sauvignon and Semillon packed with greengage and lime.
Cakebread Sauvignon Blanc 2014, £25.95 from Corney & Barrow
A tropical, juicy style of Sauvignon with complexity added by a touch of Semillon.
Syrah 
Lagier Meredith Syrah 2012, £44.50 from The Sampler
If you're Rhone fan, you'll love this; it's all garrigue, violets and grilled meat. Wonderful!
Malbec 
Mt Brave Mount Veeder Mabec, £54.99 ministry of drinks
Perfumed, silky and brooding with raspberry and cedar notes topped off with warm spice.
Lagier-Meredith Malbec 2013, £38 The Sampler
Bay-scented and cool mineral with floral notes and a moreish, peppery kick. Unique (and a relative bargain).
Fires devastating Californian wine country
The Napa Valley Community Disaster Relief Fund, established in 2014 following the South Napa earthquake, has been reactivated following the fires which have recently affected northern California. Those wishing to make donations can contribute via the Community Foundation of Napa Valley's website.