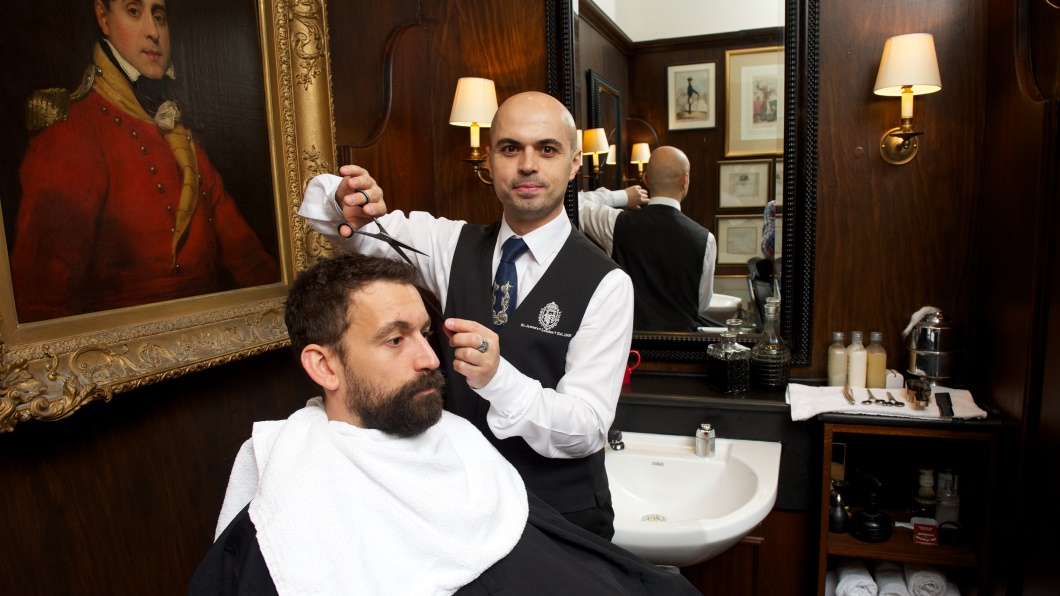 Gino Russo, a master barber who plys his trade at Truefitt & Hill, the world's oldest barber shop, in St James's, London, tells Savile Row Style about his rewarding job
First of all, Gino, can you tell me how you qualify as a master barber?
Experience is the key when it comes to becoming a master barber. For me it all began when I was 12 years old and had returned home from a trip to my local barbers. I was so disappointed with the service I received – and very much to my mother's dismay – I took the kitchen scissors to my locks and treated myself to a complete restyle. It was the day I vowed never to visit a barber again and that I would learn everything I could about the art.
In 2003, I opened my own salon in my home town in Romania. I hired the best barbers I could find and set up business. I was the most inexperienced in the shop, and each haircut I did took twice as long as my co barbers. They all took me under their wing and, before long, I was the best barber in town. I wanted to keep learning so I sold my business and headed to London to seek a job with the oldest barber shop in the world. Now, 15 years into my career, eight of which have been looking after the finest gentleman in London, I still get so much joy out of each and every haircut.
What do you particularly enjoy about your job?
Each day brings so much variety. I have the opportunity to be creative as each customer is a new canvas. I meet such a huge array of different people, all with their own interesting stories and experiences, and yes, they do like to tell me about their holiday plans. Nothing beats a satisfied customer. Knowing that your work has brought such a smile to a client's face is so very rewarding.
How has male grooming developed in recent years? What have been the big changes?
Barber shops seem to come in and out of fashion. In recent years, we have experienced a big boom in the industry. Every time barber shops come in to fashion, it's like a rejuvenation, as the demand is there and the technology gets better and better. The hair styles also change. As we progress through different eras, people's ideas of style become so much more varied. For example, I often have requests for styles inspired by  James Dean and Paul Weller! David Beckham is also a regular hair style icon.
What are the main mistakes men make when it comes to their grooming?
One of the biggest mistakes men make is heading to see their barber with the idea they can look exactly like their inspiration image, when they don't have the same hair type, head shape or overall personal style. The best thing a man can do is speak to their barber. Tell them as much about their lifestyle as they can and listen to the advice given. A good barber will always try to achieve the client's desired cut but should always offer what they feel is best suited to the type of hair the client has.
What advantages do you think good grooming gives a man?
When a man looks good on the outside, he feels good on the inside. And it's that inner confidence that enables him to put his best foot forward. Good grooming should be part of every man's daily regime.
How should a man's approach to grooming change as he gets older?
This is really dependant on how a person's hair ages, its thickness and its colour. I am a firm believer in growing old gracefully and highlighting your better bits. There are a number of things you can do as you get older – embrace the greys, they show a man has had a life full of experiences. For hair that's thinning, a man can always follow in Prince William's footsteps and go short. Or he can have a haircut that works with the thinning areas instead of against. Male grooming doesn't need to take a back seat with age, it should be fully embraced.
If a young person asked your advice about following your trade, what would you tell them?
I would tell them never to use kitchen scissors on their hair! But seriously, it is a great industry to work in. We are a family of artists and we are only getting more creative. I feel like there is so much more to come from this industry and it's an exciting time to embark on a career. Men are becoming more and more aware of their appearance and always want to look their best. They are also very loyal; a number of my clients are still those I first looked after when I joined Truefitt & Hill.
Truefitt & Hill was established back in 1805. Tell us a bit about its history and its famous clients.
I am very proud to work at a company with such rich history. Truefitt & Hill has been of service to many who have shaped the history of the world including William Gladstone, the Duke of Wellington, Sir Winston Churchill, and Field Marshal the Viscount Montgomery of Alamein. Many other legendary figures from the world of the arts and entertainment have also enjoyed the Truefitt touch, including Charles Dickens, William M Thackeray, Lord Byron, Oscar Wilde, Beau Brummell, Alfred Hitchcock, Laurence Olivier and Danny Kaye as well as the celebrated John Wayne, Frank Sinatra, Stewart Granger, Fred Astaire and Cary Grant.