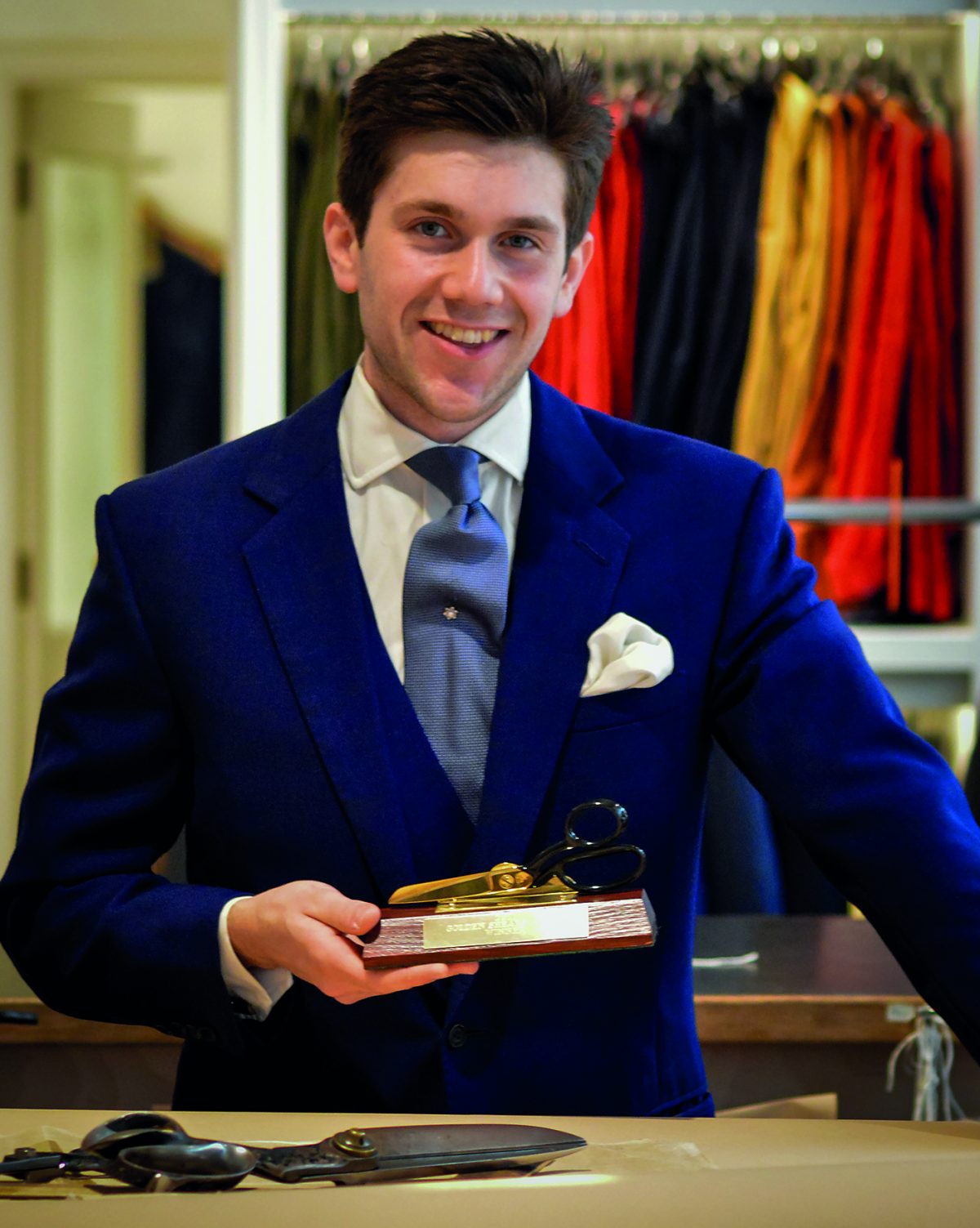 Report by Daniel Evans
It was, by any standards, a remarkable achievement. The chances of holding a successful Golden Shears 2021 – often called the Oscars of the tailoring industry – looked pretty remote at the beginning of the year. Where would they be held? When would the judging be done? How would the entries be put together?
But it was a challenge taken on with gusto by Golden Shears chairman Simon Cundey. "February would have been the Golden Shears but we had to think a little bit outside the box this time round," he says. "We are talking about the most prestigious award in craft tailoring and we wanted it to be the best it could be."
Simon went on: "It's been a very unusual year – in fact it's been a very unusual two years. I can safely say that in my lifetime, the last year has been the toughest Savile Row has been through. For the Golden Shears, we filmed the judging taking place and streamed the announcement of the winners live online. All the winners impressed me. They showed a diversity of colour, a diversity of style and had some great characters who can go on to do great things for the companies they're with or even a chance to do something themselves."
Top of the pile this year was Richard Anderson's Tom Carr. "I was in the pub watching the stream on a laptop with six of my mates from the trade," he recalls. "It was great. I was elated. It was a genuine moment of shock and it was lovely to share that with friends who I have worked with and known since I started seven years ago."
Tom's entry was inspired by his grandfather who used to work in the engine rooms of cargo ships. "I entered a siren suit – a one-piece overall garment, popularised in the Second World War when people would hastily go to bunkers. It is something you put on quickly but look smart in as well. I added a despatch rider-inspired overcoat as my second garment. Because the siren suit had a military theme, I wanted my second garment to complement that. The overcoat doesn't look like a replica piece – it is inspired by some key distinct features, but I gave it a bit more modern pizzazz with the cut and cloth choice."
Tom decided to work in tailoring after looking into becoming an architect. "I did some work experience in architecture, realised it wasn't for me so I asked myself: 'What do I want? OK, I want nice suits, so do I either get a job and buy them in time or do learn how to make them?'
"Learning how to make them seemed more direct so I did my first work experience when I was 16. I would fall behind on my A level coursework but decided this is what I want to do. I was offered a month's trial at Richard Anderson in September 2014 and I have been here ever since. In fact, in my first months, I actually appeared on Savile Row Style Magazine, posing in front of a Morgan car. I've now had my own book of customers for three years. I want to keep making more garments and build up a personal style. I want to make more clothes that I like to wear. I have zero reservations about coming into this industry. I adore it. You don't realise before you get into the trade how wonderful it is."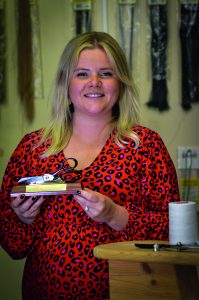 Runner-up and winner of the Silver Shears was Maurice Sedwell's Judith Ekblom Jarrold whose entry was a male ensemble reimagined for women. "I made a female version of a morning suit – the traditional striped trousers, dove-grey waistcoat and then the morning coat but made for a woman," she explains. "I made the waistcoat trousers as a jumpsuit so all-in-one and slightly changed some of the style details of the jacket to make it a bit more modern. I don't see any reason why a woman can't wear the same things as a man and for it to be flattering and something they enjoy wearing."
Judith is now general manager at Maurice Sedwell which she joined via the Savile Row Academy. "I enjoy the variety of my job, being able to make stuff that people really want but can't buy on the high street. I can't imagine myself doing anything else. I'd like to be a part of changes that are going to happen on Savile Row – bringing more women in (customers as well as tailors) and bringing the industry into the 21st century. We love the traditions of Savile Row and we mustn't lose them but we should also start to try and modernise and change the way that we work to suit the world we live in now. My silver medal is proof that people do like to see the traditional stuff reimagined."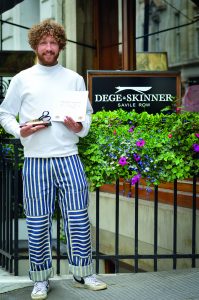 John Pickering, a trainee at Dege & Skinner, was delighted to be chosen as Rising Star in the awards. "I was watching at home with some friends and couldn't really believe it when my name was read out," he says. "I made trousers, a coat and a cape in tartan. It used a lot of material. There was lots of cloth and I wanted it to look dramatic when it came out on the runway. It's definitely a winter outfit."
Simon Cundey was clearly a relieved man when the awards were presented at a special event held at The Service on Savile Row one evening in the middle of August but felt some of the enforced changes this year could be incorporated in the future. "Covid taught us a few things about doing the event at a bigger scale," he said. "We put together a film which we could send out and show people what was going on. And streaming the event live is something we could continue. Individual colleges could have a party on the night and stream the event so the next generation can see what Golden Shears is about. Having this moment when we had to think out of the box to make this event a success, we have opened up a few new avenues which we can explore and add into the next production.
"Going forward, we'd hope to return to hosting the event at The Merchant Taylors' Hall in Threadneedle Street. We would have the parents, the entrants and the trade all in one place and have the excitement of having the rapport of the crowd. Just like any sport, it is a driven event where you need impact. When your trade entrant is going down the walkway, you want that roar of applause and when the winner is announced, you want their supporters to go crazy – you want the mother to go crazy and the father to be so proud and that's what the moment is – that's something we've really missed this year."
Simon, who is managing director at Henry Poole & Co, was full of praise for the work and effort put in by the judges. There are ten – five on the technical side and five who look at the style of the entries. This year, the technical judges were Joe Morgan from Chittleborough & Morgan, Brigitte Steppputtis from Vivienne Westwood, Jonathan Becker from Couch & Hoskin, Leon Powell from Anderson & Sheppard and Davide Taub from Gieves & Hawkes. The style judges were Daisy Knatchbull, founder of The Deck, journalist and creative strategist Aleks Cvetkovic, presenter and illustrator Lilah Parsons, TV presenter Dave Berry and Tom Chamberlin, editor-in-chief of The Rake magazine.
Simon explained: "We take the garments to the five technical judges. First, they evaluate the sketching and the style, second, they look at the pattern so what you see on paper in terms of design is formatted into the pattern and, finally, they look at how the pattern has arrived in the final garment. That adds up to 50 per cent of the marks. The other 50 per cent comes from the style judges who look at the garments from a fashion point of view."
And Simon was quick to thank the partners and supporters of the Golden Shears – The Pollen Estate, owner of the majority of buildings on Savile Row, The Merchant Taylors' Company and The Drapers' Company, CAPITB Trust and The Textile Institute. "Without their invaluable support, we would not be able to hold the event," said Simon. "We depend on their backing."
Simon has seen the awards develop since they began back in 1974. He says: "Golden Shears has become a lot more creative with brighter, bolder colours. You can't just turn up with a two-piece suit – there has to be a little twist to it. A lot of it is taking something from the past and tweaking it for the future. When Golden Shears was started by Robert Bright, it was all about the classic, fitted look but now you have the avant-garde-ness that really generates it but it's done with taste. Everything is styled and crafted to the highest quality."
To celebrate the awards at The Service, the drinks were sponsored by Savile Row Gin whose MD Stewart Lee said: "We are delighted to support this event and congratulations to the winners. On behalf of the company, we would like to present each of the winners with a bottle of Savile Row Gin."