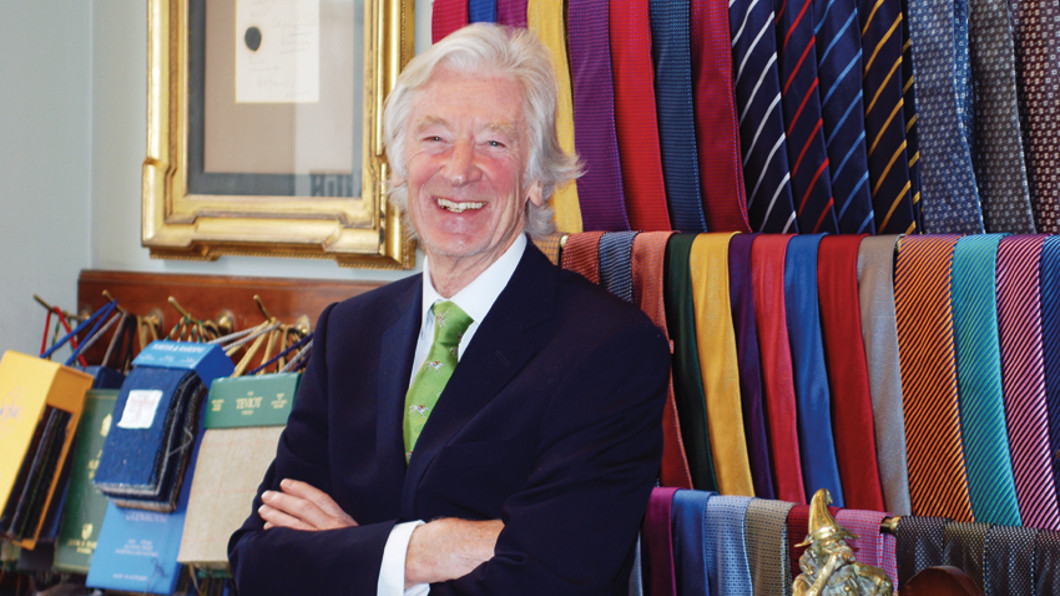 Roderick Gilchrist, pictured above, has always loved ties. Here, he tells us why he thinks today's smart man is undressed without one
Word has it from Westminster that the Prime Minister has issued a delicate diktat to her team of Brexit negotiators on their "presentation" in the hand-to-hand fighting with EU officials on our terms of exit from the European Union.
Presentation in politics is a defining word usually used to determine the cogency of an argument and Boris Johnson, David Davis and the other Cabinet members battling with Mr Tusk for the UK's future have of course been endlessly rehearsed by Theresa May in the deals she expects them to win. But there is another kind of presentation she views essential. Personal presentation. Not just how they conduct themselves but how they look. This is a delicate area. High profile politicians of experience and substance cannot be told what to wear of course but what the Prime Minister has hinted at in a seemingly larky aside, but one which everyone understands she expects to be accorded with – disobey at your peril, chaps – is that she doesn't wish to see them dressed in the current vogue of tieless open neck shirts. Are you listening Mr Johnson? In other words gentlemen, ties will be worn on all official occasions. Hooray for the vicar's daughter, rapidly becoming something of a fashion plate herself after her recent starring modelling role in Vogue.
This instruction is welcome news for the Savile Row tie industry and those who value traditional style believing the well-dressed homme in a business suit must have a tie at his neck on all formal occasions. Agreed, a neatly knotted tie is the diktat of convention but, given those parameters, it speaks not just of a look that represents the complete picture – tie, shirt, jacket, you instinctively know when something is right – but of respect. Respect for yourself as well as the world you meet.
There is something unsettling about most men, other than the very young and very handsome, in suits who go tieless, shirt unbuttoned and open at the throat. Few wear it well. The undone top button look shrieks of self-delusion; of too many otherwise good hearted fellows  thinking themselves cool, youthful, on trend, and all the other schmuter mutter that goes with it while, in fact in so many cases, what it really signals is desperation. Many perfectly nice fellows I have known merely project an unkempt look as if they have just spent a night in the police cells or are ageing rejects from some boy band. Someone really should tell them. Dress Down Friday has a lot to answer for.
Look to Channel 4 presenter Jon Snow for effortless elegance. Now here's a man who really knows how to wear a tie. While his well-cut suits speak of mannered conservative tastes, his ties define him as an adventurous guy with brains unafraid by a splash of colour to emphasise  personal tailoring. Some of his ties are so bright they could power the national grid. "What I say is that if a man is going to wear a tie he should wear a tie," Jon says. "What's the point in putting some lightly spotted old maroon rag around your neck? I have a constant supply from Victoria Richards. I buy three or four at a time. They have to be abstract to inadvertently avoid commenting on the news." Viewers love them and are always asking where he buys them.
Unfortunately too many TV reporters fail to follow his lead and it's no good them saying the viewers don't notice. Rory Cellan Jones, the BBC's technology correspondent has revealed one irate licence payer has written to him begging: "Please, please wear a tie – you look a mess on TV. And your neck is too old!"
I've always loved ties. I have probably 60 of all different colours. Wool ties, silk ties, velvet ties, cloth ties. Some with bold stripes, some with spots, some with little whales on (a pink Hermes) and another from Goodwood, emerald green appropriately embroidered with galloping race horses the girls all love.
Whatever the day, whatever the weather, whatever the colour of shirt, they satisfy every mood, helping me to strike whatever personality I wish to show the world that day. A tie can lend the wearer an authority that the casual tieless look does not. In business especially it speaks of serious intent. Too often the unbuttoned look speaks of a night at the disco.
Edward Robin at Richard James in Savile Row put it perfectly: "There is something very unfinished about a man in a suit without a tie," he told me. "A tie completes the look. You see men walking along Savile Row in bespoke suits which you know have cost a lot of money, nice shoes, quality shirt, good haircut, but without a tie the whole picture isn't done justice. It just doesn't look as expensive as your eye tells you, or as indeed the owner hopes it looks. Something's missing."
It's without argument that the tie industry has taken a hit in recent years but it's also instructive that in almost every Savile Row store exclusive, designer ties are displayed proudly on tables, often in an entertaining fan shape.
At Ozwald Boateng, 30 Savile Row, where the clientele are young, racy and rich, the ties, mostly dark as night, are super narrow, some just an inch and a half wide. Cross the street to Henry Poole and Co, 15 Savile Row, a traditional tailor founded in 1806, and the discerning customer will find broad silk numbers twice as wide.
Here Simon Cundey, MD, sits behind a ledger-like desk much as his predecessors would have done when Dickens shopped here. Indeed there is a framed photo copy of a cheque for £15 from the author dated 1865 among cloth samples on the wall. "We still have a healthy business in ties," Simon says, "but much of the personal embellishment men found in ties once has now gone into their watches and cuff links that have become male jewellery."
I bought my first Savile Row tie in the Seventies from the old Tommy Nutter shop at the Conduit Street end of the Row almost opposite West End Central police station. It's a shimmering silky midnight blue, woven with little silver chains. I still have it. The fact it's vintage retro seems to heighten its sense of allure. It never creases and keeps a perfect knot.
At the other end of Savile Row, at No 1, facing the bow fronted windows of the former Mr Fish boutique who did so much for tie sales when he invented the kipper tie in the late Sixties, stands one of the great citadels of this boulevard of high fashion. Gieves and Hawkes. An historic military tailor (Nelson died in their Admiral of the Fleet uniform), they have always specialised in regimental ties. Like most Savile Row stores their prices range from £75 to £150.
These high-end emporiums all have a wonderful reputation of course but perhaps the definitive tie store most agree is the Neapolitan firm, E Marinella in nearby Maddox Street. Here testimonials from presidents and kings line the wall including Prince Charles, Sarkozy and Clinton.
Their perfect cashmere ties can retail for up to £300 but are always in demand, especially from former Italian President Berlusconi who sends one as a present to every newly elected president. Quite what the Bunga Bunga man sent to Theresa May is unrecorded.
Even the most dedicated tie man probably shirks from claiming it as an object of racy game playing yet any man who has experienced the sensual thrill of a woman getting close by playing with the flapping end will know all about its power in the flirting game. Indeed I once saw a striking and quite famous model take the end of an admirer's tie and er, well, gently suck it … Unfortunately for the gentlemen who favour bow ties, flirting of this kind is not possible but they are a dedicated tribe who even have their own club, founded four years ago, and meet regularly in posh London hotels to swap styles over lunch.
The tie was invented by Croatian soldiers 300 years ago when they took the form of small knotted neckerchiefs. The modern tie was patented during the industrial revolution when men wanted neckwear that was easy to put on, comfortable and would last an entire workday. Ties have survived every imaginable male fashion, from stove pipe trousers to bellbottoms, bumsters to turn ups, ripped jeans to flares, and those dreadful, too tight, shrunken modern suits that look as if the wearer has been caught in the rain or found them in the back of Norman Wisdom's wardrobe.
In the Fifties Americans, returning home after the war, showed their joy at being out of uniform by wearing ties as wide as a bib often decorated with saucy scantily clad ladies and in the Seventies actress Diane Keaton made the tie popular for girls flopping outside a waistcoat with her kookie look in the film Annie Hall.
Like all trends the tieless look will undoubtedly come and go. Fashion being the fickle mistress she is, there are even indications that style leaders like David Beckham and Jude Law who once set the trend are, now that so many others have followed their lead, tired of it, and are returning to the groomed look a well knotted tie imposes. The other day I saw Beckham not just wearing a tie but he had a handsome gold tie clip to hold it in place. This from a man who once appeared in public wearing a knee length sari…
Gary Lineker will often wear a sober dark tie when presenting international matches (though rarely on Saturday night's Match of the Day) as does Jamie Redknapp over on Sky.
It's instructive on the enduring appeal of the tie that House of Fraser offers a video on its website on how to tie one, whether it be a Windsor knot or an Atlantic knot. Ties can express individualism or demonstrate you are proud to be part of a tribe, may it be a club, regiment or school. Norfolk MP Richard Bacon shows solidarity with the muck spreaders by wearing a novelty tie in the Commons festooned with images of pigs, cows, tractors and other farmyard life.
So what do we think of a booted, suited and otherwise smartly turned out gentleman who is sans tie? As one young blade on the Row told me: "They've got some neck."