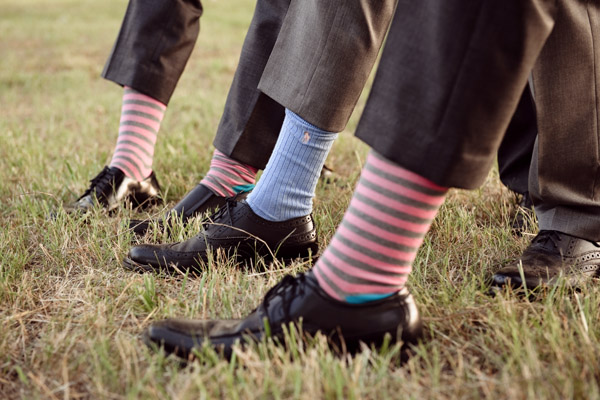 By Robin Dutt
Whilst loud details anywhere when it comes to elegance is a distinct no-win situation, there has been one area of the body, which many have chosen as the centrality of discreet rebellion.  The feet.
For most, one suspects that the '3 Graces' of pedestal extremity colour choice can only be black, navy and grey.  Never brown.  In fact, let us extend the old tailoring adage… 'Never brown in town', that is to say never brown – anywhere.  Brown socks are definitely for cardboard characters with wild ambitions.  And no hope!  Whilst there is much to be said for the black, navy and grey staples, something is well… afoot.
Increasingly, we are being offered some surprisingly attractive examples going beyond the solid colours perhaps with heels and toes of contrasting colours or elasticated tops.  No, there has recently been a sock revolution where one is positively encouraged to wear with one's suit and especially with one's elegant casual outfits, imaginative chausettes.  Witty even – although one does not countenance that horrible word, 'novelty' items.  Novelty has nothing new about it.
Take a look at some imaginative offerings from the likes of Paul Smith – often dots and stripes, New & Lingwood for unexpected (perhaps) skull motifs and Happy Socks run by a fun loving duo who create wild swirls of imaginative designs from Prince Paisley Park motifs to stark black and white almost tribal markings.
Not to be confused with the wearing of 'cartoon character braces', give any of these brands a go.  Then, of course, there is much to be said for the indispensible and delightfully anonymous Pantherella plains.  Alternatively, play Dr Jekyll to your Mr Hyde…