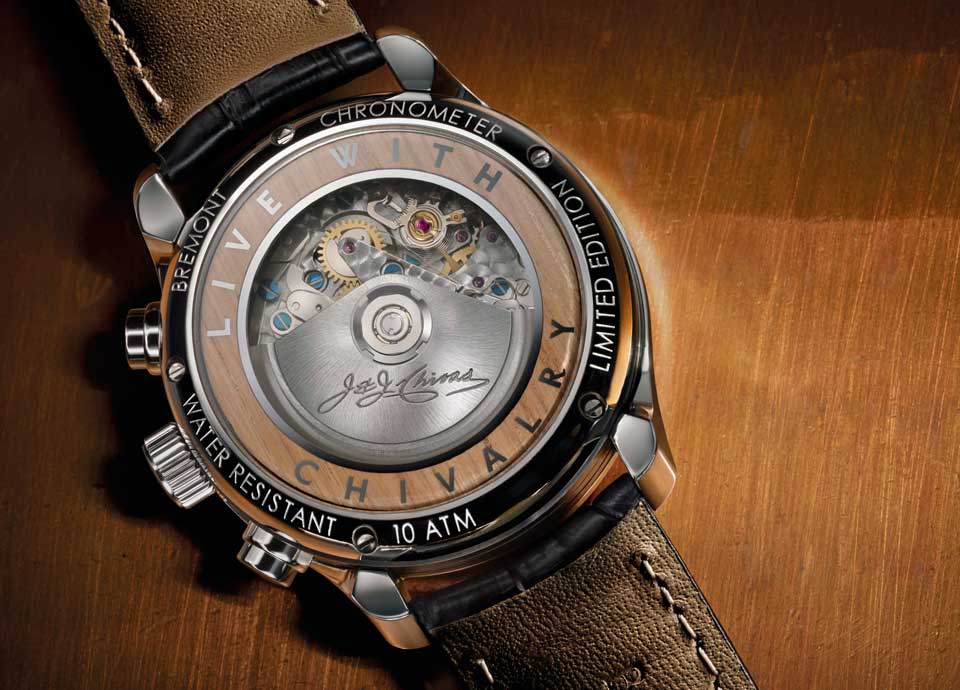 Forget the frenzy of buying presents. Instead, approach the season of goodwill in a spirit of mild anticipation – anticipation of not only finding something that might suit a dear aunt or a difficult girlfriend but something that will delight you.
It is said that the best presents to give are those that one would like to keep oneself. So why not keep one, or two? Chancing upon a particularly delightful scarf, or a positively rare book and keeping it as a reward for all the rest of the shopping search is surely the best way of getting through what most men see as an operation akin to pulling teeth.
One of the great advantages of modern technology is the rise and rise of online shopping. But there are drawbacks to the simplicity of click and pay: the bracelet that looks delightful on screen may turn out to be a mere bauble lacking in quality and style on the flesh; a desired pretty pot plant turns out to be too big to house; the Christmas hamper is lost in the post. Click and pray might be the maxim. Though more and more of us are opting for online buys, the hardcore of last-minute, frantically-searching shoppers remains. And in truth, in the selection of really important gifts, it is difficult to replace the personal touch and sight of going into a shop and selecting.
Here is a mixture of on and offline options that are new or novel or just plain impressive. Good hunting.
Treat from royal fish
Can we indulge in caviar? It is increasingly worrying to decide what is and what is not ethical to buy, environmentally acceptable, cruelty free, healthily certified, politically sound. The study of labels printed in 6 point in the gloaming of a chic shop or supermarket aisle is evidence of widespread concerns about shopping wisely. With the mighty sturgeon but one of the many species at risk because of human demands, exports of Beluga caviar from the Black Sea are still restricted though no longer banned. Farmed caviar is available from a number of countries and very nice some of it is too, but with worries about methods and sustainabiliy in some quarters, perhaps better to opt for a homegrown product.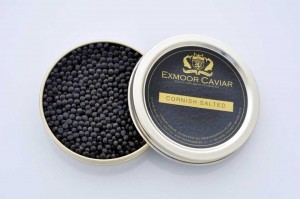 By special dispensation from the Queen, Exmoor Caviar is allowed to own sturgeon. It is not a well known fact that Edward ll was a great fan of caviar, and decreed early in the 14th century that any sturgeon found in the kingdom were Royal Fish, and therefore belonged to the Crown.
So prior to setting up his sturgeon farm in Devon, entrepeneur Ken Benning had to get the Queen's approval. This was given in a letter from the Queen stating that she would not exercise the royal prerogative. And so Exmoor Caviar is the only producer of caviar farmed from sturgeon in the UK.
Caviar fans can not only enjoy its quality but know that it has the approval of top chefs, is ethically sourced, and the fish have a happy life. Swimming in fresh Exmoor Spring waters, its caviar eggs carefully extracted to ensure no pain (as, alas, in other regions of the world), and all of the fish used when finally cut up, the Exmoor Caviar sturgeon might be said to have the life of Riley.
So a few of these little pots, with a starting price of £19.99 for the 10g size, will make a good start to the present buying and present keeping. Ken Benning thinks the best way to eat it is "placing the eggs on the back of the hand with a mother of pearl spoon and then bringing directly to the mouth allowing the exquisite and subtle flavour to shine through." To each, his own way.
Available from www.exmoor.com or at Selfridges.
"…it has the approval of top chefs, is ethically sourced, and the fish have a happy life."
Best of new tech
In the grand setting of the St Pancras Hotel one summer's day, the sound of a full orchestra filled the room. But though it sounded for all the world as if it was live, right there, it was in fact emanating from a dCS system.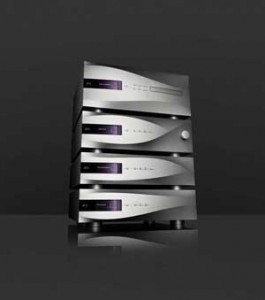 The cognoscenti will know this British audio name, celebrating its 25th anniversary this year. Over a quarter of a century, it has progressed from developing advanced radar systems to providing units for recording and mastering studios around the world, including the BBC, Sony and the Emil Berliner Studios.
"…mastering studios around the world, including the BBC, Sony and the Emil Berliner Studios."
Along the way, it has been responsible for a variety of groundbreaking innovations, all researched, designed and made in the UK. So for the man who really wants to hear the music, not just the melody, this is the name to look for. It may be a bit big for gift wrapping but the dCS flagship Vivaldi four-box system provides peerless sound and build quality in the most advanced technology. A snip at around £67,000 – without speakers.
The multi-tasker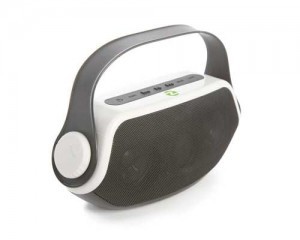 This nifty little gadget is surely one for anyone's stocking. It is a Bluetooth speaker, power bank, radio and torch all rolled into one. Measuring just 26cm x 11cm x 10cm, it has AUX input from any audio device with headphone connector, and it can be used to charge a phone or other device, thanks to its power facility. Called the Z1 Box Speaker, price £59.95, it is available from www.prezzybox.com, and there are a range of other neat ideas on this site.
Take to drink
Bottles are the answer. Perfume for women and alcohol for men used to be the thing but now it is just as likely to be containing scent for men and booze for women.

On the drinks trail, Johnny Walker was prescient enough to bring out a special limited edition Ryder Cup bottle this autumn ahead of the European win against the US. Each is individually numbered, with a fine Blue Label blend whisky inside, and would be treasured by any golf fan who receives such a gift. Price £225 from selected retailers and at TheWhiskyShop.com.
That fine whisky Glenfiddich has teamed up with top smoked salmon name H. Forman & Son to provide the sort of hamper destined to hit the spot for connoisseurs of both.
A bottle of Malt Master's Edition Glenfiddich is packed with two and a half pounds of Forman's smoked salmon in the "Double Scotch" gift hamper. This brings together two family owned businesses, the whisky backed by 125 years of family-run distilling in the Highlands, the smoked salmon from a slightly younger family enterprise, dating from 1905. Both have long been giving pleasure all around the world.
The hamper is available from Forman's at www.formanandfield.com, price £124.95.
A favoured after-dinner drink around this time of year is port. There is port and then there is Taylor's 1863 Single Harvest Port. That year is regarded as the last great port harvest before the blight of phylloxera devastated vineyards throughout Europe.
Aged in wood for over a century-and-a-half, it is a piece of wine history and a very rare treat for port connoisseurs. Presented in a bespoke crystal decanter in a sleek wooden casket, it is priced at £3,000, through Berry Bros.
Another rosé champagne joins the collection of fine pink ones now available. This one comes from the oldest champagne house Gosset, and is the Petite Douceur Rosé, an extra dry wine that comes in a pretty pink box and costs £60, exclusive to www.mckinleyvintners.co.uk.

Something of an acquired taste but once acquired very much appreciated, traditionally peated Highland single malt whisky has a very distinctive flavour, and a new one from the Ardmore distillery might just be the thing for someone wishing to extend their study of whiskies.
The Ardmore Legacy is lightly peated and available from October, price £29.99. Its pack shows a golden eagle, a rare bird which may be seen flying above this distillery on the edge of the Highlands. Ardmore works with the RSPB to support these birds of prey and the recently
re-introduced white tailed eagle.
Suitably festive is the cheery Grand Marnier liqueur. This year's limited edition bottle takes inspiration from the striped Breton tops worn by French sailors, as in its striped banding. The rich orangey liqueur has been a favoured after-dinner drink since the early 1800s, taken up on the tables of royalty, and now popular as an important cocktail ingredient. It is the most widely exported of all French liqueurs, with a bottle sold every two seconds, the company reports, around the world. The limited edition bottle is available now from Harvey Nichols at £26.05.
In support of the environment
Drinkers are putting some of the world's most important forests at risk. The widespread switch to screw tops for wine means cork forests are in danger of being destroyed – and with them the wide diversity of wildlife that lives in them. What is more, the cork industry has employed some 100,000 across the Mediterranean alone, and the cork itself is obviously more environmentally sound than metal or plastic screws.
So, demand corked bottles, or rather, a bottle with cork stopper, and enjoy the contents safe in the knowledge that you are helping the planet.
And to help the home grown wine industry, seek out English wines. Contrary to some belief, there are fine wines produced here, particularly whites, which have been winning international awards. But they are somewhat hamstrung by the UK tax that is added, making it hard to compete with bulk bought imports. Nevertheless, they continue to persevere, produced by people passionate about their vineyards.
For the festive season, find Bacchus, a white with less than 1g residual sugar – so might be seen as healthy – at £10.15 a bottle. This comes from Brightwell, a family owned winery in the Thames Valley that produces brandy as well as wines, from hand picked grapes. And for a good fizz, there's Hattingley Valley Classic Cuvee 2011 at £29.99 or their Kings Cuvee 2010 at £65.
"…there are fine wines produced here, particularly whites, which have been winning international awards."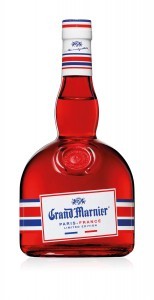 People are increasingly aware of trees and forests and what they do for us. On a recent Radio Four Today programme, the case for giving greater protection to trees in general and to ancient trees in particular was made by the wonderful Rob McBride. This veteran of many tree campaigns, and noted lecturer and photographer, is now campaigning to have protection for such amazing specimens as one oak that dates back to William the Conquerer. Too many are still being chopped down by developers.
A new book supports his cause, combining beautiful photographs with information on our ancient woodlands, and how we may preserve and develop them. 'Irreplaceable Woodland' by Charles Flower will delight anyone interested in the environment. It is published by Papadakis, ISBN 9781906506537, through GMC Distribution, at £25.
For girls who love to twirl
For a very special girl, this fairytale tutu will make any daddy the very best of Santas. Coming in its own striped gift box out of which the froufrou springs, it comes from Angel's Face, priced from £35 up to £65, and available in 40 bright colours. Go to www.angels-face.co.uk for this and other great little girl ideas.
The bright, the bold, the best
Today's businessmen need to be hip and this bright yellow briefcase should brighten the board room. By Ettinger, with a nifty iPad pocket in the lid, it costs £2,288, and may have personalised initials added. www.ettinger.co.uk
The timely status
Watches are the modern man's status symbol, a symbol of taste and wealth, and increasingly bought to join a wardrobe of watches. So the gift of another rare or special timepiece is sure to be appreciated even by the man who has many.
Bremont is just such a watch, something of a rarity in being an English luxury level brand, and appropriately enough produced by a company run by brothers Giles and Nick English, in the beautiful English countryside of Henley on Thames. Established in 2002, it follows in the long tradition of great British horologists, from John Harrison in the 18th century through to George Daniels, who died in 2011 and was recognised as the world's best watchmaker.
Latest development for this brand is a link with luxury whisky Chivas Regal that saw a charity auction of a special edition collection this autumn, in aid of The Prince's Trust. Twelve watches were produced , incorporating the Chivas crest, and these will undoubtedly become collectors items. A gift tin containing a bottle of Chivas 12 year old blended Scotch whisky, and featuring elements of complex Bremont engineering on the tin, is available from Sainsbury's at £27. One of the limited edition specials would cost rather more.
Evidence of the resurgence of British watch brands was apparent in the successful watch show that took place in London this summer, focused on British brands. One of these takes its inspiration from Savile Row – Savro by Kennett Timepieces, price £250. www.kennettonline.com
The key to success
Small boys love finding a Ferrari in their Christmas stocking. Big boys might love finding the keys to this super yacht as the ultimate indulgent present. Sales of luxury yachts are on the up again, so for a bespoke vessel like this one from Hunton Powerboats there may be a bit of a wait – but some symbolic keys with this picture should suffice for the time being. Hand built to order in Hampshire, the price starts from around the £600,000 mark, www.hunton.co.uk.