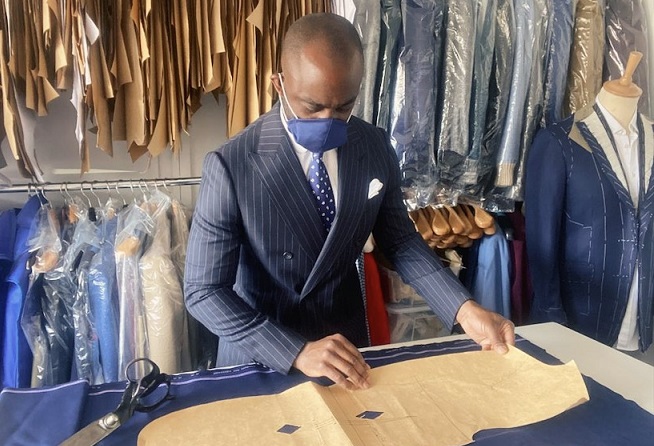 With stores expected to begin reopening next week, the country's top tailors have been preparing for life on what be a very different Savile Row, writes Richard Burton and William Field.
Given the almost unique challenges they face in a world governed by social distancing, many have had to rethink how they will do business. Some have already been adapting to post-Lockdown life by turning to virtual consultations and considering extended opening hours – including Sundays – to allow a safer flow of customers. Home visiting services may become another reality.
Virtual fittings have been taking place successfully at Huntsman for the past few weeks, particularly for overseas customers, according to Taj Phull, brand development manager, who points out that "the keen eye of our cutters will be more valued than ever".
Kilgour and Lee Marsh have managed to diversify their business with the help of Zoom calls. Smaller shops such as Norton and Sons are planning to maintain their strict "one customer at a time" rule with staff in PPE and many will be offering fittings by appointment to manage footfall, offering hand-washing stations and providing staff and clients with masks. Huntsman is even advertising masks online in their exclusive house tweeds.
While conducting fittings online can be tricky, I am able to fulfill repeat orders, make garments – and educate students
Lee Marsh (pictured above) admits it's been a challenge. "You need to feel the cloth during the fitting for it to be properly bespoke," he says. "It's not easy seeing colour on a phone or tablet."
But he adds: "While conducting fittings online can be tricky, I am able to fulfil repeat orders, make garments – and educate students. That's because we both work from the same jacket and cut from the same pattern. That way they can follow exactly what I'm sewing in the same places."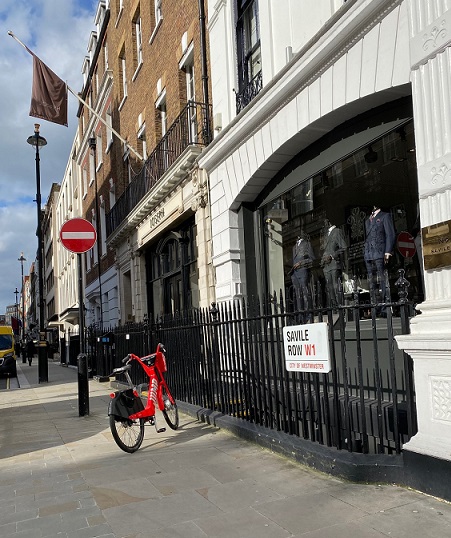 Tools to the trade now stretch beyond shears, thimble and thread. Camera extensions for laptops or phones are essential for Marsh, enabling him to guide them through each stitch.
There's another advantage. Not only can the students easily recall this information as all sessions are recorded, but such digital tutoring also trims-down the unnecessary travel time – and cost, something some students have found problematic in the past.
"I can also mitigate any unnecessary teaching time," he said. "For example, comparatively traditional apprenticeships have the student doing pad stitching [a labour-intensive hand-stitching technique] for over five months before they move you on to the next stage.
"Whilst this is important for several reasons, technically, the student doesn't need to be there if I'm supervising from the other side of the screen."
Alex Lamb of Kilgour, which had been forced to close its flagship store shortly before the pandemic, said: "Online consultations are a great way to conduct multiple meetings, especially with existing customers based overseas. Customers have been happy to receive cloth samples by post following the online consultation.
"We've had great support from British mills who have been operating skeleton services so that they can continue posting out samples to customers on our behalf."
Whilst conducting fittings in the middle of the shop isn't ideal, we will encourage it if the customer feels comfortable in doing so
As for those first-fittings, Lamb adds: "We've bought a lot of PPE equipment, which is due to be delivered shortly, to enable us to get back in front of customers safely.
They have even crafted their own tailored overalls that will need to be changed between customer fittings, in addition to protective visors and masks.
"It's been reassuring that customers have been purchasing vouchers online. They can put digital deposits down for bespoke suits which gets cash into the business – a bit like a bond. This helps the workshop keep moving too."
William Skinner of Dege & Skinner, one of the last remaining family-owned independent shops on the Row, said: "From the word go we relocated coat makers to home and provided sewing machines and steam irons.
"Cutting is more challenging, as the table needs to be longer and taller. Our cutter has been coming into the Row occasionally to keep things moving by mitigating as much risk as possible, but trying to maintain a modicum of normality."
This essential part of the process is then distributed between the coat makers working from home.
"Looking forward, we will be opening – as such, by pre-booked appointments only meeting one customer at a time. We will be actively adhering to all government guidelines, including our staff wearing PPE during fittings."
Skinner adds that they will also be operating a skeleton service of team members in support of maintaining a safe distance.
"Whilst conducting fittings in the middle of the shop isn't ideal, we will encourage it if the customer feels comfortable in doing so. As a family-owned business, we pride ourself on looking after our staff and customers. These are challenging times, but we will come out of it." Others have been using the Lockdown as a time for reflection. Richard Anderson has been looking at new Autumn designs and Henry Poole is working on releasing an "entirely new concept" that will diversify its collection. Simon Cundey tells visitors to his website: "I will be back in touch very shortly with exciting details and news of superb offers on our new range of lightweight summer fabrics and our online swatch service."
Cad & The Dandy are operating a strict diary system to control the flow and plan to take advantage of their dual entrances and have even repositioned their cutters' and sales staff's desks to ensure distancing. They will be sharing parking locations ahead of bookings as they expect many customers will be travelling by car.
Both tailors have been aiding the Covid-19 effort by having their cutters produce PPE equipment following requests from hospices, ICU nurses and GP's general practitioners.
Others have been using the Lockdown as a time for reflection. Richard Anderson has been looking at new Autumn designs and Henry Poole is working on releasing an "entirely new concept" that will diversify its collection. Simon Cundey tells visitors to his website: "I will be back in touch very shortly with exciting details and news of superb offers on our new range of lightweight summer fabrics and our online swatch service."
Shaun Brennan, a local tailor, adds the final word, echoing a sentiment shared by so many of his colleagues: "If there's one fortunate thing to come out of this global pandemic, it's the shift in spending habits", he adds. "There's a renewed focus on long-standing value, local buying, and sustainability"