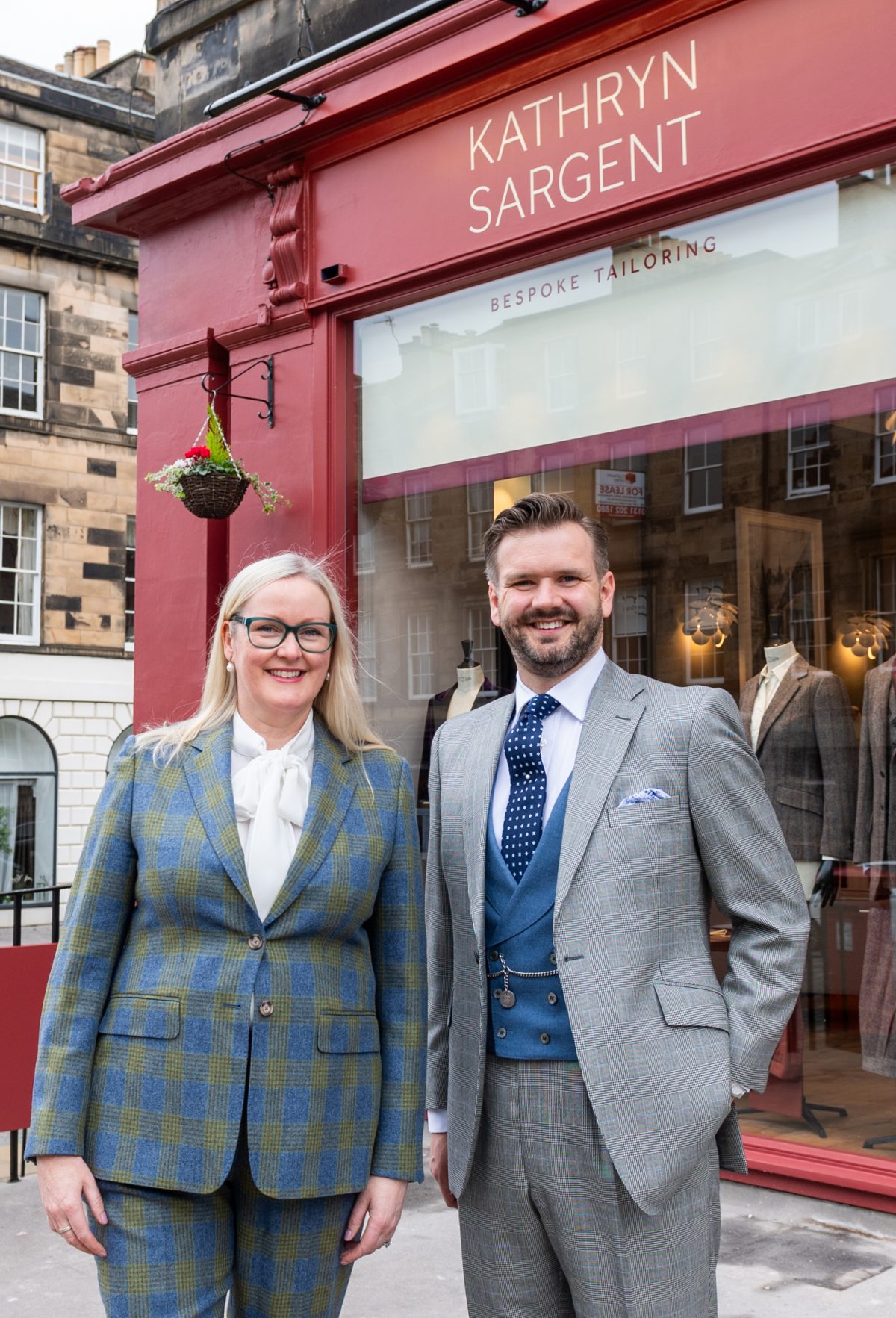 Savile Row Master Tailor Kathryn Sargent and Head Cutter Alistair Nimmo
Photography: Roberto Ricciuti
Savile Row Master Tailor
Kathryn Sargen
t is expanding her business into Scotland, opening a new studio in Edinburgh's Howe Street. Kathryn,  the first female Master Tailor to have her own shop on Savile Row, is thrilled with the new premises. She said: "As well as wanting to extend Savile Row tailoring to Scottish clientele, we noticed a number of our existing clients, particularly from USA and Europe, were travelling through Scotland on business and leisure trips and requesting tailored outfits and fittings for their trips, so bringing Kathryn Sargent Bespoke Tailoring to Scotland is the next natural step for the brand.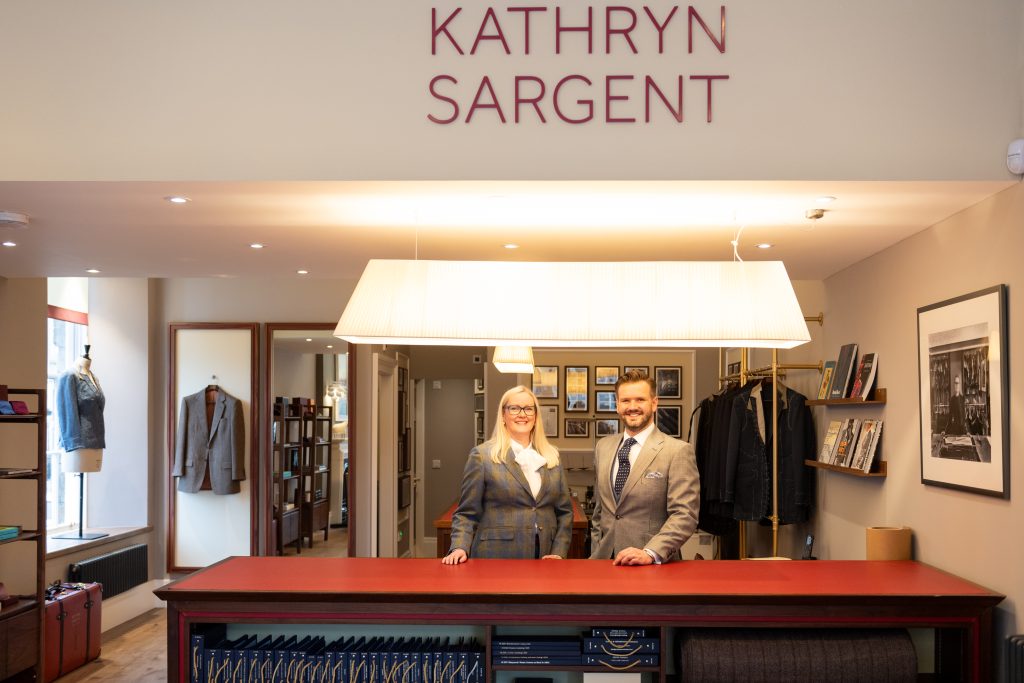 "I have always been inspired by the heritage of Scotland – its colours, textures, fabrics, and landscapes – and ever since starting my business I have had a Kathryn Sargent Harris Tweed specially woven in the Outer Hebrides. To mark the opening of the new Atelier in Edinburgh we are creating two new colourways of Kathryn Sargent Harris Tweed designs in green and blue, in addition to the original brown design. We will also offer a broad selection of tartans and can help and explain the nuances and specific protocols of Scottish dress and, if customers are interested, advise on clan tartans. The new Edinburgh shop will blend traditional Scottish textiles and dress with the unique craft of Kathryn Sargent to create sustainable luxury garments.
"As a board member of the Savile Row Bespoke Association, I am committed to adhering to their founding principles of protecting and promoting the practices and traditions that have made Savile Row the home of the best bespoke tailoring in the world for more than two centuries. Savile Row Bespoke Tailoring refers to a set of tailoring quality standards, rather than the assumed geographical location, and relates to the methods used to craft tailored garments.  It is therefore a delight to bring our knowledge and service to the wonderful City of Edinburgh, and embrace the unique cloths and varied styles of garments associated with Scotland."
The shop will be under the day-to-day guidance of Alistair Nimmo, Head Cutter.  Alistair trained with Kathryn over a number of years, holds a Savile Row Bespoke Diploma, and was born in Stirling. He said: "I'm proud to be heading up the Scottish arm of the business, it's a natural fit with my personal heritage and professional passion for Scottish dress, deep knowledge of tartans, tweeds and ceremonial dress.  Whether people want traditional Hogmanay dress or something more renegade in tartan, we can make it.
"As well as our numerous contacts with craftspeople and specialists in Scotland who will be supporting the business in terms of supply and manufacturing, we have tried where possible to support the local economy with the fit out of Howe Street. These include local tradespeople and artisans, such as signwriter Thomas Paints, Glasgow based textiles company Timorous Beasties who have hand printed our wonderful fitting room curtain, and Fine Artist Laura Gill has created a beautiful new artwork capturing Edinburgh in her unique style especially for our new location."