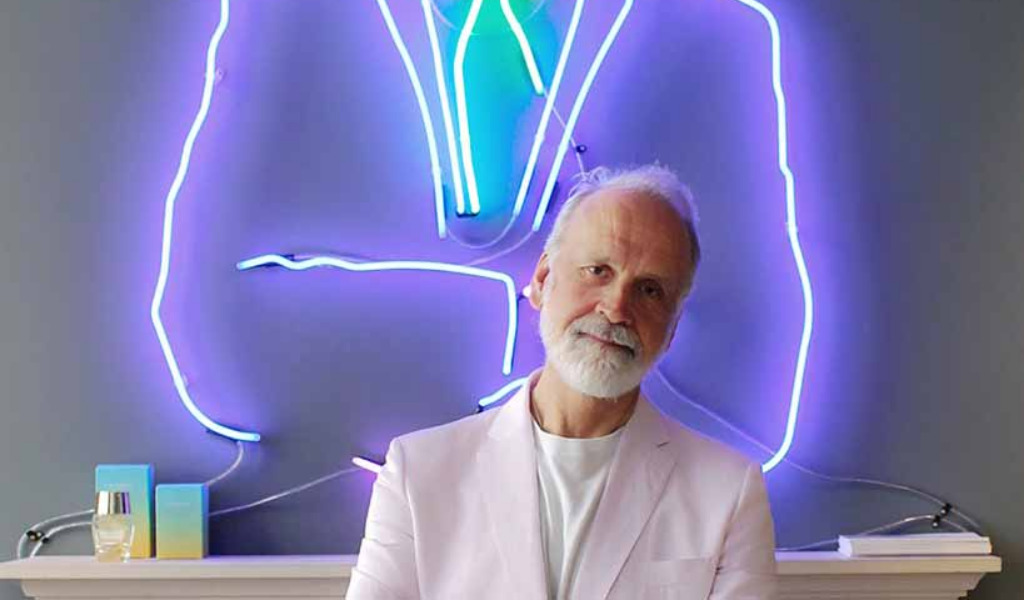 Robin Dutt recalls a stroll he took with Richard James down Savile Row. here, he reflects on James' career as an undisputed master of style and cut.
Looking languid and comfortable in his eponymous shop, Richard James strikes a familiar pose. That air of natural ease and elegance has not deserted him in a quarter of a century since the company's founding and even before that, when I initially encountered him as a chief buyer for the internationally acclaimed boutique, Browns.
At this time, Browns was a magnetic go-to for shrewd shoppers who wanted edge – not shock – and James was part of a team which really knew what was what. Their judicious choices made the shop eclectic and unusual and James played no small part in the appreciation of Sydney and Joan Bernstein's idea of what a fashion store should be on that once natural London catwalk, South Molton Street.
But perhaps one in retrospect cannot be surprised that with his eye for detail and knowledge of cut, this graduate of Brighton College of Art would want an emporium of his own – a playground where the message is stridently serious. He is master of cloth and cut and in fact, has been described by writer and academic, Colin McDowell as 'the best colourist working in menswear in London today.'
James is often referred to as the first of the 'new establishment' or 'new bespoke' of Savile Row. Even more than 25 years on, his beaming face and ready chuckle impart a sense of mischievous charm – boyish and high-spirited despite the travelled years and much hard work. The business runs smoothly and the knowledgeable staff, a definite cut (or more) above the norm. Everything exudes peace and civility. But like the proverbial swan which glides, one can conjure the purposeful action of the feet beneath the water's surface.
James shows me some mannequins in the window sporting a selection of stage clothes for Sir Elton John, proudly pointing out the exquisite details and for a second referencing the splashes of crystals 'each one applied by hand,' he opines, even the seemingly most insignificant example. Then he invites me to consider the slicing exactitude of the company's bespoke best. As he describes these garments, there is a undoubted sparkle of nostalgia and pride in his eyes.
Many commentators immediately refer to Richard James as a 'celebrity tailor' and whilst this may have more than a modicum of truth about it (customers include Mark Ronson, Benedict Cumberbatch, Daniel Craig, Jude Law, Tom Cruise and Bryan Ferry) this is not the only (however important) element of Richard James, the tailor.
Such clients as master couturier, Christian Lacroix, shoe supremo, Manolo Blahnik and designer, David Linley – fellow creators – have been more than happy to be measured up for that James silhouette. But it was not from day one, exactly plain sailing. In an interview with Gentlemen's Journal, James says, "We were not very well accepted at the start. People thought that we were using the name of Savile Row to better ourselves. We just came into Savile Row to do things in different ways."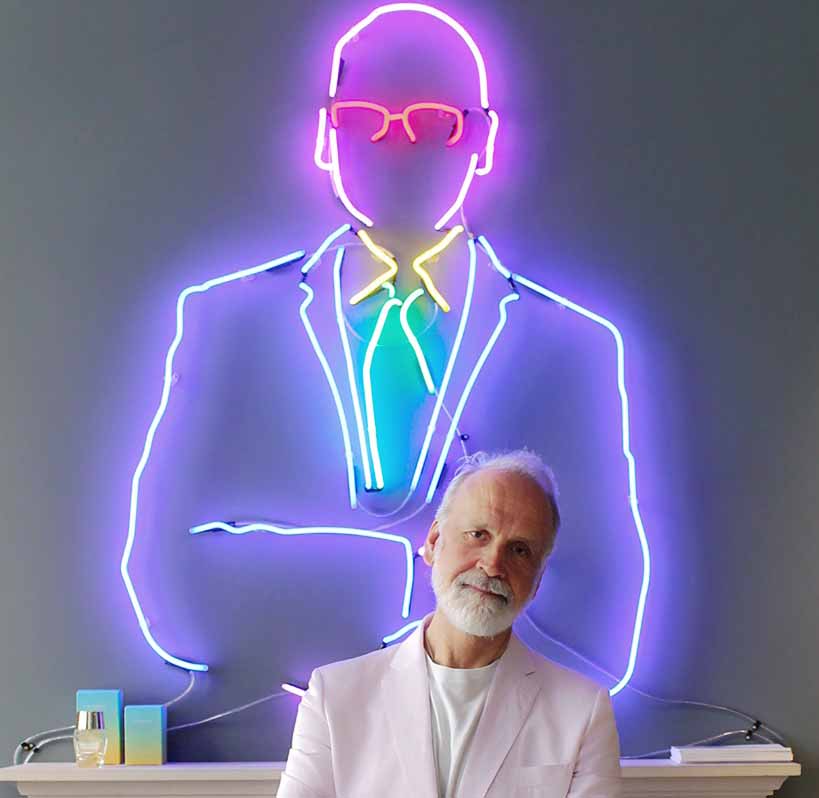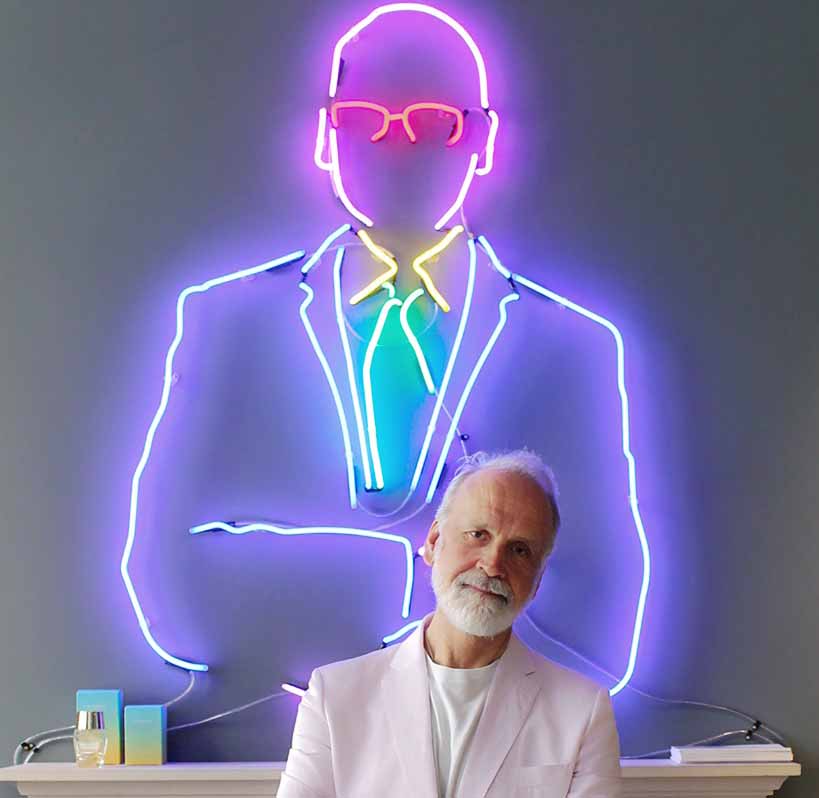 Savile Row is undoubtedly a family and like most families, not everyone pledges undying allegiance to all members. As a street of tailors it stands alone in the world – a rich seam of the uniquely precious knowledge and skill running through the mediocrity of fashion. But James would be the first to both celebrate its over 200 year past and court the contemporary – with taste. He recalls one incident. "Sir Hardy Amies was marvellous," he says. "I well recall his chauffeur-driven car pulling up outside Richard James and Sir Hardy emerging like Lady Bracknell. He'd cast a lugubrious eye over the bright pink and acid green jackets in our window before shaking his head at us in mock disbelief. And then he smiled."
As I know only too well, having interviewed Sir Hardy and enjoyed his company, the mischief is evident. This was typical Amies – with pomp and circumstance and a little show of cheeky disapproval from the man who set up his establishment in 1946, was Dressmaker to Her Majesty the Queen and had seen little change in the Row. But that mock disbelief and the eventual smile seem to carry with them some affection and regard for what a younger James was doing.
Deep, vibrant, jewel colours have always been part of James' sartorial autobiography. In fact, three Richard James pieces, greatly loved and sadly loved by moths too, used to hang in my wardrobe – a royal purple cashmere jogging suit, a duck egg blue blazer with mother of pearl buttons and a two-piece suit in subtle candy coloured stripes. Moths are famous for choosing the best.
But there is more than a place for a classic navy blue suit – Richard James style. I was once consulted where to find such a suit for a special occasion and I immediately said James' establishment. I accompanied the gentleman, the cloth was chosen, the form measured, the deal done and all in the space of what seemed minutes – though not rushed – with expert hands and eyes constantly vigilant. Then he took me for an overly extravagant lunch to celebrate.
Richard James takes his role as a creator on the Row seriously and feels that he has more than a responsibility to do so. He was a founding member of the Savile Row Bespoke Association and ever with an eye not to revolutionize the street but maximise its allure and charm, pioneered Saturday opening times. Perhaps one might imagine the sound of tailor's shears crashing to the wooden floors in horror, initially.
It is also Richard James' pioneering spirit which has seen some unusual elements of the business such as controversial advertisements, one was banned, depicting a sartorially perfect gentleman throwing himself off the top of a building, perhaps inspired by artist Yves Klein's performance leap, 'Into the Void', the sharp camouflage suit – a uniform in its own right and the 'Naked Suit' in collaboration with mass nudity photographer, Spencer Tunick. The cheeky boy in James has always found outlets. There is seriousness, irony and humour in much of his work – larger than average window pane checks, outsize dot motifs and again those electric, fizzy sherbet hues.
And James certainly has been recognised for his talent and business acumen. In 1996, he was awarded the Evening Standard's Eros Award as Retailer of the Year. He was Menswear Designer of the Year, awarded by the British Fashion Council in 2001. He won the Best Advertising Campaign for Autumn/Winter 2007. In 2018, he received an OBE. Real estate developer and film producer, Charles S. Cohen took a majority stake in Richard James in 2017 and assumed the role of chairman. Last year, Richard James opened on Park Avenue, New York.
James and I decide to take a stroll down Savile Row and he reminisces about the people he had known and knows and the changes which have come about. It is all too evident that he loves his home turf. Appropriately, we come to a stop at what used to be the House of Hardy Amies – a beautiful building which would make a stupendous town house. We both talk about the unrivalled salon shows held there – all gilt and mirrors – 'Just like my bedroom!' he laughs.
There seems to be a twinkle in his eye, as he looks at the old building again.