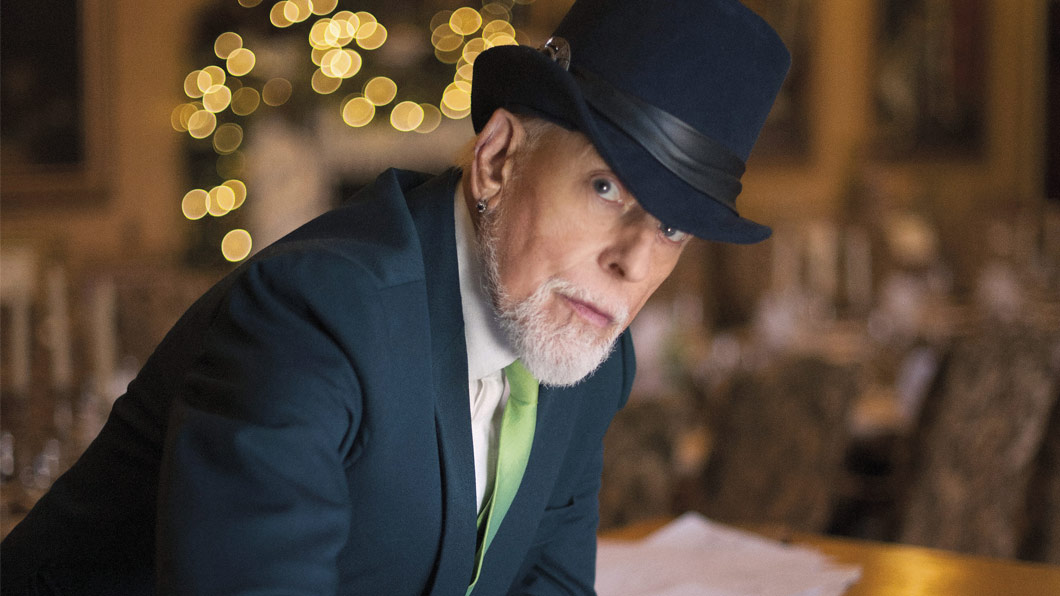 Antony Price, the genius who reinvented the suit and the most overlooked designer in British fashion talks to SRS. Photographs by Etienne Gilfillan, assisted by Paolo Navarino
pening my inky copy of that week's NME in the Eighties and reading about Bryan Ferry emerging from Antony Price's boutique on the King's Road, it is difficult to convey how ineffably stylish it all seemed.
It was a long way from the lead sky and the gasometer of the Midlands town I grew up in.
Surprisingly then, Antony Price, the man who has been called the most criminally overlooked designer in British fashion, turns out to be a warm Yorkshireman also from the provinces.
Today, he still dresses the Duchess of Cornwall, who remains one of his most loyal clients. Other clients have included Naomi Campbell, Diana Ross, Melanie Griffith and Anjelica Huston.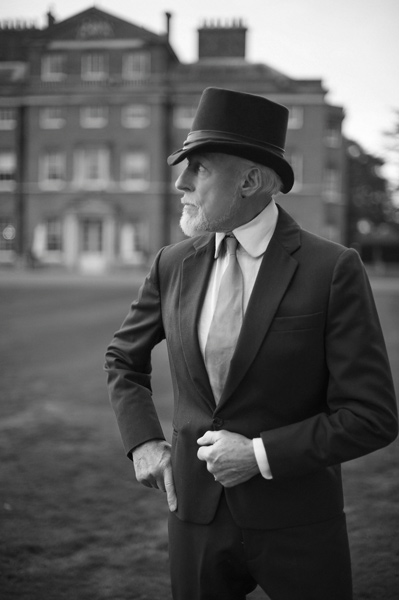 Standing in front of a dressing table, readying himself for our photo shoot, Price appraises himself. The triple pleats on his three-piece checked suit trousers are so exquisite, they make me want to cry. Often his innovations take years to work their way into the mainstream and the high street.
"I'm always ahead of the game and I know that I'm right," he says without a trace of pomposity.
Price reinvented the suit in the Seventies, taking it out of the office and making it rock 'n' roll. The look he developed was a little bit military, a little bit Dietrich.
"Suits really appeal to women, not men," he says, "because a suit says success".
His most famous collaboration was with Bryan Ferry, where his retro futurism perfectly suited the big-band, ray-gun sound of Roxy Music. His King's Road shop was even namechecked in Ferry's song Trash.
There is something magical about Antony Price. Hurrying after him in Brocket Hall where the photo shoot is taking place,
I feel like Alice trying to catch up with the dashing White Rabbit. He has the energy of a thirtysomething.
What Price would also love to do is design a menswear collection for a traditional Savile Row tailor.
"I do wish a Huntsman or a Kilgour would get me in. I understand completely the business they're in and the constraints they're under because I have spent my life selling clothes. But Savile Row cannot stay the same forever, there has to be an injection of design."
"Not only am I a designer, I am a master pattern cutter. I make patterns for everything I've ever done. It's about shaping and cutting because you can't alter the basics of a revere collar and a set-in sleeve. I do like to work with other houses whenever possible."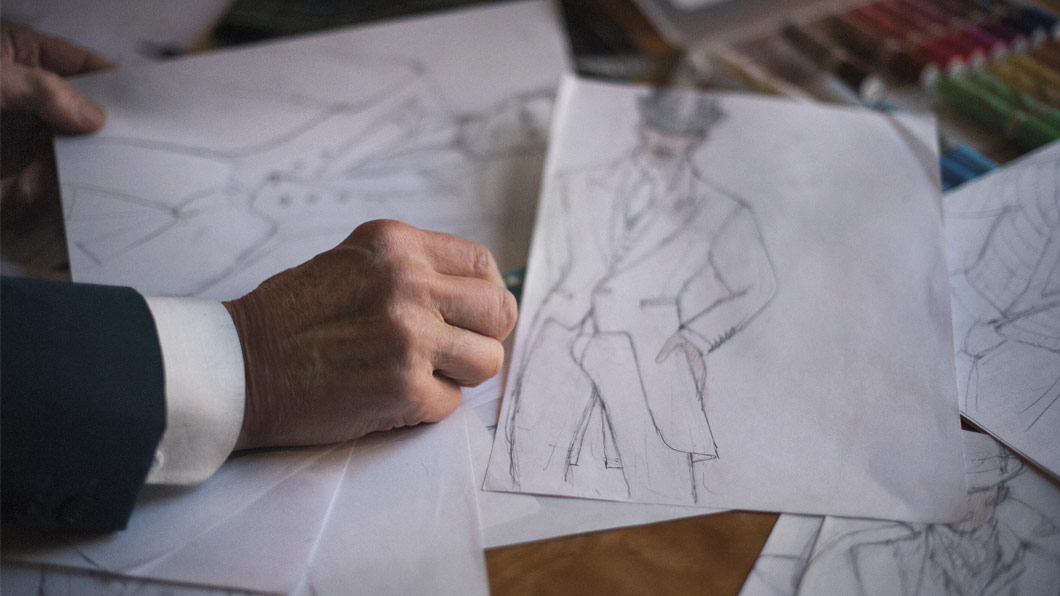 Price says that a man's jacket is one of the most complicated pieces to manufacture because it involves so many elements.
"There are only two garments that are complicated. One is a corseted evening dress and the other, a man's jacket. These are the two most complicated garments you can make with the most pattern pieces and the most mistakes which can happen."
Price was always good with his hands and he approaches fashion as technical problem solving rather than making an art statement.
Price says: "Whenever I employ people, I employ rural people because they're problem solvers. They're in the middle of nowhere, so they have no resources."
Country childhood
Price grew up in the Yorkshire Dales and, for somebody so sophisticated, he's very much a countryman who keeps pheasants in his garden.
He began making clothes for his mother and sisters when he was an adolescent. Watching his mother struggle over the sewing machine, he realised that she was getting the hems all wrong. He elbowed her aside and started making his family Givenchy knock-offs.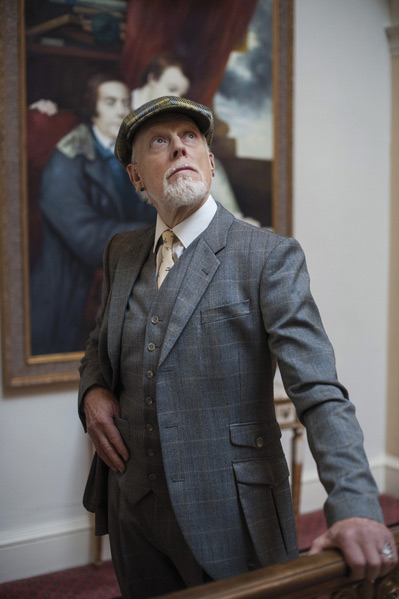 Price followed the same art school trajectory as David Hockney, first going to Bradford Art College and then winning a scholarship to the Royal College of Art in 1965. There he frequently hid from the caretaker, so he could stay up all night working on the machines.
Even straight out of art school, Price was seen as up and coming. He began working for the Stirling Copper shop in the late Sixties, where his first customers were the Rolling Stones. "Everybody in rock 'n' roll bought the clothes," he says. Mick Jagger wore his side-buttoning, snake-hip flared trousers on the 1969 American Gimme Shelter tour. (It's a relationship that continued into the Eighties, as Price designed the iconic American footballer outfit Jagger wore for the 1981 tour.)
The first time that Price set eyes on Bryan Ferry was when he was in the audience of an Ossie Clark fashion show. "He sought me out because I was the rising star," Price laughs.
"We gravitated together because we had similar northern upbringings. Bryan worked as a teenager in a tailor's shop in Newcastle and he was always a Savile Row devotee from day one. He always loved classic menswear."
What Price offered Roxy Music was a complete package including clothes, hairstyling and his friendships with models such as Jerry Hall, Amanda Lear and Kari-Ann Muller (all of whom appeared on Roxy album covers).
Their first collaboration was when Price styled the cover of the first Roxy Music album, which featured a yearning Muller dressed up in Neapolitan ice cream coloured ruffles. Indeed, Price oversaw every aspect of the video for Let's Stick Together. "I got up there and even did the bloody curtains myself on a ladder," he laughs. Their professional relationship continued up to the 1985 cover of Ferry's solo album Boys and Girls.
With Price's sharp styling and exaggerated suits, Roxy Music invented the Eighties long before the Seventies were over.
"We didn't know that we were making history. When the record company got the pictures, they thought these clothes suit the music."
For Price, the highpoint was Ferry performing the song Casanova live on a set Price designed. Ferry was wearing an acid green leatherette suit. "That was the moment I thought this will never look this good again – he was like a brilliant lizard in a cave of lights. For me, that was my moment."
Electric silk
Price opened his shop Plaza in 1979 on the King's Road, where the big seller was his men's taffeta suit. In 1982 he designed electric silk suits for Duran Duran, which they wore for their famous Rio video.
Price says: "I managed to do as cutting edge as you could but still sell it. To push the envelope that far and still make it commercial is not easy."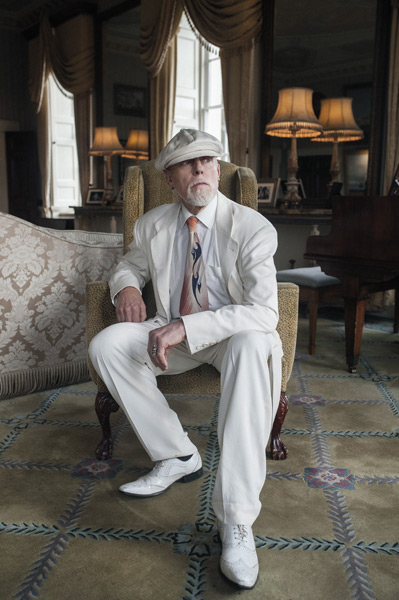 Given that he has been cited by Alexander McQueen, Thierry Mugler and Galliano as such an influence, why hasn't he been put in charge of a major couture house? (There was a moment when he was eyed to take over Versace in the wake of the designer's death in 1998).
"I peaked at the wrong time," he says reflectively. "I was 15 years too early." At the time, no British designer had ever fronted an Italian or French couture house unlike McQueen or Galliano later.
Price though is not much given to raking over the past, he is more excited about the future. And he is as passionate and excited about tailoring as ever.
"I love the art of changing the human body into different shapes. There are two ways you can do it dramatically, either corseted or reshaped through tailoring, using canvas and darting and suppression to alter the outlines of the human body."