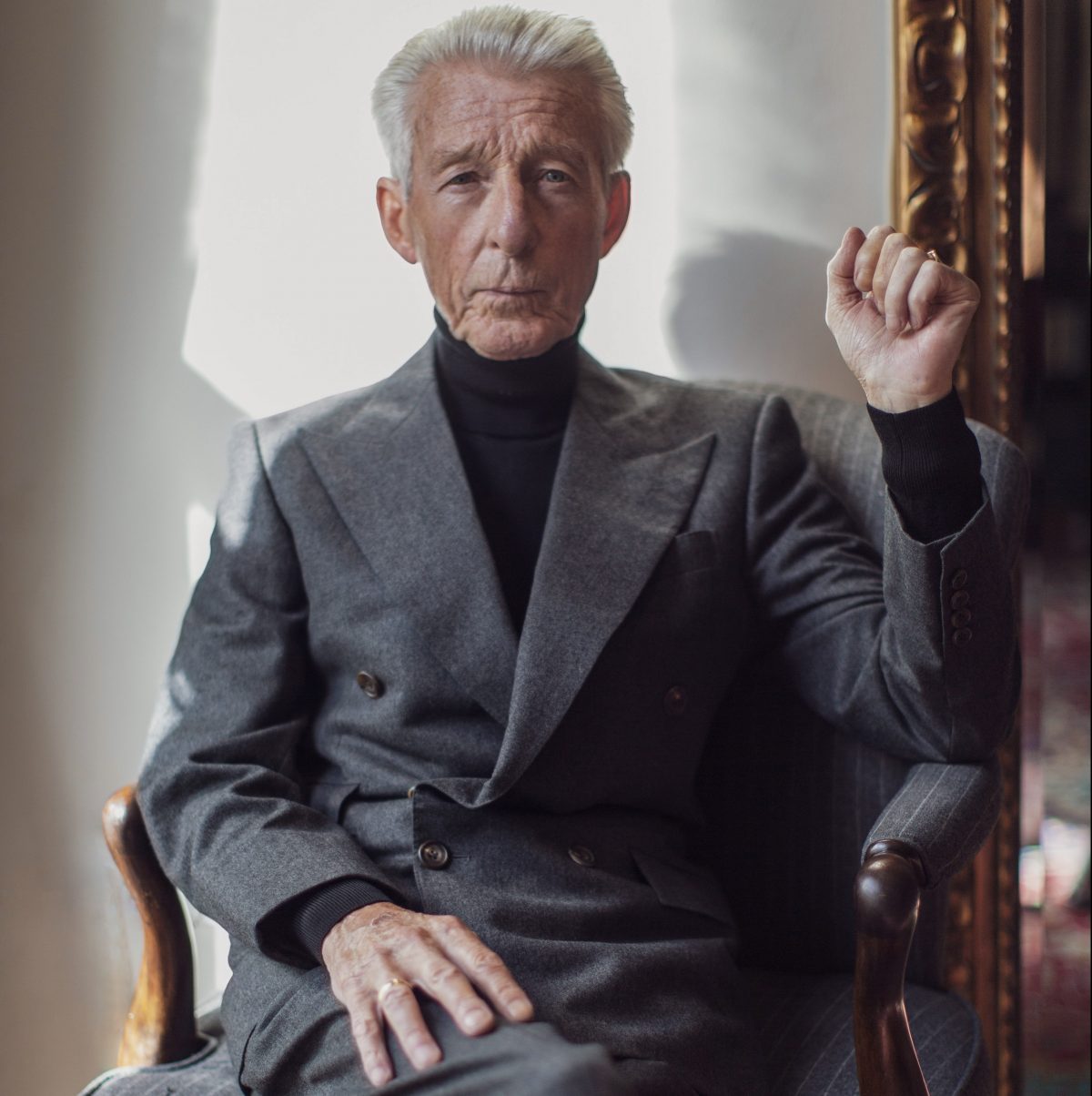 Cindy Lawford catches up with Edward Sexton, back in business on Savile Row
There is a thrill to be had these days for suit lovers walking down the west side of Savile Row for the first time in many pandemic months. It comes at the sight of the name "Edward Sexton" above the door of number 36. He's back, the legendary cutter that dressed everyone cool, famous and glamorous at Nutters on Savile Row. "Once [Savile Row] is in your blood, it's in your blood," says Sexton, sitting in his new shop and dressed immaculately as ever in suit, tie and rose-gold tie-pin. After an absence of more than 40 years, Sexton declares the street without hesitation "my birthplace". His desire to do something new and do it impeccably well is undiminished at age 79, as is his tailoring reputation. "I love what I do," says Sexton, who has no interest in retiring. "I have this huge passion for it. I love being in the workroom. I love a challenge."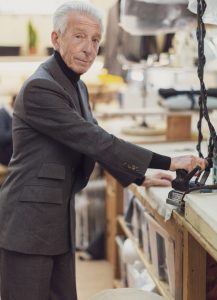 A working-class lad living in Elephant & Castle, Sexton first entered the workroom in 1957 when he was in his early teens. He soon found himself making riding coats for Harry Hall in the day and taking tailoring classes at Barrett Street Technical College by night. In the early 1960s, Sexton would serve an apprenticeship at Savile Row's Kilgour, French & Stanbury, before becoming a military cutter for Welsh & Jefferies. In 1966, he arrived as the new cutter at Donaldson, Williams & Ward in Burlington Arcade. There Sexton found himself faced with an entirely conservative approach to suit construction and, by way of extreme contrast, a handsome young man working front-of-house whose personality was finding him wide favour among movers and shakers in London's social scene. Possessed with a flair for design, Tommy Nutter shared Sexton's disenchantment with the DW&W's staid approach and, over afterwork pints, the two became convinced that together they should find a way to make a new kind of suit.
Thanks to the financial backing of Beatles manager Peter Brown and Cilla Black among others, Nutter, 25, and Sexton, 26, opened the doors of their tailoring house at 35a Savile Row on Valentine's Day 1969, with a guest list that included Paul McCartney and Twiggy. From the moment their first suits were put on show that evening, the house became known for clothes with a cutting-edge style that were beautifully made – without the slightest compromise of the Row's high standards. "All the tailors had to admit that, respect that," recalls Sexton.
They had to admit it even though in many other ways Nutters was doing things differently, most obviously with their window displays on a street where all the other curtains were firmly down. In his book House of Nutter, Lance Richardson records Peter Sprecher's memory of passing by Nutters' window and becoming suddenly fixated by "this crazy suit: navy blue, pink lapels, with flared trousers in a box plaid". Then there is the anecdote of Hardy Amies at a cocktail party pulling out his tape measure to examine the width of the lapel of Tommy Nutter's suit. Face-to-face with the upstart, Amies then pronounced that lapel "extraordinary". "We started afresh," says Sexton, "and [the other tailors] could not fault our designs, even if they were much more extravagant than theirs."
It's worth remembering that back in 1969, when the boutiques of Carnaby Street and the King's Road were selling all kinds of ephemera to the hip and the young, Nutter and Sexton together were conjuring up their own new possibilities, suits made to last that were unlike anything seen before in their colours, fabric combinations, trimmings – lapels and pockets often in dizzying contrast to the fabric of the main body of the suit jacket – and, most importantly, in their fit and shape. Dubbed "the wizard with the scissors" by the clientele at Nutters, Sexton incorporated his training as a tailor both of military and riding wear to create trend-setting new shapes, building on the long coat and the wide skirt of the traditional hacking jacket. Then, as now, Sexton's suit structure is "achieved in the foundation", Sexton says. "I don't make suits, I build them, stage by stage." His relish for exploring variations in contour remains undiminished. "I like strong architectural lines in my clothing," he adds. "My cut is very unique, it's very recognisable."
Sexton's creative director Dominic Sebag-Montefiore points out that this famous cut has never stood still, continuing to evolve with the master cutter's changing tastes. To this day, Sexton is ever ready to create a new pattern for an old customer. "You've got to be current," he says. The constants of Sexton's style remain the strong shoulders and peak lapels with a high-cut armhole. "You stay with your signature lapel, your signature sleeve head," Sexton says with well-deserved pride. "It's all got your signature." Sebag-Montefiore is happy to state the obvious to his boss, "You've always liked the peak lapel. It's always been not on the narrow side."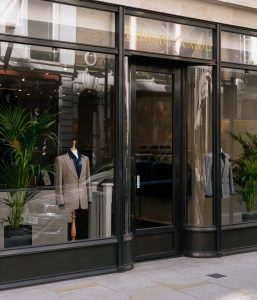 Sexton is particularly known for his double-breasted suits. According to Simon Crompton in a post for Permanent Style, "The big sweep of the bellied lapel is wonderful, particularly when married with the wide, roped shoulder and long straight edge below the waist button." For Sexton, "You get the emphasis in the shoulder, and the hip, and everything in between the shoulder and the hip is fluid." When asked why he remains a fan of the double-breasted despite the formality often imputed to it, Sexton is quick to say the double-breasted blazer travels easily, "You can dress it up or dress it down." Nor does he hold to the view that those with wider waistlines should avoid it. "We can make a fat man look slimmer and we can make a skinny guy look more beefy. I like the security of double-breasted, personally."
From the start, Nutter and Sexton's new shapes were in part inspired by the lapels and Oxford bags of the 1930s and 1940s, often ventless jackets that were closer, sexier than the draped ones of 1950s and 1960s. In those latter two decades, Savile Row had found itself standing in stern reaction against the flamboyance of the working-class Teddy Boys, who had dared to presume they could imitate and improve upon the neo-Edwardian looks of their social superiors. By the end of Swinging Sixties, Savile Row's conservatism was leaving more than a few of its customers bored and disenchanted, ready for something new. Cecil Beaton famously opined of the tailors: "They really should pay attention to the mods… The barriers are down and everything goes. Savile Row has got to reorganise itself and, to coin a banal phrase, get with it."
"Men could not express themselves" with the suits then on offer, recalls Savile Row tailor Joseph Morgan of Chittleborough & Morgan, who worked under Nutter and Sexton. Morgan's is a telling phrase, indicating that the zeitgeist of the late 1960s encouraged some to question their elders in the clothes they put on their backs even to go to the office. Tailor and designer Timothy Everest, who worked for Nutter for five years, says Nutter and Sexton presented their clients with "subversive tradition", lifting and wholly reimagining style aspects of suit history to challenge the status quo and bring exquisite tailoring to a younger audience – be they the bankers in search of suits anything but solid grey or navy, or the more adventurous pop stars. A large number of Nutters' early customers were gay like Nutter himself and willing, says Sexton, "to suffer to be beautiful. They were quite happy with something very close fitting, where they couldn't move as easily."
At Nutters, both City men and celebrities could have made snug jackets with defined waists, bottomed by widening trousers too tight in the hips to hold any pockets that were nevertheless great for dancing in. Gradually, the shoulders at Nutters became much larger and heavily roped. Tommy Nutter would rapidly sketch out the pictures in his head, confident that Sexton could bring them to fruition with a skill that impressed everywhere. As Everest remarks, "Without Edward, you could not translate Tommy's ideas". Both Sexton and Nutter were aiming with their suits for a kind of beautiful precision that would work uniquely for each customer. Morgan remembers that, though many hours might have been spent creating any particular suit, "They would pull it apart if it was not to their standard" and begin the work all over again. "It was their integrity to style. That was the element that fascinated me." Cutter and coatmaker Henry Humphreys, who went to work for Nutters in 1970 and now works for Morgan, admits that he "learnt loads of things" from Sexton, who was "generous with his time and himself". Indeed, Humphreys recalls Sexton saying to him, "Come and work for me and I'll pay you more than anyone else." And he was true to his word.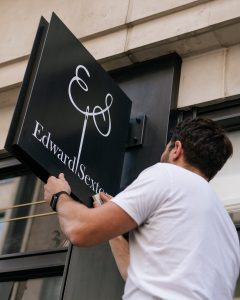 The most perfect model for their creations was, in Sexton's words, the "very handsome" Nutter himself, widely seen on both sides of the Atlantic in the 1970s as one of the world's best-dressed men. All those celebrities who flocked to 35a expected that Sexton and Nutter could make them stand out as their grandest selves, with suits more individualistic than they had ever dreamed possible. Two top highlights must include (as a "pure coincidence", claims Richardson) McCartney, Lennon and Ringo Starr all wearing Nutters for their famous walk across Abbey Road in 1969; and Mick Jagger in an eau-de-nil suit for his 1971 wedding to Bianca, who herself became a regular customer. Justin de Villeneuve and his girlfriend Twiggy swaggered in the suits, as did Eric Clapton, Yoko Ono, Peter Sellars, Lionel Bart, David Hockney, Leonore Annenberg, Tommy Tune, Nancy Reagan and the Duke of Bedford. Many of the most daring were worn by Elton John, who would buy twenty suits at a time.
By the early 1980s, Sexton had decided to work under his own name on the Row, and in 1990 he left the Row to work in Knightsbridge, where he still makes his bespoke suits today. The celebrities have never stopped coming, with Annie Lennox and David Gray both wearing his suits for their 2009 Full Steam video; Mark Ronson in a white double-breasted for his 2011 wedding; and that same year Cindy Crawford, Naomi Campbell, Yasmin Le Bon and Eva Herzigova all decking out in his suits as they mimicked a rock band for the Duran Duran video, Girl Panic. Naomi was in the centre in flaming red. Well worth an internet search is Harry Styles in a pink Sexton suit performing on the Today show in 2017. Sexton, however, cannot afford to be awestruck. "I've personally never been impressed with celebrities," he says. "You have a job to do with them, same as anyone else."
Perhaps some of the greatest compliments have come Sexton's way when top fashion designers and tailors have openly taken his ideas. For his Purple Label, Ralph Lauren adopted the ventless jacket that Nutters made popular and that Sexton is still fond of making. Tom Ford, Ozwald Boateng and Richard James have all been inspired by him. He has been asked to create ready-to-wear lines for Hardy Amies, Chester Barrie and Bill Blass. Rick Owens and Stella McCartney (whose mother Linda Sexton dressed for years) have both turned to him for advice, with McCartney so pleased by his tutelage that she got him to design for Chloé when she became its creative director. "She went to Chloé and Chloé came to me," Sexton says. Chloé's look was all soft and flowing, so at first the brand "couldn't identify with what we did", that is, structured tailoring for women, a process which Sexton then translated into factory production. Many tailors "tend to make [women] look like stormtroopers", Everest notes, while Sexton is without doubt "one of the best women's cutters in the world".
The wizard with the scissors is very pleased that, having designed clothes for so many other fashion brands, he can now offer his own ready-to-wear line at his latest Savile Row premises, including knitwear and silk evening shirts. Yet his suits will always be the main attraction. "Our response to Covid and everyone wearing athleisure is to do bold, strong suits," Sebag-Montefiore says, "because the people who are going to be buying a suit this year want a real suit." Also available at the shop are rare 1970s pictures of Tommy Nutter, models and celebrities, taken by his brother, photographer David Nutter. So much history travels with Sexton's name, valuable history. Morgan speaks for the entire Row when he says, "It's great to have him back."
Cindy Lawford gives tours of Savile Row, Jermyn Street and other menswear shops. Visit fashiontourslondon.co.uk to find out more.