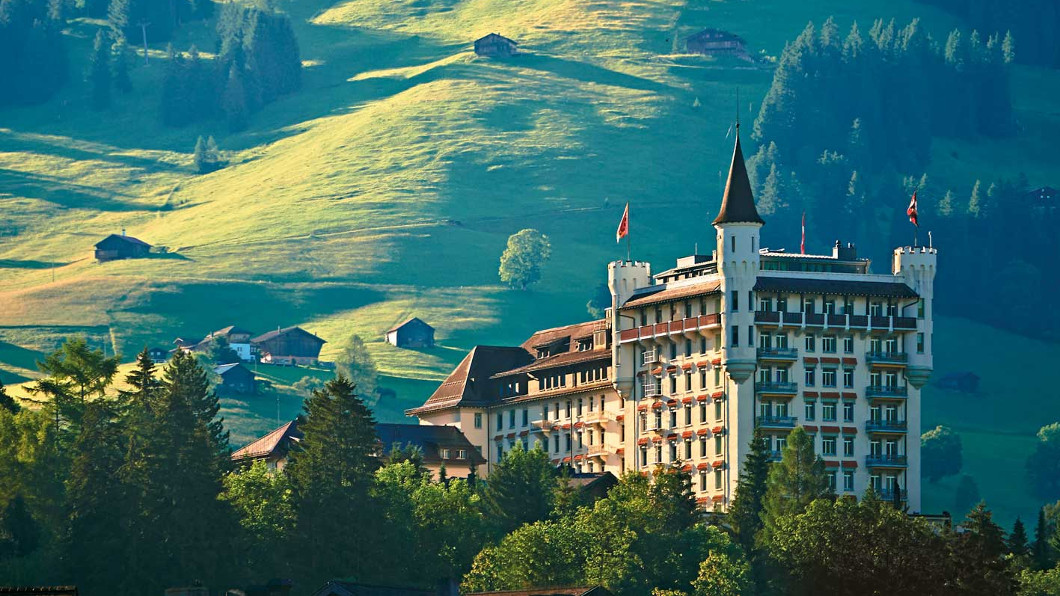 Switzerland may not be the first place to consider when planning a summer break. All those mountains and snow makes one instantly think of winter, skiing and the odd glass of gluhwein! Think again as Switzerland is a place for all seasons.  That dramatic backdrop of the Alps is always breath-taking, but also creates some impressive hiking and climbing opportunities. In fact the summer months, thanks to the high altitude, are the perfect time to conquer these peaks.
The Western Alps alone features the mighty Eiger, Jungfrau and Monch and so consider setting up a base camp at Interlaken. I don't mean pitching a tent crag side, but booking some five-star luxury at the likes of the Lindner Grand Hotel Gardner Beau Rivage – with its spectacular mountain views – or the Victoria Jungfrau Grand Hotel – perfectly blending old-world sophistication with a sleek modern charm.  Interlaken is one of the oldest tourist resorts in Switzerland so knows how to provide that holiday to remember and thanks to the wonderful mountain railway you can get pretty high up those mountains without ever breaking a sweat. Maybe save that for the hotel gym?   
Or head to the lesser-well known, but equally impressive Andermatt; your HQ for tackling the Eastern Alps. The setting for James Bond's dramatic escapades in Goldfinger, this alpine region may feel remote, but is definitely not cut off. Only two hours by car from Milan, or four from Munich, plus it's a stop on the Glacier-Express railway which runs from Zermatt to St Moritz. The Swiss government has been heavily investing into this gem for the past two years, encouraging visitors to expand their horizons. The sumptuous Chedi Andermatt can provide a bespoke, luxurious service in a most glamorous destination. Even better, purchase your own slice of paradise with the Chedi Residences – and have a personal share of five-star luxury.
Switzerland has it covered for the city break too. Need some retail therapy in Zurich's Bahnhoffstrasse, then take your pick from a plethora of luxury, numerous starred hotels. Check into the Baur au Lac or the Dolder Grand to sample over 100 years of continuous service from each establishment. Like a  good Swiss timepiece, these hotel grand dames run smoothly, efficiently and elegantly, but also offer up-to-minute dining and spa treatments for the most discerning of guests.
Not surprisingly for a town referred to as "The Place" by Time magazine in the 1960s, Gstaad remains one of the go-to destinations for the cognoscenti. Surprisingly for a town that boasts the largest ski area in the Alps, and for a country famous for its land-locked status, Gstaad is also home to a major beach volleyball competition! In fact the city's summer schedule is teeming with sports, including tennis and polo, and not a ski in site! Not surprisingly with such a chic clientele heading this way, luxury hotels abound. Check in at the Gstaad Palace, the only family run and managed luxury hotel in Switzerland. Here guests are considered part of the family, but are actually treated like royalty with some rarely
found,  good old-fashioned service.
Alternatively head south, to the very southern tip of Switzerland, where its borders criss-cross with France, and arrive in Geneva. Known as "the smallest of big cities", Geneva also has a mountainous backdrop – this time it is Mont Blanc that provides the drama. Hotels here are equally impressive and historic. Check into the lakeside location of the revered Le Beau Rivage, home to many a Savile Row trunk show.
It offers bags of elegance and opulence, the perfect accompaniment to a day spent watch shopping or maybe political peacekeeping. After all this city is home to European headquarters of the United Nations.
In fact this little country, which is really only just a little bit bigger than Dallas, Texas, can offer everything at any time of the year – there is even an all-season skiing and snowboarding centre at the Matterhorn's Theodul Glacier. And thanks to the country's many French, German and Italian influences a visit to Switzerland is just a mini European tour – with better chocolate!