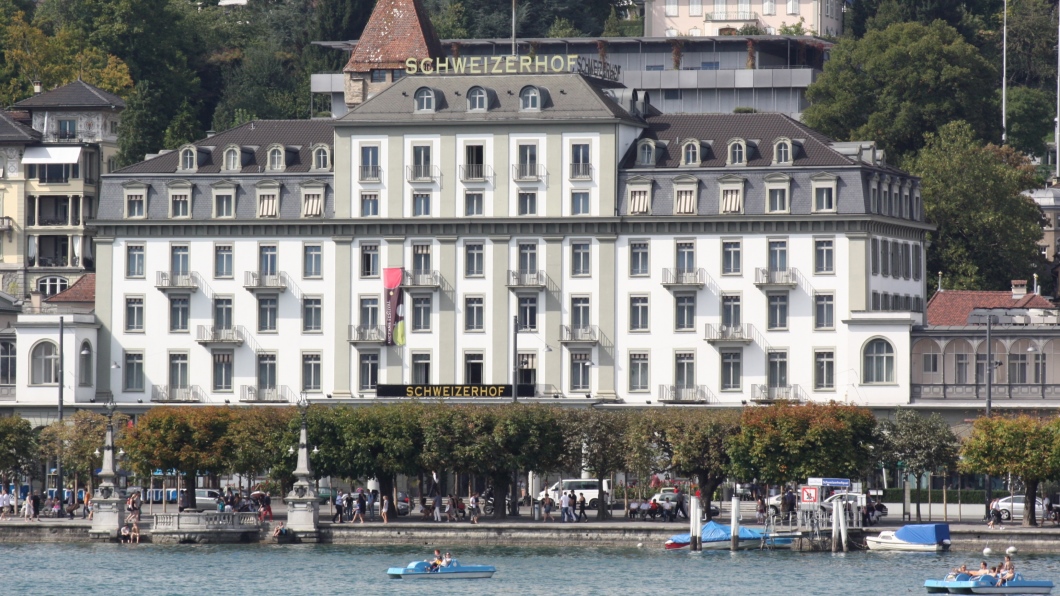 Roderick Gilchrist enjoys some intoxicating mountain air in Switzerland

They gave me Mark Twain's old suite, with its dramatic balcony views of brooding snowy peaks when I checked into the Hotel Schweitzerhof, Lucerne, where I was greeted with one of the author's laconic, witty quotes in scroll writing on the wall behind the bedhead.
"I have never taken any exercise except for sleeping and resting," it declared, which is a bit if a paradox these days in Lucerne as most visitors come to this elegant lady of a lakeside town in summer not for a calming sojourn, as they once did, but to hike the Alpine paths, mountain bike through pine forests, yelp with joy careering down dry toboggan runs and generally race about in sailing boats on the sylvan waters that wash its shores.
It's as if a once-grande dame has hitched up her skirts and decided to dance.
All of this sporting activity is confusing. Think of Switzerland and you think of ski-ing. But Lucerne doesn't do ski-ing. Lucerne earned its celebrity as a genteel spa on the Grand Tour for the well-to-do, catering for those in need of recuperating in its intoxicating mountain air.
Queen Victoria came in 1868 still grieving the death of Prince Albert, arriving anonymously as The Duchess of Kent with four of her children and her two favourite ponies. The horses carried her half way up the 6,000-feet high Mount Pilatus but Victoria's assault on the summit was from the comfort of a sedan chair hauled by two burly farmers.
Twain hit town ten years later to take a rest cure after exhausting himself writing Tom Sawyer, the classic about a ragamuffin youngster's adventures along the mudflats of the Mississippi. The lake around Lucerne, edged with traditional Hansel and Gretel wooden chalets, onion domed churches, fairytale castles and flower bedecked meadows, where cattle peacefully graze to the symphony of their own clanging  cow bells, is somewhat different from the mangrove swamps of Old Man River, but Twain fell in love with it.
His travel book about what he saw as an alpine paradise attracted the rich and famous and the good burghers he made rich still celebrate Twain with dedicated trails and statues.
Mature seniors, especially Americans on their own Grand Tour of Europe, continue to fill Lucerne's Belle Epoch waterside hotels like the imposing Schweitzerhof but today they are outnumbered by chattering orientals, especially Chinese, who descend on Lucerne to buy expensive Swiss watches escaping the punitive import taxes they attract back in Beijing.
It's quite a cabaret to see the excited sons of Mao rolling up their sleeves in the quaint, baroque cobbled squares of the Old Town, where time has stood still for centuries, to take selfies of their new, precision jewelled Rolexes.
Flashy new watches in a city of such antiquity, surrounded by another earthly landscape of jagged mountains, their peaks poking through clouds like pointy witches hats ringed with a lacy collar, is something of an irony.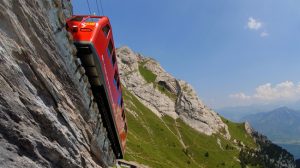 It's said to have taken Victoria three days to reach the top of Mount Pilatus, pictured left, but we did it in under two hours, first cruising by stately paddle steamer on the mirror calm waters of the lake to the village of Alpnaschstad, then hopping on a coggle wheel electric train for the ear popping, vertigo inducing, thrilling, 48-degree gradient ride to the summit. It felt like being hauled up a sheer cliff face. p here, twixt heaven and earth, eagles glide the thermals and dare devil hang gliders leap into space to fly with them. From this lair of the gods you can see 71 mountain peaks marching as far as the deadly Eiger, where many climbers have died, 50 miles away, all perfectly framed in a sky of Air Force blue. There's a swish hotel up here and, after a hearty meal of veal, cream and cheese in a restaurant named after Queen Victoria, we were off again.
A swinging cable car took us midway back down the mountain to an adventure park of climbing ropes, bungee jumps and a dry toboggan run. They give you a seat the size of a tea tray then push you off down a chrome steel channel, a bit like a snowless Cresta Run, with twists, turns and sometimes spills for a helter skelter mile or so where the brave reach 40 miles an hour, their speed flashed up on a digital screen.
I didn't expect this playfulness about what I had always regarded as a dowager of a town but the reinvention of Lucerne is not only attracting youthful visitors, it has inevitably given her a face lift. There's a spectacular modern concert hall beside the lake designed artfully so that water actually flows right into the building, where rock and blues shows are staged throughout the year, as well as classical music. K.T.Tunstall was playing when I was in town. Its beauty is matched by the futuristic railway station next door.
After nightfall, where once Lucerne pulled the duvet over its head early in the evening, the city comes alive with plenty of street theatre among the buzzy pavement cafes strung along the waterfront.
That said  the unique charm of the Alstadt (old town) still lies in its maze of perfectly conserved Gothic, Baroque and Restoration houses, jostled together inside towering ancient city walls, many with frescoes of mythical scenes, of soldiers and serpents, decorating their facade, some with amusing epitaphs. The oldest apothecary declares: "There is no medicine for love."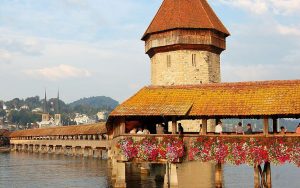 The defining image of Lucerne is the 14th century enclosed wooden bridge over the River Reuss, pictured left, burnt down in the early Nineties but swiftly rebuilt. More impressive though is its smaller sister bridge a little further down river where the turbulent waters whipped by currents at the weir, bubble and boil.
This has Dance of Death paintings by Megliner, a series of macabre panels in the roof intended to serve as a warning that no matter what your rank in life, Monarch or monk, the Grim Reaper awaits. Grinning skeletons hide behind Kings and ploughmen sending the Orientals into fits of the giggles for some reason..
It serves as a reality jolt amid all the cuckoo clock, yodelling, Swiss Army knife kitch, as does the haunting statue of the Lion of Lucerne, hewn into a rock face, which shows the beast in its death throes, a spear sticking from its haunches. The dying lion commemorates a Swiss mercenary company of eight hundred slaughtered defending Louis XV1 during the French Revolution.
Inevitably there are cafes all around named after local hero William Tell and it was at a traditional coffee house that Wagner, who lived nearby, would take his ease after a hard mornings composing in his pink washed villa. Freya our guide pointed out where it stood close by the Weinmarket. Today it is a takeaway Chinese restaurant called Li Tai Pe. "The way of the world," she says philosophically.
Next morning I was summoned by the mournful note of the paddle steamers horn disturbing the quiet of the lake calling me for a 30-minute cruise to the picturesque village of Weggis. These single funnel vessels that churn the water and leave the engine room, red pistons pumping, open to view, look like relics from some Imperial,19th century Navy, but observe perfect protocol, saluting each other with a toot toot when they pass on the water.
Mark Train retreated to Weggis when he felt energised enough to climb the Rigi Mountain, once getting lost when a sudden mist descended forcing him to spend the night huddled against a rock.
The Brazilian football team stayed in Weggis at the Park Hotel ten years ago during the World Cup and were so popular a Latin festival with samba bands is held every year in their honour. The team had to practise their ball skills so didn't make it to the top of the four thousand feet Mount Rigi but we did taking a cable car half way up then hiking the rest on a trail through delightful alpine flowers thoughtfully marked with their botanical names.
The panorama from the Rigi peak is the most celestial of all. It hypnotised Turner who continually painted it in all it's different moods.If he could return today he might have a surprise.A ten feet tall rock transported all the way from Mt Emei in China then hauled up to the summit sits at the top. After town twining mountain twinning is apparently the new vogue.Sort of Twin Peaks.
Back down at lakeside, relaxing after my climb in the Mediterranean like micro climate, over a glass of prosecco at the hotel Vitznauerhof, I chanced upon Charlie Chaplin's beautiful and youthful artist grand-daughter Laura, who was overseeing a sale of her paintings. She told me: "If my grandfather was alive today he wouldn't still be doing the little tramp, his character would probably be a Syrian refugee in trainers and track suit. He was always on the side of the oppressed, the little man."
Rachmaninov was inspired to write here and the village is alive with rumours Putin wants to buy his villa and create a museum dedicated to the Russian pianist.
What with Wagner living just across the lake where he is said to have written Tristan and Isolda I was tempted to start humming Ride of the Valkyries. But in deference to these legendary composers I composed myself, kept quiet and continued to enjoy the silent mystery of the wine dark waters.
ESSENTIAL INFORMATION
Swiss International Air Lines operate daily flights from £55 to Swizerland from London City airport, Manchester, Birmingham, Edinburgh and Dublin. Fly to Zurich, then by train to Lucerne. The Swiss Travel System provide a dedicated pass which covers all transport including mountain rides and steamers and discounted access to museums. To book Hotel Schweizerhof see www.schweizerhof-luzern.ch.For the Park Hotel Weggis, www.parkweggis.ch For all further information www.MySwitzerland.com or call 00800 100 200 30.