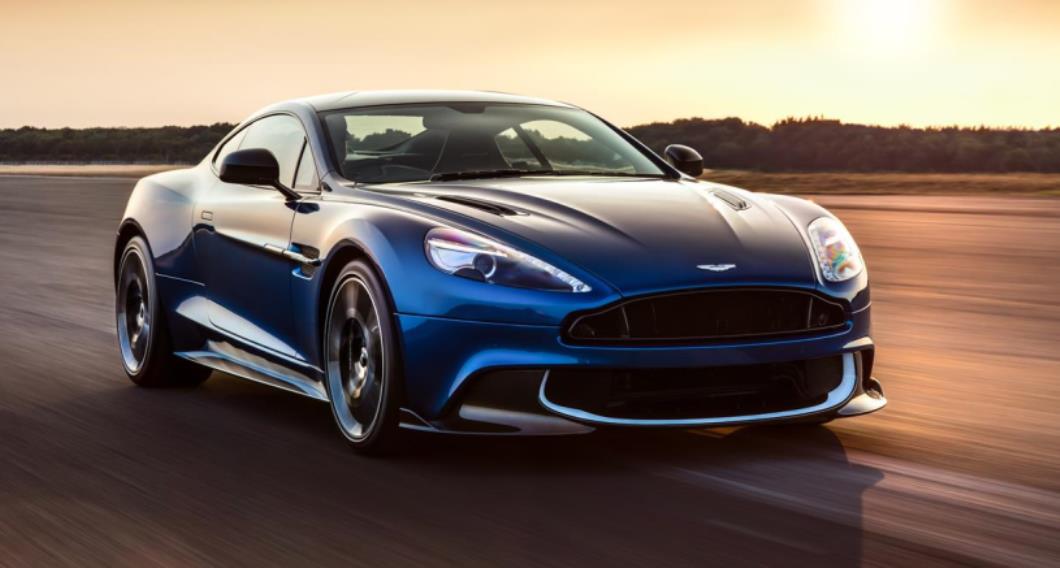 By Richard Aucock
2016 was the year of the new Aston Martin DB11 but it's not the only car the firm sells. Sitting above it in the range is the older Vanquish, a car pitched as a GT supercar rather than the sports car remit of the DB11. There was just one problem with the launch of the DB11. It was so good, why spend extra on a Vanquish? Now, Aston Martin has a solution: the Vanquish S. A better, faster, even tastier take on the firm's pinnacle car. It costs £199,950 and we've just driven it. Does it solve Aston's rather enviable dilemma?
Hit me with some facts on the Vanquish S
Power is up for the Vanquish S, from 573hp to 600hp. The 6.0-litre V12 remains turbo-free, though, unlike the turbocharged DB11; the increase is achieved through old-school tuning. Aston's also recalibrated the gearbox, uprated the suspension and created a new aerodynamic package. Changes aren't major, but the engineering work behind them is…
What's the thinking behind the Vanquish S?
Aston's intention with the Vanquish S is to hone and perfect the existing car, which was launched in 2013. Make it feel more like a car worth the £45,000 premium over the DB11 that's stealing all the Aston Martin thunder. The Vanquish is an achingly gorgeous car, so Aston wasn't about to alter this. It simply wanted to make it more of a car for connoisseurs.
What does it look like?
Aston's Vanquish S press demonstrator looks special because it's covered in carbon fibre and subtle graphics. But all Vanquish S look smart because of their enhanced front-end aero pack. A more aggressive front splitter pairs with a bigger diffuser at the rear (they're carbon fibre as standard), with quad crackle-black exhaust tail pipes adding the finishing touch. A meaner, moodier Vanquish: it's such a beautiful car, doing anything extra would spoil it. This hones it expertly.
What does the aero stuff do?
The tweaks to the aerodynamics at the front cut lift significantly – and because the car is now pressed into the ground more firmly, understeer is reduced. The rear diffuser complements the enhanced front end, creating a car Aston says is just as nicely-balanced as the regular car… but sportier and sharper with it.
That dash looks a bit old compared with the DB11, though…
The interior feels painfully aged compared with a DB11. Sure, it's impeccably assembled, thanks to the skilled several-thousands at Aston's Gaydon HQ. But the spidery instruments, chronically dated infotainment screen, Ford switchgear, hard-to-read centre console, all make it feel a decade old at its core. It's the elephant in the room you can't ignore.
Does it make a nice noise?
Start it up and there's a typically exciting V12 woofle. It's hardly subtle. Crucially though, it's more 'real' than some other start-up explosions. All real noise, not artificial stuff. As I'd later discover, Aston's enhanced this throughout the rev range, so the noise is even richer and more delicious on the move. Like watching a 60s driving movie in surround-sound cinemascope. Lovely.
What were your first impressions?
First impressions were of a lovely, elegant V12 GT supercar. These machines can be intimidating: not the Aston. Sure, it's low, wide, potent-feeling and so expensively-crafted you almost fear taking it onto public roads in case someone lunges at you. But this only adds to the feeling of knowing where your £200k goes. There's something else, too: so-called 'zero backlash' tech in the gearbox makes the eight-speed transmission feel even tighter and shift gear even more impeccably. You subconsciously notice this: it adds to the sophistication and quality.
Obvious question… is it fast?
0-62mph takes 3.5 seconds and Aston's targeted a 201mph top speed. So it's fast, yes, but not massively faster than the already-fast Vanquish. One thing Aston's been careful to retain is that 200mph-plus top speed – something the extra drag from its new aero kit put at risk. Cleverly though, this is actually more aerodynamically sleek than the standard car.
Is it now too fast?
The power hike is mild, so it's not colossally faster than the Vanquish. The extra power is felt less than the improvement in pulling power. It has the same torque, but it's delivered across a fuller rev range – even though it's not turbocharged, it's been given a bit of turbo-like depth. It's faster, but it's actually easier to drive – and, as proven on the wintry roads of the test drive, a subtle and very progressive traction control system is there to help you out when things get slippery…
How does it feel different to a regular Vanquish?
The regular Vanquish is a fine car but this one perfects it. Revisions to the suspension, led by ex-Lotus handling guru Matt Becker, mean it's both sportier yet better-riding. There's more control, more finesse, more accuracy and delicacy. It's cultured, tactile, remains unruffled no matter what the road surface below. The differences aren't night and day, but to the Aston Martin loyalists who'll be buying this car, they'll be stark.
If it's firmer, how can it also ride better?
Here's the contradiction with the Vanquish S: stiffer suspension yet better ride. That's because the springs and dampers have been meticulously tuned by Becker and his team, to precisely hone every aspect with race car precision. Better control, less roll, less heave and pitch – an altogether more premium ride, despite the fact it's also sharper. Wizardry and black magic, that comes as standard with the Vanquish S.
Does it earn its 'S' badge?
The Vanquish S is a marvellous car to drive. The steering is beautifully weighted and the build-up in forces as you turn into a corner is impeccable (there's no hesitancy or 'grey area' to steer through, either). Suspension is controlled yet supple, seemingly at ease on the very worst of British roads. It feels lighter on its feet, quick-witted, smaller and wieldier than you'd expect from its GT-car dimensions. Sportier and sharper, certainly. But I'd say it's also S for superior. And sublime.
How does it feel different to a DB11?
The DB11 is an easier car to drive, simply because it's turbocharged. It feels more modern. The interior is fantastic; it's a 'new' Aston, and this is not. What the Vanquish S is, however, is a meticulously honed one, an Aston Martin that feels like it's been to finishing school. And it's the feeling of such depth of engineering that will draw people to it. It feels more bespoke, more individual. It feels like you'd hope a £200k car would feel.
Verdict
In not changing too much and instead honing the fundamentals already there, Aston Martin has perfected its range-topper – while also keeping the price hike relatively sensible (it's around £7,000). It's now a car brand loyalists will savour, and one that existing Vanquish owners will salivate over. More importantly, it asserts the Vanquish's range-topping status in the face of such stiff internal competition from the brilliant DB11.
Sure, its aged interior is a sore point, and the new tech of the DB11 will still see that car take the bulk of sales. But the Vanquish S is now a car distinct enough to confidently sit at the top of the Aston Martin range. It now feels sufficiently special to earn its S stripes.
This review first appeared on motoringresearch.com