TEATIME THE RIGHT TIME FOR TRYSTS
Taking tea is so soigné, a revived ritual that is being re-experienced by natives as well as tourists, and an elegant and more original alternative to the pub or wine bar meeting place.
The Ritz, Browns, the Atheneaum and Harrods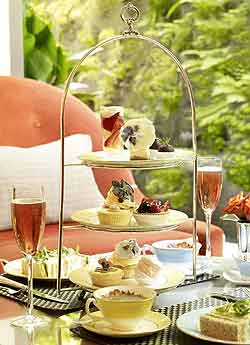 have tourists booking up months in advance, eager to sample what they perceive to be our traditional fare, some prompted by such TV exports as Downton Abbey and Upstairs Downstairs.
And as increasing numbers of English are taking tea again, this renewed popularity for a meal that had largely disappeared from the average English home has prompted a new wave of elegant tea shops to open up. These may be more properly described as tea salons, serving other meals as well as tea, but offering the sort of genteel surroundings that Bertie Wooster's aunts would have found acceptable.
Today's teas, as served up in the exclusive establishments, are a somewhat refined version of the feasts of old. Sunday teas especially were a banquet, ranging from salmon and prawns and winkles through sandwiches, sausage rolls, trifle, jellies and cakes - all the more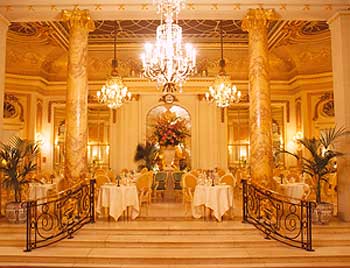 remarkable coming but a few short hours after the traditional Sunday roast.
Now, the fare is somewhat lighter - but not on the pocket. Taking Tea is certainly not a cheap option.
The Ritz, for good example, charges £40 per person, or £52 with a glass of champagne. But it does have quite the prettiest setting in London. www.theritzlondon.com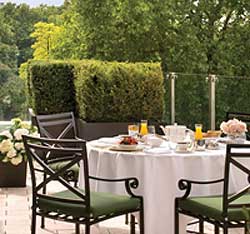 The Athenaeum has been judged the top London tea spot of 2012 by the Tea Guild, and serves it daily from 12.30 to 7pm - which shows how tea time has changed. It starts at £28.50 up to £39 with a glass of honey fizz. www.athenaeumhotel.com
The Four Seasons on Park Lane has a lovely terrace for teatime. It charges £32, or £42 with a glass of Louis Roderer champagne – but for just an extra £1.50 or £7.50, you can indulge in their special Coronation Tea in celebration of the Queen's Jubilee.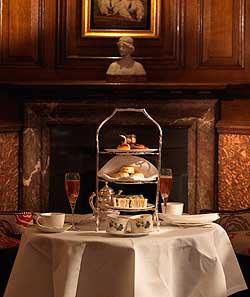 This may seem a lot for a tea, but consider: It starts with a selection of suitably moist sandwiches, followed by scones with strawberry jam and clotted cream. Queen Elizabeth Cake comes next, a date and nut cake named after the Queen Mother, or a Marie Biscuit Cheese Cake. Then comes Bombe Glacée Princess Elizabeth of ice cream and strawberries, as served at the Queen's wedding breakfast, and of course the now ubiquitous Cup Cakes.
It is not mandatory, of course, to eat all of this. www.thefourseason.com/london