CLOTHS OF A BRIGHTER HUE
It isn't just in accessories that men are opting for more colour. Top cloth house, Holland & Sherry, has put together these colourful collections - and they wouldn't do so if they were not confident that there is demand out there.
With their base in Savile Row, they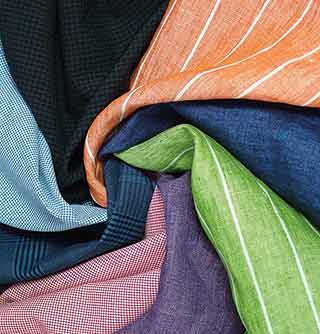 are in close contact with the tailors, supplying top worsteds in the dark colours that are traditionally favoured for bespoke suits. As merchants who source from top cloth houses around the world, they are in a position to know emerging trends often before the tailors, and though noone is expecting the dark worsted to be pushed aside by a lime green stripe any time soon, the casual wear market combined with the acceptance of colourful accessories suggests brighter times are coming.
Above, a selection from their Key West range, featuring cottons and luxury linens.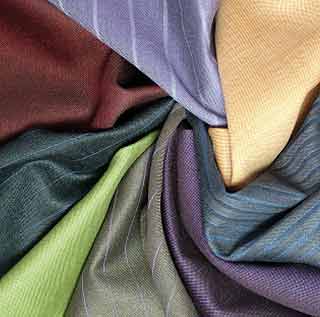 The bright stripes are in linen, and may be coordinated with plains, the linen yarn dyed in melange shades to give extra colour depth. In cotton, there are textured-look nailhead designs, plaids and small houndstooths as well as rich colours in plains. Seersucker is also here, a welcome return.
Cashique, left, is Holland & Sherry's luxury blend of Superfine 160s merino wool blended with handcombed cashmere and mulberry silk to give a lightweight cloth with excellent handle and drape. A sharkskin construction gives the cloths an iridescence that makes the colours shimmer. Weight 71/2 oz.
MILITARY CLOTH GOES INTO FASHION
PRINCE William's scarlet tunic worn on his wedding day and the tunics worn by the Royal Guards outside Buckingham Palace are all made from cloth by the 229 year old Yorkshire mill, Hainsworth.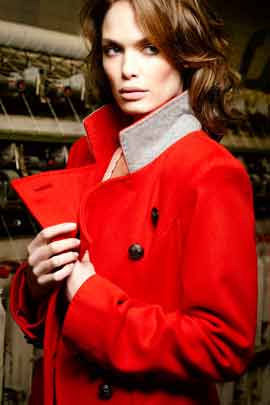 This is one of the few to produce cloth from raw wool fibre through to the finished product, and is increasingly being appreciated by fashion designers. Now, the company is looking to increase its presence in the international fashion scene, with this coat part of a promotion with designer Anita Massarella.
"We are looking forward to working with more designers and high-end retail houses not just in Britain but across the world, " said managing director, Tom Hainsworth. "There is a genuine recognition of the quality of British fabric along with an interest in its heritage and history."
The scarlet doeskin for this coat is a tightly milled steep twill base cloth, which has a long lasting lustrous finish. Widely used for military mess dress and garments, it has excellent drape and handle qualitites.
"Military styled fabrics come into vogue on a regular basis for both men and women, " said Mr Hainsworth, "and designers like the fact our fabrics have been used to clothe the actual British military for years."