SWISS ROLE FOR SHERLOCK HOLMES
Sherlock Holmes and his evil foe Moriarty fell to what seemed like their deaths at the Reichenbach Falls in Switzerland some 100 years ago. And this September, a loyal band of followers of the detective will be making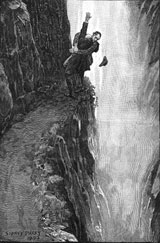 a pilgrimage to the scene to mark his demise.
When author Conan Doyle chose this spot to end the life of his hero, he conferred lasting fame upon the nearby small and somewhat insignificant town of Meiringen in the Canton of Berne. It receives a steady stream of visitors intent upon paying homage to the world's greatest detective, and has a museum devoted to him which contains a recreation of the parlour at Number 22b Baker Street.
The Swiss welcome this on-going attention, particularly with the economic climate having effects upon even this rich and stable land. Under the wing of the Switzerland Tourism body and Swiss Deluxe Hotels, a band of Swiss hoteliers arrived in London this summer to sing the praises of their respective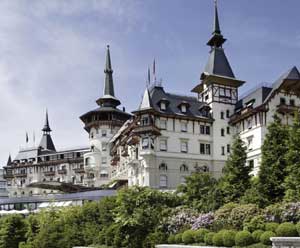 luxury hotels.
These are all five-star de luxe establishments with long experience of pampering guests. It has to be said that Swiss attractions are particularly geared to those who appreciate the finer things of life – elegant surroundings, spectacular scenery, attentive spas, fine food and very good wine. The Swiss drink most of the wine they produce, so little is exported. It is just one of the attractions for the rich and famous who have chosen to live here.
Sherlock Holmes was on a walking tour with devoted companion Dr Watson when he met his old enemy up in the mountains, and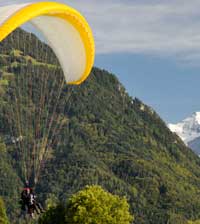 British holidaymakers, whether or not Holmes followers, continue to treck the mountain trails in summer. But with ever more exotic destinations being sort our by holidaymakers, the Swiss are keen to emphasise their superior qualities and their long-established links with Britain.
Doyle's detective is one of these and so the group from the Sherlock Holmes society will be suitably feted in the town of Meiringen and throughout their programme. Society members appreciate the importance of clothing in getting into the spirit of the occasion by dressing the part, quite literally, with their leader dressed as Holmes and others in supporting roles also in period dress. The photograph here is from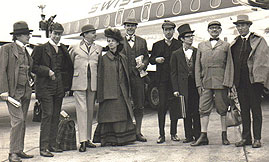 an earlier pilgrimage. English eccentricity is happily alive and well and appreciated in Switzerland.
But if the Sherlock Holmes pilgrimage package is full, as well it might be, (see www.sherlock-holmes.org.uk) there are plenty of other things on offer in Switzerland, and some of the world's best hotels in which to enjoy them. Go to www.swissdeluxehotels.com