KEEPER OF THE ROBES
Those fabulous ermine-trimmed robes worn by the grand dukes, earls, viscounts, baronets and other toffs that provide the flanking ranks at any major royal occasions are not the sort of clothes to be kept in a cupboard at home.
Ede & Ravenscroft may be termed the keeper of the robes, the tailoring establishment responsible for making most of them for over 250 years. That they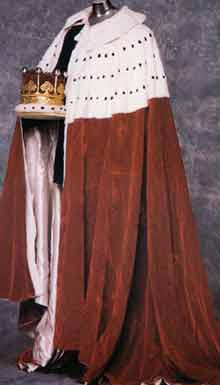 also provide the finery for High Sheriffs, parliamentary robes, livery, municipality and Orders of Chivalry attire puts them in the Number One position when it comes to making ceremonial dress. And their role extends to advising, accessorising and maintaining these valuable garments, as well as storing them.
But it isn't all romantic costume making here. In addition to an equally extensive role in supplying the legal profession, the company has a ready-to-wear collection and a bespoke tailoring service.
Hard by the Inns of Court, in Chancery Lane, E & R is one of the ten oldest companies in the country, and probably the oldest tailors in the world, dating back to 1689. Their royal connections commenced with coronation robes made for William and Mary in 1689, and have continued ever since without interruption.
This summer they received their fourth Royal Warrant, for tailoring services to the Queen, which adds to their existing Warrants for robe making to the Duke of Edinburgh and Prince Charles, as well as the Queen.
"We are proud to have been granted a Royal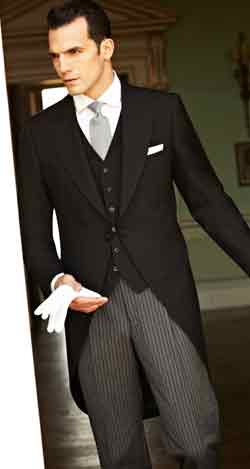 Warrant from Her Majesty the Queen for tailoring," said Phillip Thomas, director of tailoring at the company. A cheery, confident man, he is a tailors' tailor, who learnt his craft in Savile Row, at Tommy Nutters, Nortons and Gieves & Hawkes.
"Our bespoke customers come to us mainly for quite classic styles," he reveals. "They don't really want fashion, they want timeless quality. But it still gives us a change from the traditional, formal legal coats that we make."
The Chancery Lane premises remain E & R's headquarters, a spacious shop leading on to a warren of workrooms, including a wig making department, robing rooms, and The Bar. No alcohol here but the room where those who are taking silk, the phrase applied to lawyers appointed Queen's Counsels, are fitted for the silk gowns required in their profession.
From this small room, its walls covered with images of many earlier QC's, the newly fitted Counsel will be allowed out a side door which leads directly to the Law Courts, where he or she now has the privilege of sitting within the Bar of the court.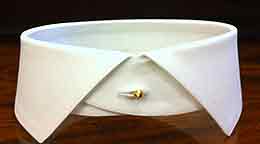 The place is steeped in history and crowded with images of customers and world leaders wearing Ede & Ravenscroft robes – President Reagan and Mrs Thatcher just two of them.
An Order of the Garter robe, one of the more elaborate, will take 90 hours to make. This is the highest Order of Chivalry, a personal gift from the Queen. There are five other Chivalry awards, one of which is the Order of the Bath, which dates back to medieval times when a would-be knight bathed in an act of cleansing body and soul in preparation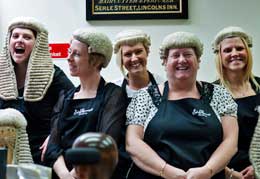 for his investiture.
But all is not sombre tradition. The ready-to-wear collection includes some stylish takes on British classics as well as colourful pocket squares, ties and braces. This is one of the few places where separate starched collars are still available and, to mark Jubilee Year, a new collar style has been introduced, the Regency, the first in 25 years (see above).
The wig room has a jolly if hardworking team of young ladies, as seen here. A wig may take from 6 to 8 weeks to make, using horse hair, and requires particular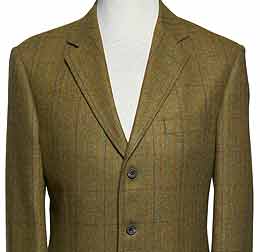 skill and application and may be warm work - but the girls don't normally wear samples!
The company took over premises at the head of Savile Row in 1999. It also has shops in the City and in Edinburgh, Oxford and Cambridge – all centres where its ceremonial expertise may be appreciated.
"Customers may come to us for legal wear and then order a bespoke outfit.," says Phillip Thomas. "Fathers brings sons. Some find us online. They will ask our advice. But finally they want what suits them and what will last. And that's what we give them."
In celebration of the Queen's Diamond Jubilee year, the company held a special display of its rich selection of robes and ceremonial accoutrements in June, the first time this essentially private and discreet family firm has done such a thing.