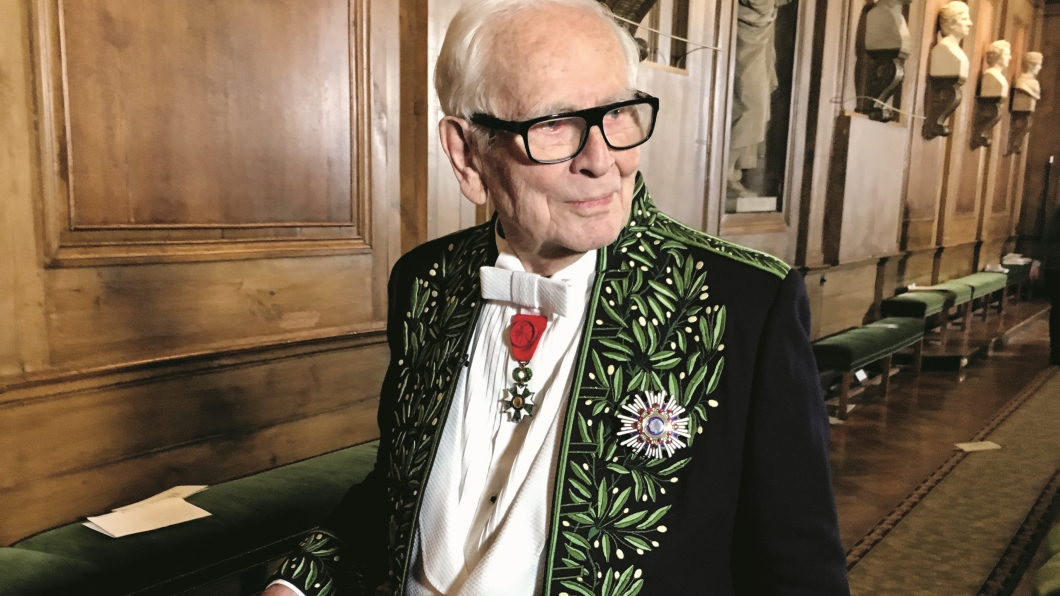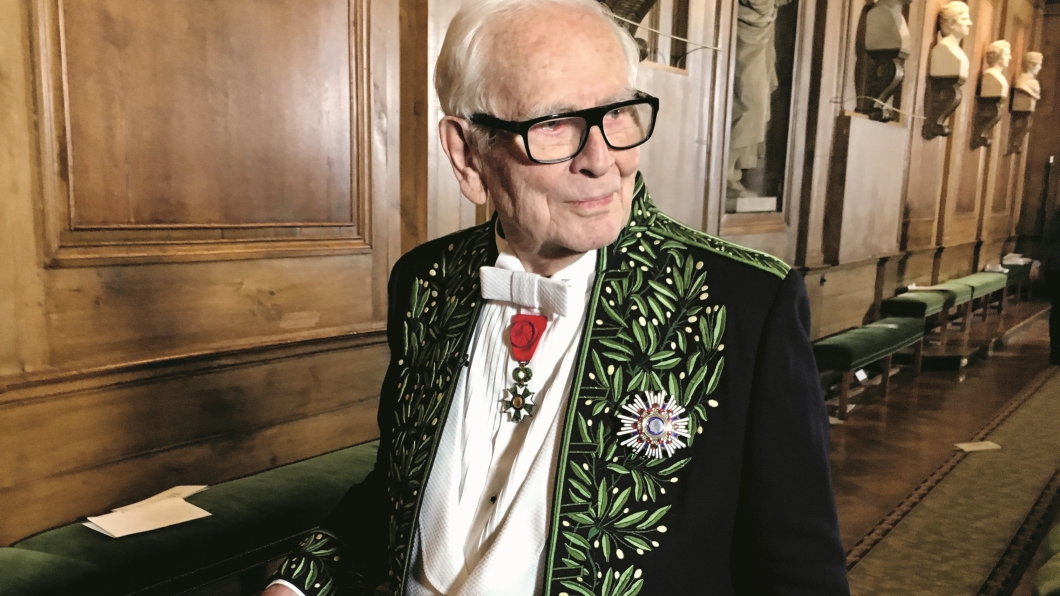 Exclusive: Robin Dutt talks to Pierre Cardin, still sparkling at 95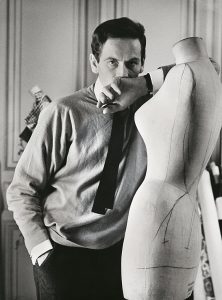 I have interviewed Monsieur Pierre Cardin on a number of occasions and he has always been engaging and charming. And delightfully opinionated as well as he was, once again, when we met a few weeks ago on an autumnal evening in London. He is probably the last surviving stratospheric designers alive and, at 95, has lost little of his original verve, vigour and vim and his rapacious take on the world of fashion design continues unabated.
I took the chance to speak with Cardin about my treasured vintage possessions designed by him and snapped up from Portobello and Camden markets over the years. These included two identical pea coats one black, the other navy, a red and black window pane check mid length overcoat and another in dark blue, fully skirted and reminiscent of the finest 1970s Parisian Dandy type. Cardin's flair for men's wear was recognised by the much missed John Temple, a boutique specialising in tailored garments near Piccadilly Circus. "My old vintage designs are so popular now. I must have been on to something," he observes.
And indeed he was. And not just clothing design. When Cardin decides to do something, it is full scale, explosive creativity. "When I finish one thing very well, I start some other thing. I don't like to stop. I like to continually prove myself," he says.
His portfolio has included, apart from men's fashion, ladies' couture, pret a porter, perfume, a florist, doll's shop, a gallery and theatre, a restaurant, accessories, furniture in gleaming glossy finishes in pop art colours and space age inspired shapes (many of course based on or composed of circles) and oh yes, automobile and aeroplane design. He also created uniforms for air stewardesses. Cardin once gave me a tour of his iconic sculptural furniture design at an exhibition in London some years ago after which he insisted on my joining him for supper at a chic restaurant which a selection of the most divine, stunning beauties and chisel-jawed gentlemen. Some wore sunglasses, presumably to shade their eyes from the glare of human aesthetics at its very hand-picked best.
Born near Venice in 1922, he was Pietro then before the all-important change to Pierre, he has presided over an empire of which he rather nonchalantly says: "My empire is worth more than people say and less than people think."
Cardin began to work for the legendary couture house, Paquin at the age of 23 but his precocious talents were obvious even then. Moving on to work at Schiaparelli (that house's celebrated founder, Elsa, invented the world renowned 'Shocking Pink') he left to design for Christian Dior a year before the ground breaking 'New Look' of 1947 and, in 1950, opened his own house. His first men's boutique, cheekily and purposefully, called Adam followed seven years later.
Arguably, it is his space age designs of the 1960s and 70s for which he will be chiefly remembered although there were more-than-highlight moments of the 80s and 90s too. Most in the world of design will recall the Paris Three – Cardin, Courreges and Rabanne – all furturists who shared a vision of space age living and travel but created this in very individual ways.
When we meet, he tells me that people found his space clothes to be perfect for the catwalk but not for the street. He was simply too ahead of his time. His bubble dresses, tight tunics, hat masks, goggle glasses and shiny patent thigh high boots with the sheen of a black cherry are now museum pieces – or in the collection of discerning style seekers.  He also, like Courreges and Rabanne, utilised unconventional material such as the new man-made materials of the time, plastics and fake fur. He wrinkled his nose remembering the negative comments and pursed his lips in disdain when others spoke of his designs as possessing "such vulgarie!" The mistranslated word is delicious!
He has been in love with the circle as a symbol and design reality all his life. "I am fascinated by the circle – to me it represents the Moon – the bosom, life and I am irresistibly attracted to it because it is infinite; I also associate it with the cosmos."
And so he appears in one striking image of his latest book of his life's work and passion, penned by Jean-Pascal Hesse, with his constant muse Maryse Gaspard in a trompe l'oeil spinning circular garment who attended the press night at the Maison Assouline in Piccadilly looking, as most French muses tend to do, otherwordly and remote. The waitresses carrying trays of fizzing Prosecco and bites sported 60s-style deep black mini dresses with esoteric motifs and circular hooped skirts that bobbed about their legs.
But it is his contribution to tailored menswear that was and still is a very significant aspect of the House of Cardin. When I interviewed Sir Hardy Amies, late of The Row, this famously cheekily acerbic tailoring knight was all praise, regarding Cardin and his contribution to male attire, significantly making it relatively affordable. Amies must have recognised a similarity in their approach here for he designed for Hepworth's, clothes for the man who did not have limitless funds. There is a kind of shared democracy here. As Cardin points out: "'Why shouldn't my clothes be sold in regular shops and worn by regular people?"
Cardin will forever be known for giving four mop-top Liverpudlians, otherwise known as The Beatles, one of the first examples of co-ordinates pop wear in the form of collarless and lapel-less matching suits. This was in 1964 and he still stands by his early belief, despite his expertise in haute couture, that good clothes, well cut and constructed garments should not be beyond the reach of most people. "There is no shame in leaving the gilded salons to go into the streets," he is quoted in Hesse's book. "I opened the doors of haute couture to socialism." Hesse argues than Pierre Cardin was the first designer to bring a designer label and haute couture styling to the world of men's wear. Not, you will notice, one of the first but "the first". Hesse is correct.
The simplicity of the tailored Cardin line with of course some futuristic surprises (surely appreciated by another space age fan, Thierry Mugler) used to be available at the much missed Boutique Cardin once on Old Bond Street. I often visited in the weeks before its closure, in the hope of finding archival pieces but alas, no. It only steeled my resolve to be more vigilant in markets and specialist second hand stores.
Although the name Pierre Cardin has surely been associated with ultra-commercialism and hyper branding on a spectacular scale, which is not to everyone's taste, he will always be remembered as a stellar talent – the most unique and able creator and total visionary. Earth surely shall never again see his like.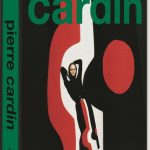 Pierre Cardin by Jean-Pascal Hesse is published by Assouline and available from Maison Assouline, Piccadilly, London, W1.  £150.