Andrew Kapetanos started his career at a very young age helping his father, a master Savile Row tailor, who opened his own bespoke tailoring business in North London.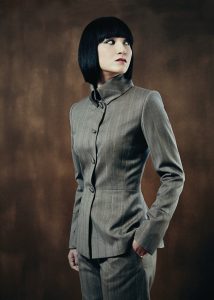 Showing flare and skill Andy was soon designing for his own clients.
Wanting to widen his experience and seeking a challenge, which has to this day never left him, he went to work at Berman and Nathan's theatrical costumiers learning to cut and make costumes. He learned how to cut period styles through his own research, painstakingly unpicking old garments, which involved endless practice while striving to be versatile and creative.
Moving to Huntsman Savile Row, He quickly embraced Colin Hammick's ethos of outstanding quality, minute detail and traditional Savile Row bespoke tailoring.
Leaving Huntsman to further his experience Andy went to Los Angeles and worked with and was mentored by the renowned old Hollywood tailor, Anthony Gaspari of Rome, credited with the white tux jacket for Humphrey Bogart in the classic film Casablanca. Gaspari taught him another method of cutting and another way of embracing tailoring, which was totally individual to the client. He also taught Andy soft Italian/Roman tailoring and soft ladies tailoring.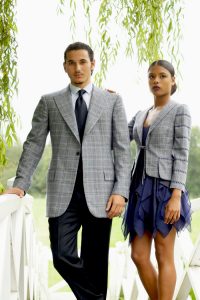 Returning to London, for Tom Gilbey, the Savile Row designer, he managed his bespoke tailoring and couture workshop on Savile Row.
Wanting to put into practice what he had learned while in Los Angeles he worked for Anouska Hempel, the London couturier, making unique ladies haute couture.
He set up his own company making, designing and creating ready-to-wear lines for the most exclusive British brands, as well as offering a couture service to the London couturiers.
His company created handmade clothing for the clients of many well-known British Couturiers, notably Bruce Oldfield and for Catherine Walker, including her most famous client, Princess Diana.
The company's reputation is founded on its meticulous attention to detail and quality, which is innovative, and very often cannot be replicated.
For the film and stage Andy's reputation is based on understanding and embracing the requirements of the designer and their vision. He meticulously re-creates authentic period clothing.  Creating a look and character for the lead actors, as well as countless replicas for the stunt team.
For the film ‪The Infiltrator he needed to research the 80s period and made for the lead actors and cast handmade authentically crafted Italian 80s ladies' and gents' suits and coats, reminiscent of how he had been taught by Anthony Gaspari.
For the film The King's Speech he made 1930s traditional Savile Row bespoke suits and coats.
For Catherine Zeta-Jones, in the film Dad's Army, he recreated 1940s couture.
The company continues to design and make clothes for select private clients, and take on projects for the film industry; most recently released Wonder Woman and ‪Murder on the Orient Express, and clothing for iconic characters of films yet to be released.
Currently, for a select clientele Andy personally designs and makes ladies' and gentlemen's original hand crafted clothing.
---