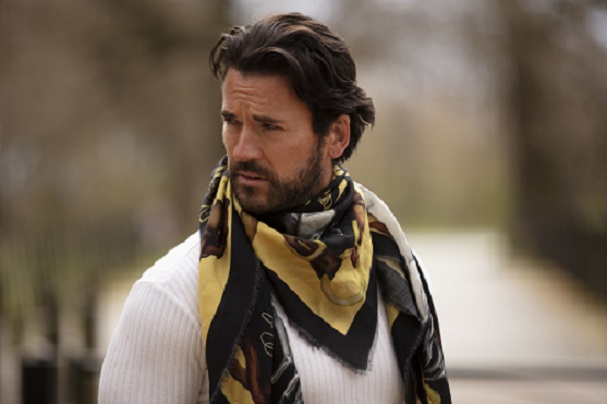 'Rus in Urbe'. It is the city ideal, writes Robin Dutt. It's that little suggestion of the lure of the countryside in the hustle of the town. Too much, however and it's just wrong and out of place.
Of course, some might take things to extremes and pronounce that even the colour brown (in any shade) should only be set against a backdrop of trees and grass and not steel and glass.
And Marie Antoinette had a somewhat particular, yet misinformed, idea of the glories of country life for her little town palace – sheep attached to silken ribbon-leads. It was the country idyll gone mad.
But if it is a touch of the great outdoors to team with your city slicker look, seek out the colourful flourishes of one Clare Haggas whose longer and wider-than-average printed pieces soften strident suiting edges with a touch of the 'romantique', lending an air of exotic fluidity and more than a dash of colour.
Haggas is an international award-winning sporting artist whose paintings grace many a country house wall or shoot room. These works of art on canvas are the direct inspiration for her scarf designs featuring hares, pheasants and other favourite country birds, leaping fish and statuesque horses.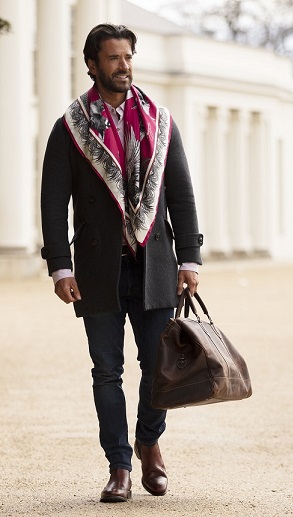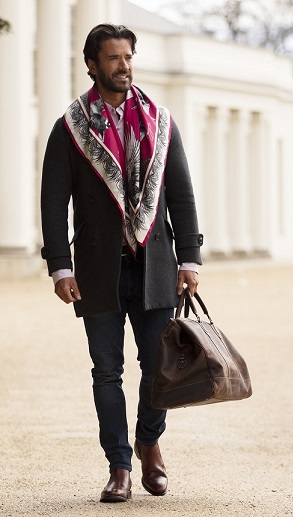 A comparatively young company; Haggas began in 2017 when she found a fine silk manufacturer in Worcestershire. She is involved in each stage of making and is, as she says, 'involved in every touch point'.
Silk and silk/wool mixes are ideal for every season and silk alone in particular is good, being warm in winter and cool in the summer months as this age-old material is a natural thermal regulator.
And a silk twill will hold a shape, no matter what that might be, given the wearer's desire – whether fashioned into a soft jabot or dashingly tied as an example of studied negligence.
The vibrancy of Haggas' chosen palette – warm russets, gleaming golds, teal or dark blues and dramatic black make for fine, handcrafted statements of sartorial intent – to be scrunched away by the neckline of a shirt or on parade as a flowing painting around the shoulders.
Each product, from a pochette (£35) to a large scarf (£195) is presented in a bespoke box with a hand-written note from the creator. As she says, "The vibrancy of my original artwork is really important to me … each piece I create is like a snapshot in time. Because there is so much movement in the wildlife I study, I want to have that second captured in my work."
But it's not all about the importance of sericulture aesthetics. Possibly simply because of them.
From September 2020 to January 2021, her accessories experienced a 300 per cent year-on-year increase in sales of its core scarf range and a 100 per cent jump in web traffic for the same period. It is proof positive that such often ignored details like an expertly rolled edge or the use of that particularly vibrant hue makes all the difference to the scarf aficionado.
Scarves like these become timeless components in any wardrobe and more and more men are finding ways to enjoy wearing them as integral stylistic devices – be it a simple white-piece or a more flamboyant expression of intent.
07943 502 2756
London stockist – Cordings of Piccadilly.