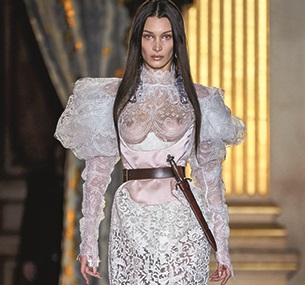 Book review by Robin Dutt
I have interviewed Dame Vivienne Westwood on several occasions and each time was a discovery. Perhaps the first was most memorable.
I arranged to have tea with her at Fortnum and Mason – the fourth floor (the best of their restaurants) and she turned up one early summer afternoon in a twinset and a cloth crown. Somehow Toytown.
One might imagine that the ladies who met for their regular tea and a slice were (in their Jaeger, Nieper and Aquascutum separates) a mite bemused. For, La Westwood commanded and still commands a room. Then there was the time she sent male models down the catwalk half dressed. Let me qualify.
Shirt, tie, jacket all present and correct. But they wore nothing – at all – on their lower halves thus affording the viewer a charming chance of, shall we say…comparison? A pointe de vue indeed. Strangely, it didn't look shocking at all. Perhaps it was heroic, Grecian…

'Vivienne Westwood -Catwalk' is the latest (and impressively heavyweight tome) charting the internationally feted designer's presence on the runway. She has made several firsts and is an inspired climate change/environmentalist speaker. She gave a swirling speech at the Wallace Collection some time ago wearing a headband emblazoned with the word 'Chaos' and one might have been reminded of a delightfully dotty grandmother one didn't have the honour or temerity – or chance to have.
I once attended an event where she had created a salon of gorgeous models in King's Cross Station parading in evening 'gowns' made of fine, woven floral carpets, by Brintons – the scion of which I had taught PR and Marketing to – an age ago at some posh college. That she knows how to stage a show is not in doubt and this book, weighing in at surely half a stone, attests to her legacy.
Her debut was in 1981 but her real beginning was as the godmother of Punk, a few years before, creating sex-pleasure iconic and ironic modes for Kings Road denizens and beyond, her shop with the fast-paced clock spinning backwards, a clue as to her love of and reliance on the past for inspiration. And that has never changed. Glamour and grit – danger and sophistication. It is clear that this artist plays with an especial palette. She is passionate about intellectuals and philosophers.
She referred to her one time paramour, Malcolm McClaren in one of my interviews with her as 'a Svengali'. Expression for her is all. Rejection of experiential experience is naught.
Perhaps she believes that fashion is simply a matter of recycling ideas. But it is how those ideas are recycled that is of the utmost import. And also, why? Ideas do not die. Yes … plunder the eighteenth century, reconfigure a piratical look, give a name to tumble-down Mid Western Prairie dressing aka the Buffalo Girls, go Pagan, sculpt chunky penis buttons (and even make male and female genitalia pasta shapes – the better to soak up the creamy sauce) and contemplate the glories of 'Ultra Femininity', 'Showroom' ' Civilizade' and 'Hypnos'.
She has frequently returned to favourites – tweed, tartan, bias-cut silk, the corset and the frock coat and these (more than) elements appear many times in her panoply of catwalk imagery. And then there is the iconic leather or suede boxy jackets, flappy shearling luxury car salesmen coats and strappy boots which have been ripped off the world over.
One of her early shops was simply called 'Sex' and this theme has remained the centrepiece of each and every one of her catwalk presentations. Well…they do say that sex sells. 'The only reason I'm in fashion is to destroy the word "conformity"' says England's most controversial Dame.
And she also advocates not to buy her clothes but buy well, repair, re patch. She is a firm believer of the fact that one will have 'a more interesting life if one wears interesting clothes.'
Alexander Fury's insightful texts which accompany the photographs are well-observed and enthusiastic. And Westwood is keen to convey her love of the magical power and significance of textiles. Even when I was a student, it was a given that the textile itself was the designer – allowing what could be possible and appropriate. Indeed you can force tweed, cotton, velvet, silk to do anything in terms of design. But will it be correct? The very tissu has a voice. And every true designer has an ear.
In her own words she declares, "my love for English tailoring and Savile Row fabrics: chalk stripe, pin stripes, tattersall – barathea in hunting red – black velvet looks seductive with tartan".
It just might be that she alone on this special isle reminds the world of that uniqueness of English tradition. But done … her way.
Vivienne Westwood – Catwalk (Thames & Hudson)