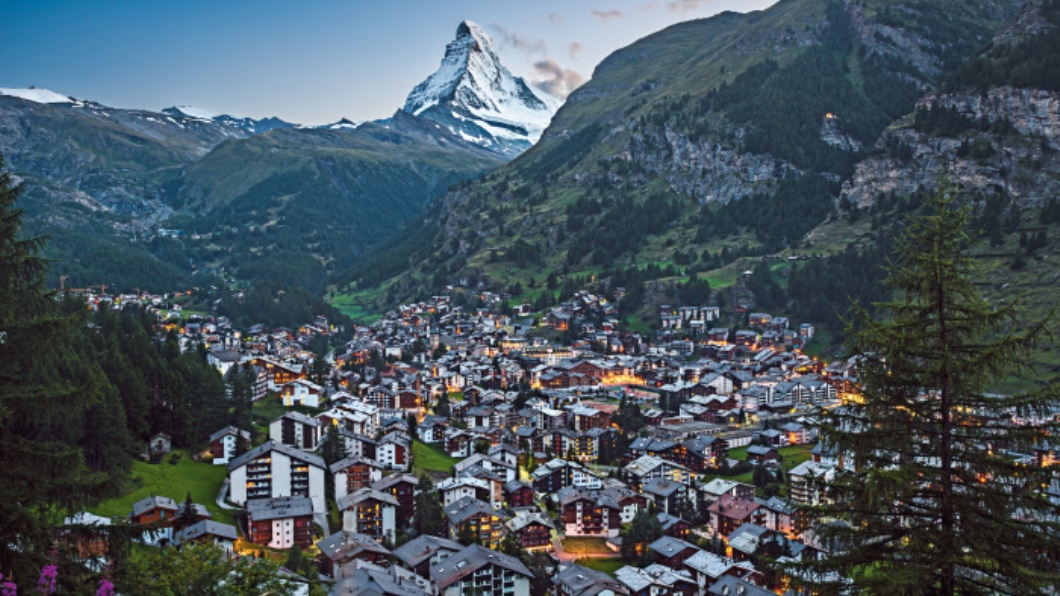 By Adam Jacot de Boinod

"The hills are as alive" as ever. The residual summer snow on the crest of the mountains made it easy for me to envisage the winter season. To guarantee a White Christmas, though, snow has to be manufactured at times to satisfy the skiers. After a vigorous day out, be it hiking or skiing, there's no better sensation than indulging in the luxury of a Swiss chalet. Yes there are fondues and jacuzzis but it was the exceptional service that made me feel truly spoilt and utterly pampered.
I was to stay at Chalet Les Anges, courtesy of Sylvia Delvaille Jones of Villas and Apartments Abroad (www.vaanyc.com). Both a traditional chalet and a highly luxuriant one. Built in 2009, it's a very classy residence on three floors with nine bedrooms. It's open plan and spacious with a grand piano in the corner and it has an indoor-outdoor feel. I pulled back the curtains to see the Matterhorn towering over the town and, below in the valley, all the clustered charm of the Alpine chalets.
Somewhere from out of the kitchen comes the magic. First in printed form with typed out menus. Then in different table layouts. And, finally, with the food itself. Greg, the Michelin 3 Star trained chef, on the first night presented seared scallops with roasted butternut squash, pan-fried sea bass with fennel purée, quinoa, chargrilled asparagus and white wine cream sauce followed by rhubarb semifreddo with pistachio cream. Scrumptious.
For all you gourmets, read on for the next night I was to enjoy spring pea and truffle soup, homemade beetroot gravadlax with smoked salmon and chives crème fraiche, lightly poached fillet of cod with potato croquettes and butter cream sauce, followed by vanilla panna cotta with caramelised pineapple and then a strawberry cappuccino.
"Back at the ranch" and nearby is Chalet Grace. From outside it appears to be a traditional chalet but, from within, it has a personal stamp with homely artifacts from around the world and big windows looking out at the Matterhorn and a front garden with shrubs and wood chips. There's also Chalet Maurice by Magali de Tscharner the same interior designer as Chalet Les Anges. It's perfect for celebrities as it offers total discretion with its own funicular entrance and real proximity to the heliport. All very James Bond.
At Nendaz I stayed at the Chalet Etoile. It's part of the Hideaways Club (www.thehideawaysclub.com), membership to which allows access to a portfolio of properties all over the world. It's perfect for someone who doesn't want to be restricted to one location or have the hassle of maintenance. As former tennis player Tim Henman says: "With the club I have a wide variety of beautiful properties in stunning locations that I can use all year round, plus the potential growth of my investment."
For a true dining out treat I highly recommend the passionate creations of chef Loris Lathion and sommelier Romain Arnaud at Le Mont-Rouge (https://mont-rouge.ch/fr). They offered the delicious amuse bouche of buratta cheese and poached white peaches with fresh mint and olive oil. For my main course I had Irish bio salmon and Sérac rillettes and chilled gin-tomato soup. And I followed it with Mara des Bois strawberries, grappa scented sabayon and dark chocolate ice cream. Romain was characterful and knowledgeable and went out of his way to introduce me to his beautiful wines. I drank the rather modernist labels of Lisss and MT. For more honest fayre I recommend Restaurant Les Etagnes (www.lesetagnes.com/en).
My final resting spot was at Interlaken's foremost hotel the Victoria Jungfrau Grand Hotel and Spa (www.victoria-jungfrau.ch/en) which has a wide range of international guests who keep coming back. It's situated on Höheweg, the main street catering for tourists, and opposite the hotel there's an open expanse used for parades and festivals and a landing spot for paragliders. I just missed the "Strong Man" contest but luckily managed to tune in to the renditions of the eight-foot long Alpenhorns blown by locals in traditional dress who released a long deep boom that connected the Alps in a sublime way for me with the stunning musicality of Beethoven, Mahler and Wagner. And all beneath the impressive snow-clad Jungfrau mountain itself.
And the hotel's state-of-the-art Nescens Spa is the perfect way to finish a day up on the mountains. There's a beautiful outdoor swimming pool and adjacent plunge pools. All my needs were met in comfort and luxury as I had almond and jojoba oil kneaded into me by my highly professional masseur.
For dining Quaranta Uno had an excellent and comprehensive Italian menu while La Terrasse has a confidently small menu and was truly one of the best dinners I have experienced. I was all set for complete elegant dining in this grand room decorated with a marble floor, palm trees and chandeliers. 'Küchenchef' Stefan Beer presented a summer shake salad and separately MSC Eden prawns, olives and sundried tomatoes. To follow was a delicious regional beef tenderloin to go with a lovely Neuchatel Vernissage Grillette Domaine de Cressier red wine. And then came "Victoria's dark secret" of strawberries and chocolate and a selection of cheese from Jumi de Berne. I am going to name them because they were that good. The soft cheeses were the schlossberger alt, la bouse and abe rot with the harder ones being sommerhimu and bock block senior. The perfect dinner consisting of small servings of light food and yet all thoroughly thought through. Utter magic!
Adam Jacot de Boinod worked on the first series of the BBC panel game QI for Stephen Fry. He is a British author and has written three books about unusual words with Penguin Press
WHAT YOU NEED TO KNOW …
Classic Collection Holidays (0800 047 1064; https://www.classic-collection.co.uk ) offers three nights at Victoria-Jungfrau Grand Hotel & Spa from £1049 per person. Prices based on two adults sharing a superior double room on a bed & breakfast basis and includes return flights from London Gatwick to Zurich and first class rail transfers.
Seven nights at Victoria-Jungfrau Grand Hotel & Spa from £2416 per person. Prices based on two adults sharing a superior double room on a bed & breakfast basis and includes return flights from London Gatwick to Zurich and first class rail transfers