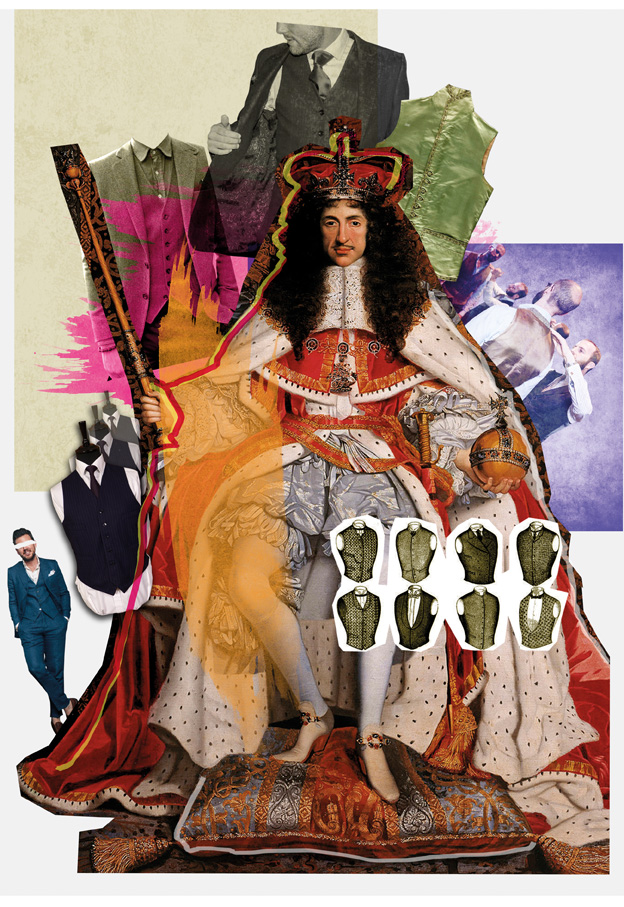 By Robin Dutt
Practical as well as ticking every aesthetic box, the waistcoat is simply indispensable. Decreed by Charles II as an essential element of correct dress, the waistcoat is as plain as it is elaborate, sublime as unfortunately as it can be comic. A waistcoat can be so right and so very wrong.
Buttoning is key. Never, ever choose a single breasted example with two, four or six buttons.  Seven is the golden rule (double breasted waistcoats do not bow to this rule).  Always, always, the last button is left undone on a contemporary example. The Regency bucks and their associates usually sported a different cut, often cut straight to meet the trouser waist.  This non-buttoning of the last, of course, was apparently due to the corpulence of one of our monarchs – I won't be specific to spare certain blushes – and it actually looks better for it anyway; even on the trimmest torso.
Designer Scott Crolla – who had a boutique selling exquisite waistcoats and frockcoats close to the Row – collected 18th century examples, some of which were framed as works of art which with their elegant embroidery, shining silks and cut steel buttons were the perfect backdrop to his own designs, proving that certain link with 200 years ago. Tailor Tom Gilbey did much the same in his salon located between Regent Street and Savile Row. He once made me a silver example,  one side of which was a profile of a face based on a drawing by polymath Jean Cocteau. The back was 1920s silver filigree lace. A delightful confection –
if to some eyes a trifle risqué.
Ah, but there's the rub. The waistcoat is one of those garments which speaks volumes about you, like a well-chosen tie or cravat. It's not just the cut, but the colour, patterning and weight of the cloth that count. A judicious choice of buttons makes all the difference.  I often remove contemporary ones and replace them with 18th or 19th century examples that
I had found in slim Morocco leather
boxes from a charming dealer in Covent Garden Market.
The waistcoat is certainly a sort of male corset easily let in and out at the back and when worn as tightly as is elegantly permissible, ideal with a coat that invites eyes to look at the magic it creates beneath. Add narrower than usual trousers (12/14 inches) to the mix and even the ankles inform the whole.  I have discovered, much to my bank's chagrin, that waistcoats are somewhat addictive. Somewhat? Who am I kidding?  They infiltrate your life in such a way that you cannot believe how many you can amass in a very short time.  A waistcoat is definately not just for weddings.