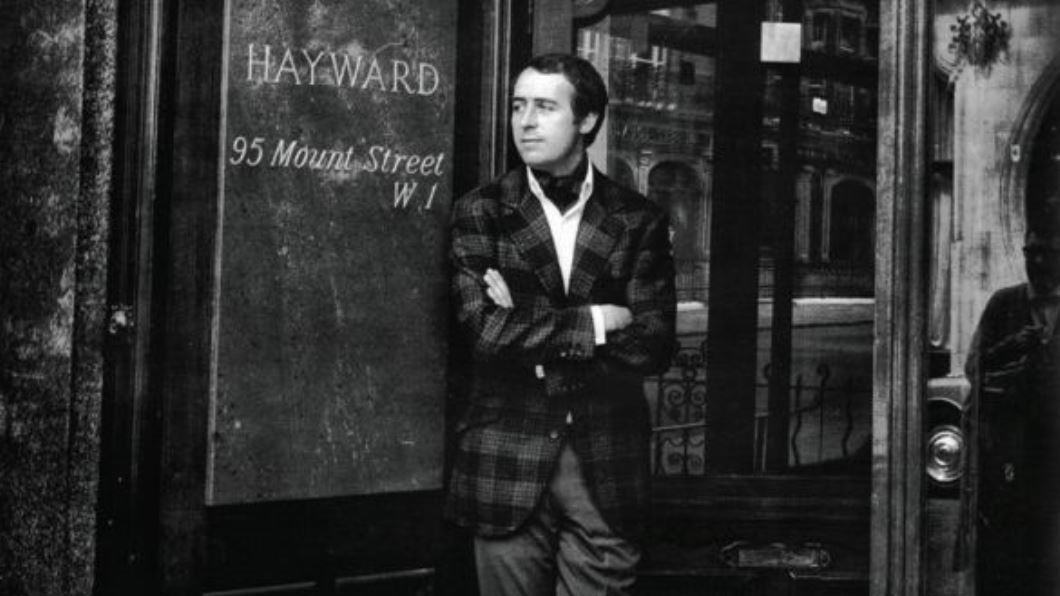 As we approach the tenth anniversary of the death of one of Savile Row's most remarkable tailors, Tom Corby remembers the man who defined the Swinging Sixties
Doug Hayward of Mount Street, Mayfair, was a sartorial wizard. He dressed a constellation of stars, and, along the way, some of their stardust rubbed off on him too. Next April will see the tenth anniversary of his death, but many of his customers from the world of show business and the aristocracy still have his iconic suits hanging in their wardrobes. As one remarked: "Doug was a legend, and will never be forgotten."
He kitted out stars like Sir Michael Caine, and Sir Roger Moore, to mention just two;  rubbed shoulders with royals, and crafted the stylish look that defined the so called Swinging Sixties. His shop buzzed with life; it was more party venue than gentlemen's outfitters. It was certainly unusual, with the walls lined in the finest grey flannel, and it became the trendiest tailoring establishment in London.  His waiting list was so long that some of his celebrity clients went out of fashion before their second fitting. Doug said of his success: "The thing I've done is to create a shop which is totally different from the old tailoring businesses. It's relaxed. Nice and easy – and, besides, I get a lot of birds in."
Mount Street  became an alluring magnet for the most famous actresses and models of their generation: Jean Shrimpton was to be seen there, with her lover Terence Stamp; Sharon Tate, with her husband Roman Polanski; Paulene Stone with Laurence Harvey. Then there was Faye Dunaway with photographer Terry O'Neill, and Mia Farrow, Joan Collins, Tania Mallett, Jane Birkin, with their boyfriends and husbands.
But it was not only the women who brought in the men. Doug was one of the very best London stylists. To classical English tailoring he brought the romantic Italian style, and created the distinctive Sixties look. Actor James Coburn described him as "the Rodin of tweed."  Rex Harrison, Peter Sellers, and John Gielgud became his clients, then his friends, which was just as well, for he refused to make suits for anyone he didn't like.
His charm led to Patrick Lichfield taking him to Mustique to entertain Princess Margaret. "Nobody ever knew what to do with Margaret," Lichfield admitted. "But Doug was wonderful with her. He knew the words of every song Cole Porter ever wrote. He was the only one who could sing duets with her and never miss a beat." Doug confessed that his secret was to treat her like "a regular bird", adding: "You can't run with those people and worry how it's going to play out."
Doug also had the gift of giving advice in a jokey way, which left open the option of being taken seriously. Not long before he died he had a long conversation about style with a prominent young royal. The advice he gave him remains a secret, but afterwards he showed a friend a heartfelt letter of thanks from his grateful father. The letter showed how far he had come.
His attitude to life was the source for the character Harry Pendel in John Le Carre's The Tailor of Panama, the author describing his principal character as unmistakably Doug. In the book's acknowledgments he wrote: "Doug Taylor of Mount Street allowed me my first misty glimpse of Harry Pendel." The 1966 film "Alfie" wasn't based on Doug, as is sometimes suggested, but when Michael Caine was cast in the lead it was his tailor who inspired his performance. "It's impossible to look at that film and not recall the young Doug," says Caine.
Classic films such as The Italian Job made Caine synonymous with sharp dressing, and his love of fine tailoring extended off screen, leading him to become a Doug obsessive. Other film idols were equally impressed, and when Roger Moore played James Bond he wore Doug Hayward-tailored suits, as did Clint Eastwood in many of his films.
TV chat show host Michael Parkinson was also a regular client of Doug's, with Kilgour's Del Smith telling Savile Row Style magazine recently: "When you saw Roger Moore being interviewed on the Parkinson show that really was the Dougie Hayward show because Doug was making for Michael Parkinson as well as for Roger Moore and, if Michael Caine was a guest, it was the same thing too."
John Lennon sang Working Class Hero is Something To Be. Doug did not make Lennon's suits – that honour went to Tommy Nutter – but he would surely have concurred with the Beatle's sentiment because his antecedents were nothing but working class. His Cockney father stoked boilers at the BBC, and his mother had been recruited into a war time munitions factory so, because of the rigid social mores of the time, his journey to Mayfair was inevitably slow. He left school at 15 and got an apprenticeship through an uncle with a Shepherd Bush Green tailor since he did not have the accent to crack Oxford Street ,let alone Savile Row.
The social ease began with a holiday gig as a Butlin Red Coat and National Service in the Royal Navy, an environment where working class men were drilled into appreciating cut and the finish of kit, and where skill outranked background. Eventually he joined Dimitrio Major in Fulham, a show business specialist. His own first premises were a niche in Pall Mall, where 10 nail biting days passed before a single customer called. Then, in 1967, business was sound enough for him to move to Mount Street.
The rest, of course, is bespoke history. We may be approaching the tenth anniversary of his death but the impact Doug Hayward had on the style and fashion of London, especially in the Sixties and Seventies, is still very much there for all to see.