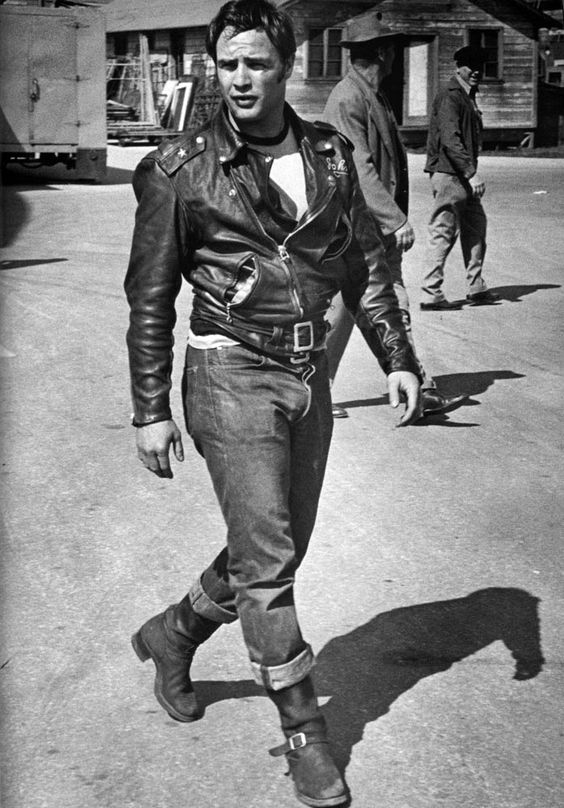 Leather looks tribal and always will, says Robin Dutt
Some might opine that leather has had a bad press. Undoubtedly useful as this ancient material is, it carries with it often psychological significance and curious connections. But it is not only for the denizens of Soho, seeking entertainment, nor yet the would-be biker rock and roller – who works in Greggs. Banish the very idea of Herr Flick or Herr von Smallhausen in floor-sweeping trench coats in 'Allo, 'Allo! from your mind and also put out of your mind the burly foundry worker in a kiln fire-crusted, stained gillet. And as for Del Boy… No. Leather can be a pleasure and in the tailoring world it is regarded as another functional material with properties and qualities that it uniquely possesses. It is a versatile, seductive material that is transformative. A good leather garment really does have a personality of its own.
One often wonders why, in certain quarters, items are stamped, "Genuine Leather" or "Real Leather"? Unless it is Pleather, Vegan-Leather, Faux Leather, Leatherette, PU Leather or plainly, Artificial Leather, one has to say that leather is, after all…simply, leather – but, like people, divided into classes. Perhaps it goes back to even relatively modern times when if an item was made of the skin of cows, oxen, sheep, goats, pigs, deer or what you will (each animal origin having its own distinct name of leather type) because of the husbandry and tending required over years, to nurture the skins was costly to acquire and so the customer had to know that it was real. Indeed, the skin is a by-product and a valuable one at that – from purely farm-functional garb to the most glossy of couture items. Over time, leather has proved time and again its magnetism as, even in fashion circles, investment pieces or pedestrian essentials. The plain fact of the matter is that even if you are not a fan of leather you just might have more than you think in your wardrobe made of the stuff – and I don't mean footwear. Accessories, trimmings, weekend jackets and the like all count. In a sense for some a go-to material, it is for others not even thought about.
Of course, the crafting of the hides of animals (first wild and then also domesticated) can really be traced back to the time before humankind crafted language. After the kill, there was the thrill (and necessity of fashioning skins into clothes). The ancient Egyptians and Romans were masters of leather tanning and sculpting, realising the material as both attractive and durable. And, from these bygone days through the mediaeval times, innovations and improvements in the leather processes of production ensured better qualities and versatilities. The invention of better leather tooling and cutting devices made work in these matters more efficacious and although still a costly material (as it is, in general, even today) the demand and spread of the very idea of wearing leather has enshrined it as something of a staple – but one with many layers of use.
In tailoring, couture, ready-to-wear and even the high street, leather boasts a contemporary presence. Much of this influence can be traced back to the use of leather in nut brown jackets, first introduced in the 1900s for the militia. And then of course the 1920s saw Irving Scott create the first leather motorcycle jacket for Harley Davidson and what the rebels of the 1950s Hollywood scene did for variations on a biker theme such as Marlon Brando and James Dean is still evident today and probably always will have a resonance. It spelt, "Rebel". And when the punks took to the stage in the 1970s, what was the one item that screamed brash individuality from rooftop and basement alike? The leather biker's jacket; but in this case, and probably not quite as ever before, that jacket was scarred by slogans, pinned with safety pins, badged, studded and deliberately cut into and torn. Too perfect was too pedestrian. Leather looked tribal. And always will.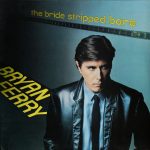 And then, what did David Sylvian rock up in on the cover of Quiet Life, Steve Strange on The Anvil and Bryan Ferry on The Bride Stripped Bare (left)? The effect is, even today, immediate, in each different case. Rebellious poses here were struck without resorting to the biker model, just sleek, beautifully tailored leather.
Leather remains a superb source material for designer craftsmen and classic tailors who understand how effective it can look from catwalk to street. Its durability (and, yes, it can get better with age and wear too) makes it a partner in crime to the wearer and sends out a definite message. That message is still redolent of something suave and dangerous in many quarters and for many wearers. It is an aspect of the uniform of intent. Gianni Versace was a superb visionary of tailored, sculpted leather, lending those who wore his early examples a high-octane gloss and, in his case, made chicly ironic by the gilt Medusa buttons which made his male models a hedonistic, impossibly beautiful army of celestial soldiers. The lavish elaborate stitching hinted at luxe de luxe and the hand of an artist. High catwalk camp it might have been but serious street theatricality it was too. And it was all so obscenely expensive which was part of the magnetism. Contrast the sleek, cocktail, streamlined blazer examples from such Houses as Gucci, Hermes, Tom Ford and Ralph Lauren and this will show how versatile leather can be. All four Houses are practically interchangeable when it comes to displaying the sotto voce timelessness of what leather should be – no fashion, just passion to prove a point. As for the classic revisited Yves Saint Laurent trench in leather, it simply hasn't been bettered.
As (good heavens!) Albert Einstein said, "one leather jacket solves the coat problem for many years". Indeed, you can even purchase the replica (and very chic and functional) jacket, a favourite of the genius from Leathercult for a comparative song.
Respected British brands such as Aquascutum and Dunhill (in their day) and tailors, Gieves and Hardy Amies know what to do with leather. In the case of the former, the House once produced a very limited range (26 in the edition) of sculpted leather jackets with army chevron and coiled swirl-domes on one shoulder and arm, hinting at gladiatorial decoration/protection. Proudly, their "No 1 Savile Row" address-logo, snakes around the collar. Vivienne Westwood often incorporates a certain "fit and flow" approach to her leather or suede garb as in the legendary (and eminently collectable Chico jacket) – boxy and youthful with more than a hint of the irreverent; Tailored and tumbledown at the same time. Indeed, very Chico Marx. This is the very opposite of the sculptured tailoring of that leather supremo pair, Whittaker-Malem who since 1988 have been slicing and sculpting leather in an extraordinary way and have worked for, among others, Alexander McQueen and Hussein Chalayan. Their costume design can be appreciated in films such as Die Another Day, The Dark Knight and 300: Rise of an Empire.
But can you get leather wrong? Of course! You can be too old for it. You'll know when! If it really doesn't suit your frame – don't do it. A sausage, a good silhouette does not make… And there is a reason why black is the only real incarnation for a seriously-taken leather item (unless you are in the country) or are experimental – but still tasteful. Wearing black leather is a personal campaign. It is as to clothing yourself in a slice of sculpted night – full of clandestine adventure.
And if that's all too much for you…there are alternatives in the soft fabrics department.