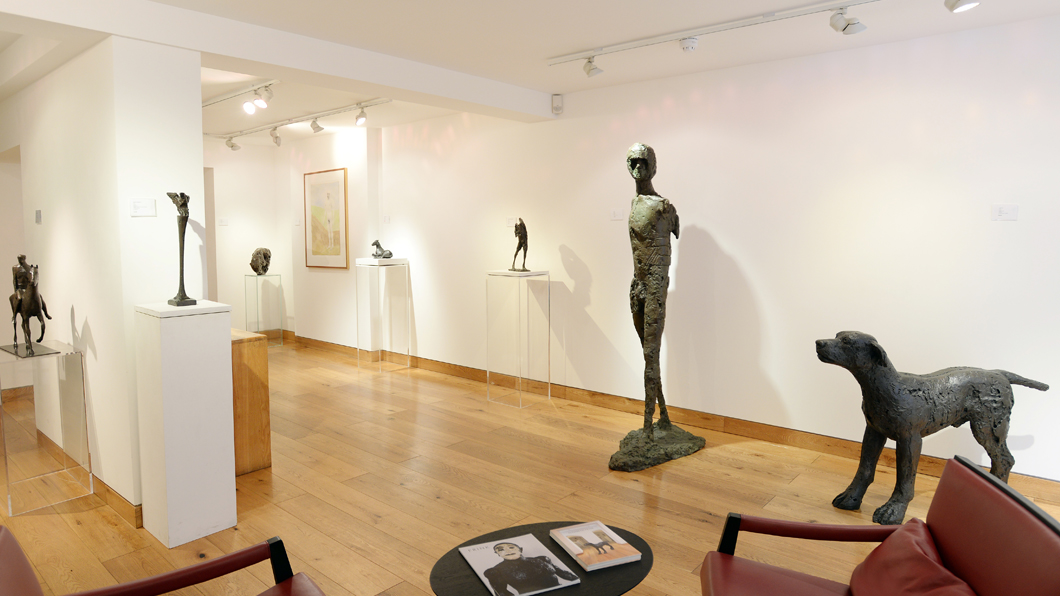 Tim Newark takes a stroll around his favourite places for quality art

I've been swanning around Mayfair art galleries with a drink in hand for the best part of 30 years. There's a very good reason why galleries serve wine at private views. You're more likely to fall in love when you've had a couple of drinks and, for those of us without bottomless pockets, you need to fall in love with a piece of art you can't afford to be able to take a deep breath and end up buying it.
I first discovered the pleasures of Mayfair's art world as an art history student, grabbing a handful of peanuts at private views and treasuring the glossy catalogues they kindly gave me. I then became an art critic, determined to draw attention to the fabulous smaller shows at commercial galleries that always seem to get ignored in favour of the over-hyped mega-exhibitions in public institutions.
Finally, arm in arm with my wife, champagne at our lips, we took the leap and became art buyers. The first time we both felt so guilty about spending over £1.000 on a painting that we swore to tell neither of our parents.
Ever since the Royal Academy opened its purpose built premises in Burlington House in 1868, art has been sold in Mayfair galleries. In fact, the world-famous institution is celebrating the 250th anniversary of its foundation this year and its impressive newly renovated galleries back onto Cork Street, for many years the core of Mayfair's art market.
Since the beginning of the 20th century, Cork Street has been lined with prominent commercial art galleries and one could always spot some of our most famous artists at its private views. Pop artist Sir Peter Blake once signed a catalogue for my daughter, while David Hockney gave me his phone number… I was a very good looking young man!
Cork Street's pre-eminent status suffered a blow a few years ago when major property development compelled many galleries to relocate elsewhere in Mayfair, but now the work is over it appears that many spaces are being offered to new galleries.
Possibly our greatest modern artist Francis Bacon was a notorious habitué of Mayfair. Regularly exhibited at the Marlborough Gallery in Albemarle Street, he was often paid in cash and delighted in spending it on gambling in nearby casinos and drinking champagne in Soho. "Champagne for my real friends," he would say. "Real pain for my sham friends."
But this tour of my favourite five Mayfair galleries must, of course, begin in Savile Row. There at No 23 you will find the always edgy Hauser & Wirth. This enormously successful international gallery originated in Switzerland in 1992 but has since opened premier galleries around the world. Specialising in contemporary and emerging artists, some of its art may not be to everyone's taste but it certainly relishes in pushing the boundaries and is an invigorating way to start your ramble through artistic Mayfair. By the way, when you're next in the West Country, Hauser & Wirth in Bruton offers the most excellent Sunday roasts served in a delightful restaurant gallery.
Walking west from Savile Row you quickly get to Cork Street. Messum's at No 28 is one of the great survivors of the property development purge that saw many long-established galleries leave the famous street, but Michael Child, a fine art consultant at Messum's is confident it will get its cultural mojo back again.
"The opening of many new galleries will lift the street," says Child, "as will the new Royal Academy extension at the end of the street, making it once again a hub of London's art world."
Messum's has thrived in Cork Street for 24 years selling more traditional forms of art, including British impressionists such as the ever popular Peter Brown, known as "Pete the street" after his fondness for setting up his easel on city pavements to paint.
My particular favourite Cork Street gallery is Sam Fogg, on the corner with Clifford Street, Specialising in Medieval and Asian art, ring its doorbell and you enter a two-storey gallery full of the most exquisite museum-quality pieces and all available to buy, whether it's a 15th century altarpiece or a Byzantine ring. Other more contemporary Cork Street galleries well worth a browse are Waddington Custot, Flowers, Redfern and Browse & Darby.
When Cork Street was at its height in the 1990s, the road would be shut to traffic for one evening and all the galleries would open their doors for a street party when you could wander from one to the other. My wife and I certainly bought a few paintings on those heady summer evenings. Hopefully those days may return.
One block further westwards and you are into New Bond Street, home to leading art galleries and auction houses for well over a century. My favourite among these is the Fine Art Society, trading from its elegant Victorian building at No 148 since 1876. At first selling art prints to great popular acclaim, rebellious artist James McNeill Whistler caused a sensation by exhibiting his works in white frames against a completely yellow interior. Even a servant handing out catalogues was clad in yellow but Whistler clashed with the gallery owners over who should pay for the striking uniform. "It remains legendary," says the gallery, "not least because it was the start of our modern concept of exhibitions – the first white-cube show."
Since then the Fine Art Society has specialised in the very finest Victorian and early 20th century artists, with one of my favourite exhibitions showing art of the First World War, including sculpture by Jagger and paintings by Orpen and Nevinson, all at surprisingly reasonable prices. It has also expanded into selling furniture and design as well as some contemporary art.
Perhaps the most glitzy and over-the-top gallery at No 144-146 New Bond Street is the Halcyon. Housed in a spectacular series of rooms, I applaud its bravura pop art sensibility, but to some it may scream oligarch art. Its sister galleries span the globe and its international contemporary art probably does work best displayed in a billionaire's penthouse, but I've discovered a few jewels there including a wonderful exhibition of glassware by Chihuly, who is also regularly displayed at the Victoria & Albert Museum.
Walking further north brings you to Maddox Street, a thriving little art community that provided a new home for at least one leading gallery during the great Cork Street diaspora. Beaux Arts directors Reg and Patricia Singh began their careers selling local artists in St Ives in Cornwall in 1971. They then opened a gallery in Bath before venturing into Cork Street for two decades and finally taking their current excellent space at No 48 Maddox Street.
Specialising in Modern British art, they hold work by leading artists such as Elisabeth Frink, Terry Frost, John Bellany, Lyn Chadwick and John Piper, but they still like taking a chance exhibiting exciting new contemporary artists and some of those have turned out to be great bets, including the exquisite monochrome drawings and prints of Sarah Gillespie. Reg and Patricia also have a secret passion for early music and I've been lucky enough to attend intimate recitals of baroque arias in their lovely basement gallery.
That's one of the joys of buying art and getting to know the characteristics of particular galleries and their owners. When you buy a painting or a sculpture it's good to appreciate some of the rich history of where it came from.
For those of you who would like to see even more art but all contained in one convenient space then the best option is to visit one of London's many art fairs. One of the most prestigious is LAPADA where a myriad of art and antiques galleries show off their finest pieces under a grand tent in Berkeley Square in the heart of Mayfair. Some of the exhibitors only generally function on the internet, such as Isherwoodfineart.com, whose aristocratic portraits can transform your house into a stately home at a surprisingly reasonable price. This year's LAPADA runs from September 14-19 and if I've quaffed enough champagne you may well see me spending my son's school fees on yet another piece of art I've fallen in love with.
Tim Newark is an art collector and historian, author of 'Emile Galle' and 'Camouflage'.