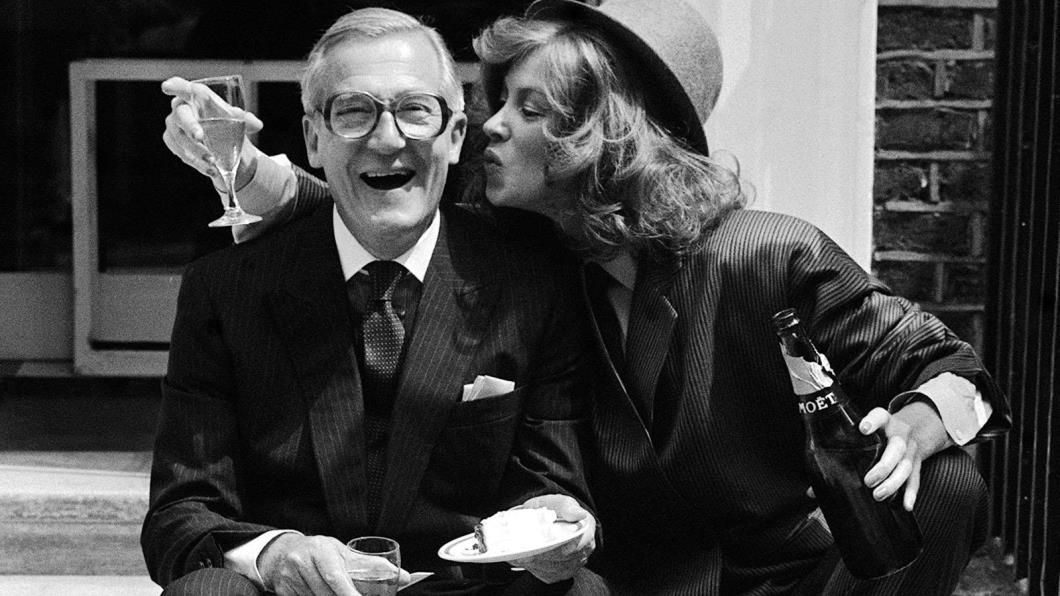 Robin Dutt recalls Sir Hardy Amies, who detested loud clothing, believing that a man should choose his clothes with intelligence, put them on with care – and then forget all about them
"Dear boy, you can do anything when you have style." These were practically the very first words said to me by Sir Hardy Amies on the occasion of my first interview with him. And, although the master has departed this world for over two decades, it seems that if you regard the label he established in 1945, his spirit is very much present. The house today would please him, given its contemporary approach to streamlined tailoring and a policy of no shocks or fuss. Honest clothes, one might call them in a basic palette of most men's "call to civilian arms" colours such as navy blues, charcoals and blacks. Of course there is the occasional and tasteful diversion, be it a seasonal hue or a striking check, but Sir Hardy detested loud clothing, believing that, as he so rightly observed, a man should choose his clothes with intelligence, put them on with care – and then forget all about them.
Sir Hardy was however, in his character, not one to shy away from the often blatantly outspoken. His clothes may have been smooth and simple but his observations on what he saw as the parlous state of design were strident and glacial. Naturally, there are differences in the approach to the Amies message of today. It would be unreasonable not to be so. But in essence the template has changed very little and the source remains the inspiration – clothes to perform elegantly without fanfare.
The Savile Row shop echoes the clean lines of today's suits and coats and there is a chic insouciance when it comes to the casual or weekend items. Bags and accessories, especially in fine leather, continue the story. And the price points are realistic. Just doors away, 14 Savile Row was the site of the original house which sold couture, bespoke and ready to wear for men and women and was a very different affair, very much enshrining the edict of a classic London or Paris couturier – gilt mirrors and chandeliers – the constant backdrop to so many salon shows where models carefully chosen for their understanding of the Amies hallmark would parade for ladies "d'une age certain" and their daughters would assess the collections and order with authority. These members of the aristocracy or simply women with taste – and of course money – made the seasonal events spectacular by their being there, usually dressed in Amies as a tribute to him, displaying well-turned legs and sporting semi-permanent bouffant hairstyles that no gale would dare disturb. Elnett perfection.
When the house showed the men's collections, again the youthful models were not the typical fashion type, their faces and forms suggesting sons of country squires. On one occasion I witnessed a galling and disappointing turnout of men's fashion editors in surely expensive on-trend modes and looking deplorable, despite the obvious expense. I early on observed (how could one not?) that the house carpet had HA HA running throughout the entrance hall and up the stairs in mulberry on cream – a deliberate expression of a silent laugh.
Sir Hardy was mischievous, arch and often rude with the surety of an Exocet. He certainly spared no-one if he felt they were ordinary or simply inferior. He had a definite sense of the naughty boy about him, someone who could shock but with such style. His staff were immaculate – the vendeuses (never saleswomen) who knew their clients as well as the clients did themselves and trust was the lodestone. The two male mainstays for many years were as formal as engravings of Edwardian male modes, beautifully aloof.
Understanding the importance of how dress can so inform a character, Sir Hardy created the costumes for Stanley Kubrick's 2001: A Space Odyssey and dressed Albert Finney in Two for the Road. He also created outfits for Joan Greenwood in The Amorous Prawn, and Deborah Kerr in The Grass is Greener.
When Sir Hardy was alive and certainly more now, there was an insistence on a certain democracy in his designs. Savile Row garments are expensive because they have to be but Sir Hardy's aim was to address other levels of the male market – not just the upper echelons. This he did when he began designing for the high street Hepworth chain – well priced and intended to be allies in the wardrobe. The inspiration was Savile Row but at a fraction of the price. Even the label included the authority of his name accompanied by a chic suited silhouette in black as part of the image. Often choice items turn up in vintage markets and command a suitably healthy price.
We met several times and I interviewed him on many occasions on anything from his appointment to HM The Queen as her dressmaker to his passion for collecting choice tiles and apothecary jars. He was once kind enough to attend a Coutts Contemporary Art Awards party which I had helped to organise and certainly he was the centre of attention, sitting majestically on a leather chair which looked more like a throne. He eschewed the grande marque champagne with a purposefully wrinkled nose and conspiratorially said to me, "Dear boy do you think you could find me some whisky?" There wasn't any. Some was immediately bought.
Sir Hardy introduced me to many of his contemporaries including one Bunny Roger who was an impossibly elegant dandy in a coal-black frock coat, white wind collared shirt, ice blue Ascot and a diamond pin as big as a robin's egg. They understood and liked each other very much. Both were mischievous. Both strategically camp. Sir Hardy's practical guide, the ABC of men's fashion, remains relevant today some 50 years on with classic illustrations and is predictably laced with good advice, arch observations and witty put downs.
It has ever been the case that the most purposefully elegant of clothes are not the easiest to construct, let alone convey. Whilst not being exactly anonymous they must be judiciously plain. Irony or humour had no place in the dressing philosophy of the house and, while of course seasons and trends were apparent, there was a detectable line of thought running through from season to season and the house today echoes this. Clothes that shout for attention are simply bad clothes. They must serve their master. Times change but certain facets and facts remain. Keeping things simple is the marque of taste, a visual autobiography to enhance personal character.