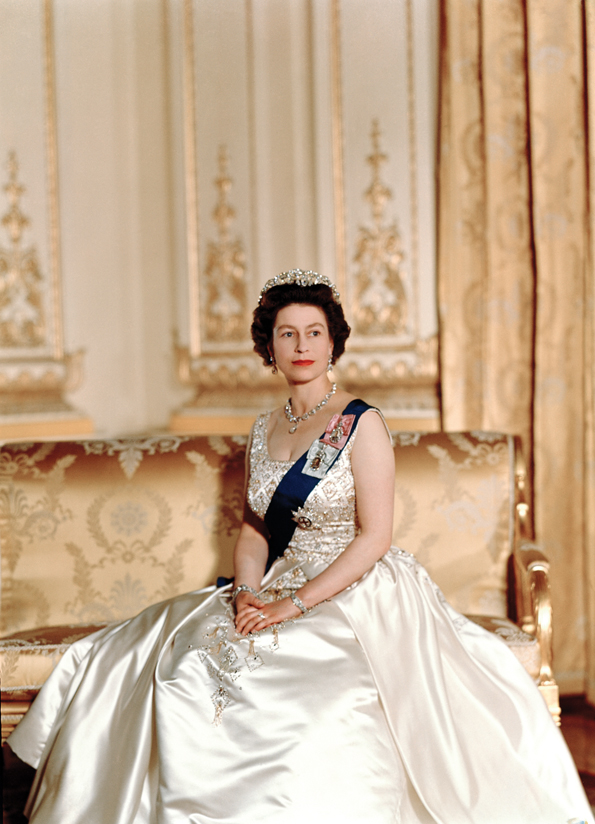 By Tom Corby
The Queen's clothes speak volumes about the woman who wears them. They have to work as hard as she does. Her Majesty does not regard herself as a fashion icon, but has a keen awareness of the power of her clothes. They are an important part of her job, and that is invariably about the making the world's most famous woman, who happens to be just 5ft 4ins tall, instantly visible. She knows that she has to be seen by as many people as possible, and the cut and colour of her clothes are carefully chosen to match that aspiration.
She tends to favour strong colours. As she says: "I can never wear beige because nobody will know who I am." Her hats must neither shadow her face, nor fly off in a breeze. She is said to have remarked: "I've never lost a hat yet." For rainy days she has a collection of see-through umbrellas. Again it is all about being seen.
On visits abroad The Queen's outfits must pay tribute to the host country and she will often choose a colour or a motif with a coded message. Colours must suit the occasion. If, for instance, The Queen is planting a tree, against a green, leafy background, then that colour is avoided for aesthetic and photographic reasons. On visits to schools young children often ask her why she isn't wearing a crown, so to correct that omission she will wear bright colours and will use details that will appeal to children, such as feathers, twirls, flowers and ribbons.
That said, dressing is also all about comfort. When one is waving around the clock, life is a little easier if one is not constrained by tight sleeves, but for evening wear Her Majesty prefers her sleeves to be three quarters, and not too wide; cuffs slipping into the soup at a state banquet, for instance, must be avoided at all costs.
The couturier Norman Hartnell, the maestro of glamorous evening gowns, created her full skirted, fairy tale ballgowns in silks and Duchesse satins, which remain among the finest evening dresses in Her Majesty's wardrobe. Hartnell's triumph was the exquisite dress she wore for her Coronation. She insisted that it included an emblem for every part of the United Kingdom and the other Commonwealth countries.
It was Hardy Amies who shone when it came to designing The Queen's day clothes. His talent for tailoring and deceptive simplicity eased her into the sharper silhouettes of the 1960s,
1970s, and 1980s. Latterly The Queen's clothes have come from a variety of London designers including Stewart Parvin, Peter Erione, and Karl Ludwig Rehse, while her hats are often commissioned from the legendary milliner Freddie Fox.
Today the greatest influence on The Queen's style is her Dresser, Angela Kelly whose grand job description designates her as Personal Assistant, Advisor and Curator to The Queen (Jewellery, Insignia, and Wardrobe). Last year The Queen carried out more than 340 official engagements. For every engagement, Angela will have laid out clothes which will, they both hope, make The Queen stand out in a crowd, and which will be appropriate to whatever lies ahead. So take a look at any of Her Majesty's outfits at the forthcoming 90th birthday celebrations and remember the amount of time and planning that has gone into every piece to ensure that our longest reigning monarch really does stand out from the crowd.