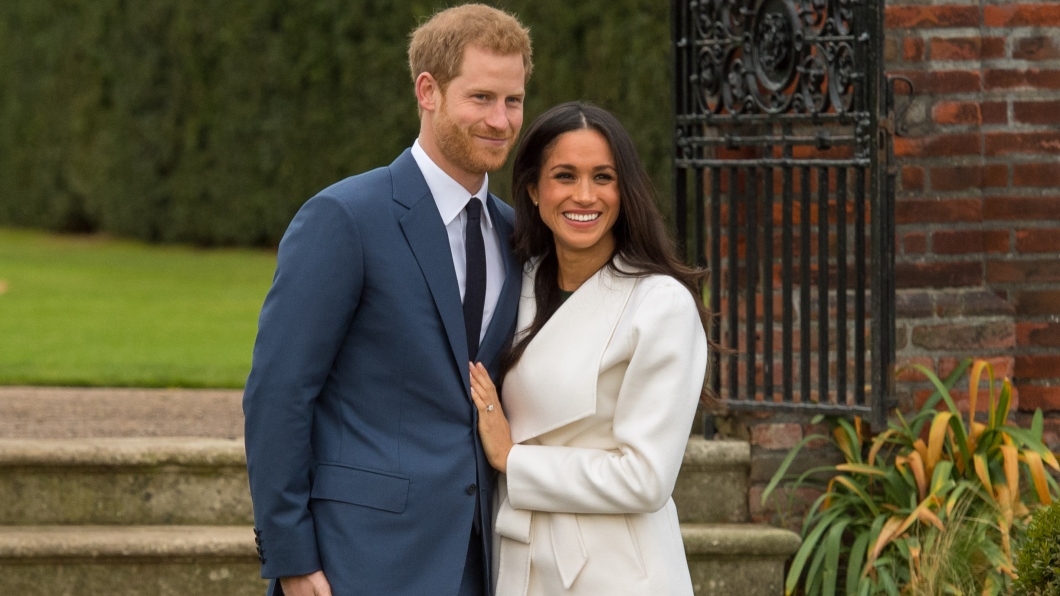 Royal expert Tom Corby considers who will wear what at 2018's Wedding of the Year
The fashionistas are obsessed with royal bride to be, Meghan Markle: what she will wear on the big day, her stunning engagement ring, and the designer outfits which have brought a hint of LA glamour to the royal scene.
But they are missing something equally exciting: Prince Harry's subtle style evolution; his shift from preppy to polished. And this could very well be a reflection of what has been called "the Markle effect", particularly when the couple paraded before the world's media on the day their engagement was officially announced. Harry presented a poised image with a blue-grey suit and a dark tie. It was a great choice, conveying the right expression of his outgoing personality and respect for a landmark moment in his life.
Although Harry has been glimpsed in the full white tie rig and decorations, notably at a State Banquet in honour of the King and Queen of Spain, he has never appeared to care much about the way he looks although ,when necessary, he will rise to the occasion. He favours checkered and buttoned down shirts, with rolled up sleeves, jeans, chinos, and because he undertakes some serious work for charity, a whole collection of logo-ed tops.  And he is never without his signature ethnic wrist bangles, those he and his army comrades invariably wore, not so much as a fashion accessory, but as a talisman when the going got rough.
The names of potential designers for Meghan's wedding gown are being tossed around town like confetti. She will be spoilt for choice. However the bridegroom will have only two sartorial options: a military uniform or a morning suit. Prince William chose the vibrant red Irish Guards Mounted officer's tunic for his wedding to Kate Middleton in 2011, but Harry might not follow his lead. He is no longer an active service officer in Her Majesty's Forces, having left the army in 2015, although he has now been appointed as Captain General of the Royal Marines, taking over from his grandfather Prince Philip, as their ceremonial head. His uniform and insignia is that of Field Marshal. Perhaps he'll wear that.
He also has a classic traditional morning suit which, on formal occasions like the Royal Ascot race meeting and other people's weddings, he pairs with a cream coloured waistcoat and blue tie. Prince Philip is said to have five morning suits hanging in his wardrobe, three of which are more than 40 years old, so we can expect to see his grandson sporting tails for many years to come.
Royal expert and television commentator Alastair Bruce believes Harry will go for a morning suit, simply because his wedding is to be a family and friends occasion, in the relative seclusion of St George's Chapel, within the precincts of Windsor Castle, unlike that of Prince William's, in Westminster Abbey, the coronation church, a ceremony which defined him as the second in line to the throne.
But, says Alastair, if Harry does choose a uniform, it will probably be that of a Captain in the Blues and Royals, his last military rank. He has been known to set this off with the Army Air Corps light blue beret, a reminder of the time he was an Apache helicopter pilot during his spells of duty in Afghanistan. It must be assumed that Alastair, as Fitzalan Pursivant Herald Extraordinary, an appointment created for the coronation of Queen Victoria, is close to grand occasions and therefore knows what he is talking about. He is also a former Scots Guards officer and a Knight of the Order of St John of Jerusalem. If that is not enough he was the historical adviser to ITV's hugely successful posh soap, Downton Abbey, which had its share of aristocratic weddings, the film The King's Speech and the regal biopic The Young Victoria.
But what will Meghan wear? She is no ingénue, so will avoid the fairytale ivory silk taffeta confection worn by Princess Diana when she married Prince Charles in 1981, or the heavily beaded extravaganza chosen by Sarah Ferguson when she married Prince Andrew in 1986. Kate Middleton scored with a combination of tradition and modernity. However Meghan is on record as saying her dream gown would be classic and simple, and that she preferred dresses to be "whimsical or subtly romantic". The design will be a top secret until the wedding day, so the world of fashion will just have to wait and see before it delivers its verdict.
The chattering classes are predicting that Harry will get a royal dukedom, like Prince William and Prince Andrew, when he marries, and they might well be right. The odds-on favourite is the dukedom of Sussex which has been vacant since the death of the first and last duke in l843.  George lll's sixth son Augustus Frederick married twice, each time for love, but without the approval of his father, and in contravention of the 1772 Royal Marriages Act. Both marriages were therefore unlawful. This means that Meghan would become the first-ever Duchess of Sussex.
Harry will be showered with all manner of honours, insignias and medals as he progresses along the royal road. It goes with the job. And, like Prince William and Prince Andrew, he might well be appointed as a Knight of the Most Noble Order of the Garter, Britain's oldest order of chivalry. This entails walking every year in procession round Windsor Castle wearing an archaic outfit: a long blue velvet mantle, with the badge of the Order on the left shoulder, a red velvet hood over the right shoulder, topped by a black velvet hat decorated with white feathers. One suspects that Harry might find this a touch embarrassing but if Her Majesty offers him the honour he would find it very difficult to refuse. Certainly it's a long way away from checkered and buttoned down shirts, jeans, chinos and logo-ed tops, let alone ethnic wrist bangles.