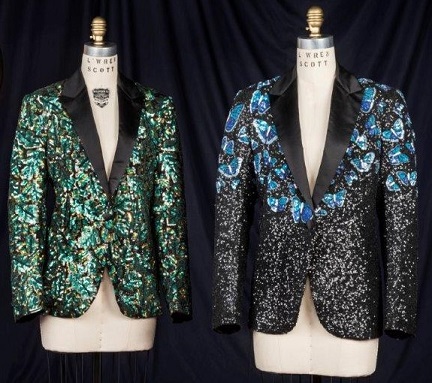 L'Wren Scott was a unique and unusual talent, says Robin Dutt. A statuesque beauty, she was a couturier and stylist whose remarkable pieces graced the forms of, among others, Nicole Kid-man, Penelope Cruz, Renee Zellweger and Sarah Jessica Parker.
Perhaps her most memorable outfit was the embroidered kimono tailcoat from the 'Tagasode' Collection which one might say clearly referenced the lines of male sartoria with perchance, a nod to Alexander McQueen at his most Oriental exotic. It is all too evident how both late creators admired the strident line of the best suiting.
Scott was the one-time partner of Mick Jagger before her untimely passing, seven years ago and included in the sale are two bespoke jackets designed especially for him – one clipped the 'glamouflage' (pictured) made of black satin, beaded and spangled intensely with sequins and embroidered with English oak leaf motifs, carrying an estimate of £20,000-£30,000.
This is also the estimate for the somewhat ceremonial butterfly jacket where the images of those insects are rendered in petrol and teal blue like those native to South America and again on a field of glinting sequins.
The way the motifs have been applied has something of the official and certainly mayoral about it. Jagger wore this showstopper whilst performing 'Miss You' when large screens surrounding the Hyde Park stage showed blue butterflies fluttering to the sky as a tribute to the doomed Bri-an Jones, and recalling the band's 1969 Hyde Park concert, when white butterflies were re-leased in his honour.
Shall we say…a very different intent to one contemporary artist's 'immortalizing' the creatures on canvas?
Nicole Kidman has said that L'Wren Scott 'was exceptionally chic and refined' and Penelope Cruz who met her when she was a stylist recalls her as 'an incredible talent'.
A total of 55 lots will be offered at the Christie's (London) auction and proceeds from the sale will be donated to the L'Wren Scott MA Fashion Scholarship at central Saint Martins UAL – a scholarship set up by Mick Jagger in 2015.
Under the Hammer – L'Wren's couture and bespoke in the Christie's auction June 9 July 1.