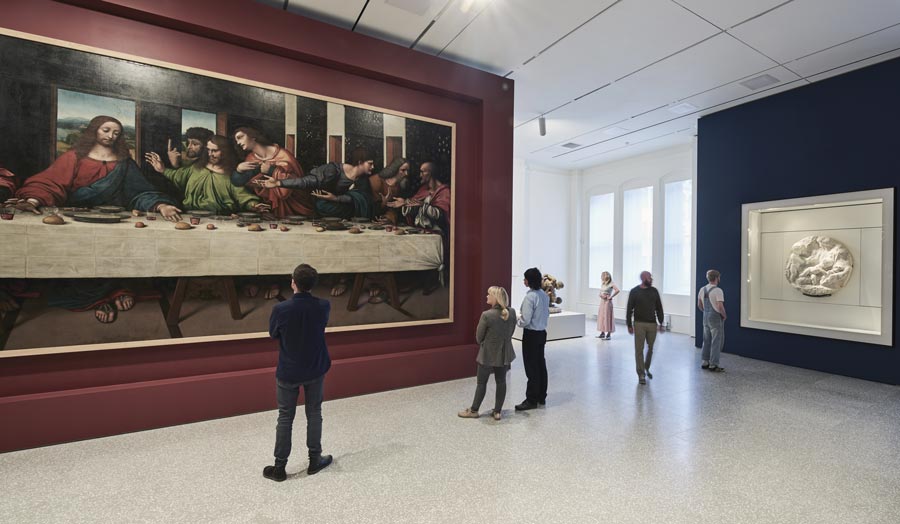 Development will unite the two-acre campus, creating a new route between Piccadilly and Mayfair
Art lovers have been out in force since the Royal Academy of Arts, the world's foremost artist and architect-led institution, opened its new £56m campus in May as part of its 250th anniversary celebrations as the academy becomes a major cultural destination in central London, with year-round access to a significantly expanded public programme and with more space to make, debate and exhibit art and architecture than ever before.
One of the key features of the redevelopment is the new Weston Bridge between Burlington House and Burlington Gardens, uniting the two-acre campus and creating a new route between Piccadilly and Mayfair. The unified campus provides 70 per cent more public space than the RA's original Burlington House footprint, enabling the RA to expand its exhibition and events programme, and to create new and free displays of art and architecture across the campus for visitors year-round.
Since 1768, the Royal Academy's founding principle has been to promote the creation, enjoyment and appreciation of the visual arts and architecture, which the RA has achieved through a programme of discussion and debate as well as exhibitions. The creation of the new 250-seat Benjamin West Lecture Theatre, the Clore Learning Centre and the restoration of the Wolfson British Academy Room, will give the RA permanent spaces for it to thrive as a hub of learning and debate well into the future.
A new public route through the campus will integrate the Royal Academy Schools, located at the very heart of the academy, into the visitors' experience revealing the academy's important role in arts education and its long tradition of training artists. The new Weston Studio, a public project space for students and alumni, and views of the Schools' Corridor and the newly landscaped Lovelace Courtyard, will provide visitors with a greater insight into Britain's longest established art school.
Christopher Le Brun, president, Royal Academy of Arts, said: "Royal Academicians are at the heart of everything we do – they govern the academy and, uniquely in the modern world for an organisation of this scale and significance, are responsible for its direction. British visual art and architecture has achieved outstanding international success in recent decades. The academy's resurgence in the 21st century is demonstrated by the world-class quality of our current membership of painters, sculptors, architects and printmakers. The experience of the last few years would suggest the imminence of a golden age for the Royal Academy. Ultimately it will be for the public to judge, but I am confident they are about to experience a new, open and re-invigorated academy that matches our vision and will sustain our continuing contribution to the world of art and architecture for the next 250 years."
Charles Saumarez Smith, secretary and chief executive, Royal Academy of Arts, said: "The physical transformation of the site will fundamentally change our almost 250-year old institution. We are, first and foremost, artist and architect-led, home to a community of the world's greatest artists and architects, and a centre for training artists, with practitioners and an art school at our heart. This is not just a major building development; it is an undertaking which will transform the psychological, as well as the physical, nature of the academy. At long last, we will be able to open up the RA and share with the public more of our mission to promote the understanding, appreciation and practice of art and architecture."