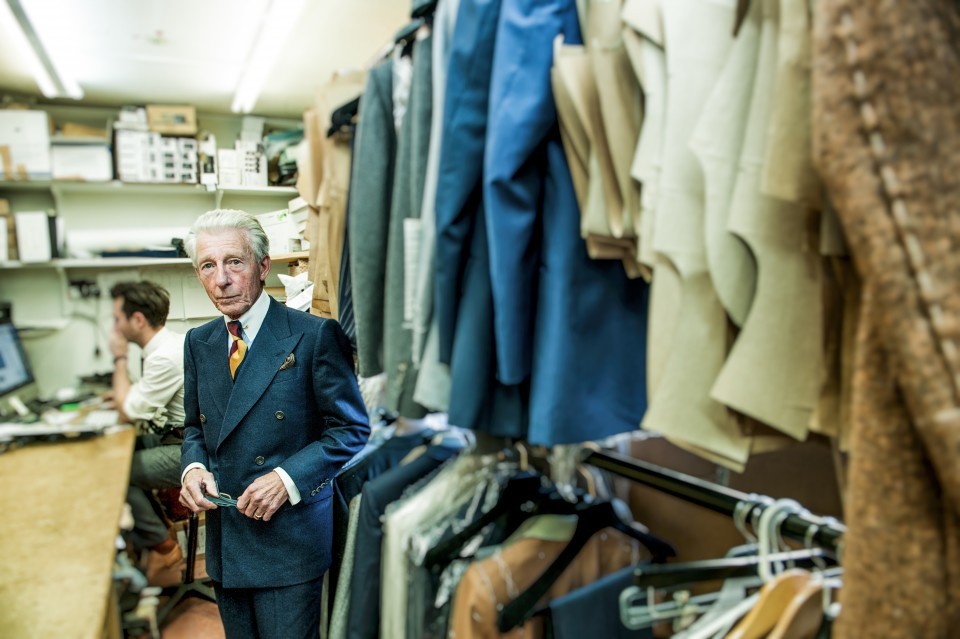 By Marie Scott
The word Icon has become much over-used in modern parlance, rather like Hero. But it might well be attributed to the three tailors featured here, who have each retained considerable stature over the years. Interestingly, they are all based outside of Savile Row.
Edward Sexton came into the spotlight in the Swinging Sixties, as the technical wizard working alongside Tommy Nutter. During that decade and into the 1970s, he came to mix with a new younger clientele seeking bespoke clothing and unstuffy service. Like Tommy, he mixed with the showbiz crowd, with newly enriched sportsmen, and others keen to embrace more interesting, even flamboyant men's styling.
And he has continued to attract such clients, not just as customers but as friends, both male and female. Now based in the bijou thoroughfare of Beauchamp Place in Knightsbridge, he remains passionate about tailoring, is something of a work-acoholic, and eager to get to work every day."I love it," he says. "I don't think l have worked a day because I enjoy it so much. I certainly have no intention of stepping down."
Like many tailors of his generation, he came into tailoring straight from school. His father had been a tailor, his mother a dressmaker, so even before leaving school he was helping in workshops in the school holidays and always wanted to be in the trade."When I was 13, it was the time of the Teddy Boys, of drape suits and tapered trousers. I used to hide from my mother to taper mine."
This early interest in style has stayed with him, evident in his own appearance and fed by his engagement with the new and with young trends. Early training at Kilgour, French & Stanbury, and Welsh & Jefferies, coupled with a healthy business in moonlighting, honed his early talent."I was married, had a young family, and I kept busy. It all helped develop my own style, which I have retained over the years. It is based upon a riding hacking jacket, waisted, with a flared skirt, long."
And this is the look he took with him into partnership with Tommy Nutter. Swinging London was at its height, rock stars, the artistic crowd, and other young men wanted to look good, and to have bespoke tailoring that embraced the new fashions of Carnaby Street and Kings Road. Cometh the hour, cometh Tommy and Edward.
"It was lots of fun," he says now, with a grin. "We worked very long hours but were very successful. We got to know everyone on the scene."
They developed a totally different look to the traditional Savile Row style – and became celebrities in their own right. Their shop on the Row set the trend by opening up their shop window and having window displays – hitherto unknown exposure here.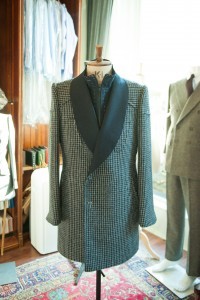 "We changed Savile Row," he maintains. "There started to be through traffic, we attracted passing trade. It broke down the old tradition of customers having to be recommended."
As is the way of things, the partnership eventually split in the mid '70s. The on-going problem of leases in the Row finally saw Edward leave there and set up business in Beauchamp Place in 1990, an exclusive little road hard by Harrods, with couturiers, restaurants, and others catering to a well-heeled clientele.
And here he is today, still attracting a star-studded cast of customers, male and female. He has branched out into ready-to-wear and has an online presence, but bespoke remains his joy and his mainstay. His workroom is full of young apprentices, who he loves training – "its important to pass on knowledge". And he engages with the young fashion scene and with street fashion.
"I went with my daughter into Primark recently and was really interested in some of the patterns, the ways they have of cutting there. I'm still learning!"