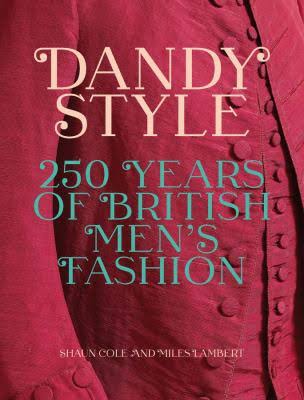 Review: Dandy Style – 250 Years of Men's Fashion' 
A welcome addition to any elegant gentleman's library will be this latest book, edited by Shaun Cole and Miles Lambert, writes Robin Dutt.
Cole is associate professor in fashion at Winchester School of Art (University of Southampton) and Lambert, curator of costume at Manchester Art Gallery and both have poured considerable enthusiasm into this celebratory account of the Dandy.
It is often said that the English invented Dandyism but the French defined it – perhaps another example (Brexit apart) of that famous 'Entente Cordiale'.
Naturally, Beau Brummell who has been called 'The Father of Modern Men's Costume' makes an appearance as the single most influential figure when it came to costume of the eighteenth century.
But to show the twenty-first century relevance of the Dandy, they explore the work of amongst others, Vivienne Westwood, Versace, Alexander McQueen and Samson Soboye who have all been drawn in various collections to this character's legacy and lore.
In a series of photographs, engravings and plates, 'Dandy Style' explores the visual luxe of the Dandy and many of the costumes may be seen 'in the round' at the Manchester Art Gallery and the Fashion Museum, Bath.
Ever an enigma, a Dandy has a special place in the world of individual style which though altering through the passing decades and centuries, remains true to the original reason why he occurred in the first place.
The only word of the title one might contest in the title is 'fashion' for we must remember what polymath Jean Cocteau (a Dandy too) said about it. 'She has such a short time to live'. But as surely everyone would agree, style is eternal.
Yale University Press, £25