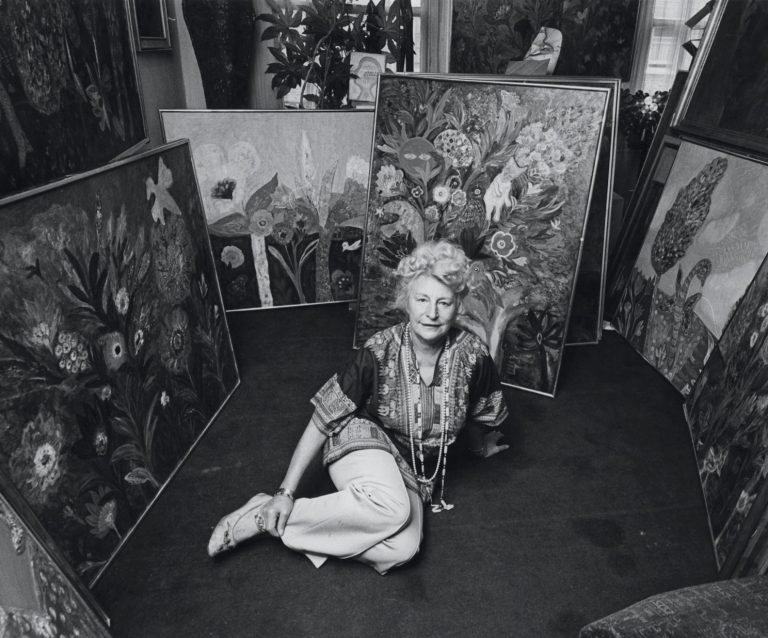 By Robin Dutt
I think that I have really had only two hats in my life. I mean professionally. Others simply didn't fit – or if they did, only for a limited time and I grew out of them – or they of me.
As readers of this magazine might know, I have dedicated much of my life to sartorial expression and conveying the works of tailors, writers, painters and the like who have contributed so much to Savile Row and its perception. The other 'hat' is my life as a curator. One might divine that in many ways, both are aspects of artistic expression.
Some time ago, I was approached to create an exhibition celebrating colour, to honour the artistic contribution of an internationally renowned and loved painter/gallerist, Halima Nalecz, pictured above, in whose memory The Church Commissioners are pleased to dedicate a plaque in recognition of her tireless work over decades, encouraging, especially young artists and in many cases giving them their first shows. The site of her gallery was Porchester Place, W2 and this celebration of her work, by happy chance, is taking place opposite this.
But there is another aspect to this story. I had known Halima when the Drian (named after the experimental painter, Mondrian) her famous gallery, was a central London feature, something that emerged in the initial planning conversations.
I remember that first meeting with her very well. I was somehow drawn (the reason is easy enough to understand, given the brilliance of the work) to a painting by John Bellany in the window as I sauntered by one sueded evening.
For a moment, mesmerised by the painter's colours and subject matter, I did not see an elegant figure in the doorway, about to shut up shop. And then, in an unmistakable drawl which some might say was reminiscent of Zaza Gabor (or so I seem to recall) 'You really should buy zat painting'. It was Halima Nalecz, as I would later come to know.
There was life and spirit, expression, and intent in the use of bright, energetic colour – no matter the subject chosen
And I really should have. But with a number – and three noughts after it on the accompanying sticker, that wasn't going to happen. But this well-dressed lady was persuasive and said quite directly that it was an important work which I would never regret buying.
 It is and I do.
After that, I attended many of Halima's private views – swirling occasions where the well-heeled and the artistically not so, mingled for a very Polish-style vernissage with wine flowing (very important) and a table groaning with Continental-style goodies. The works on show were always interesting and featured now very significant and respected names in the art world such as, Michael Sandle RA, John Pelling, William Crozier and indeed, John Bellany amongst so many more. Household names, one might say – in certain households of appreciation, that is. 'I believe in the medicine of colours' she once said in an interview about why she painted herself (bold, beautiful blooms) and also sought out the brightly-hued creations of others.
There was life and spirit, expression, and intent in the use of bright, energetic colour – no matter the subject chosen, whether a portrait or an explosion of flowers, a landscape or an architecturally abstract work. She was one of the most dedicated gallery owners of her and any time. And of course, passion was the root of it all.
And so, 'Kaleidoscope – A Celebration of Colour', brings together a huge talent base of young and well-established artists whom I called upon in the grey days of various Covid Lock Downs and relaxations of, to consider being part of this show.
Some 30 or so are included, such as Andrew Flint Shipman, famed for his almost neon-coloured flowers and motifs, David Begbie who has on display, wire mesh, optic nudes in bright hues, Annie Sherburne, celebrated for her textile works, Raphael Klein who stuns with his almost laval, metallic scenes and Lennie Lee who is known for his gargantuan, boldly coloured portraits.  Andrew Gadd always delights with his soulful portraits in atmospheric, shadowy tones.
Others in the show, feature, Antonio Pacitti, Carl le Blond, Graham Hunter, Andrew Prior, Kate Plumb, Theo Platt, Tommy Seaward, Sarah Morgan and the late Howard Morgan, one of the finest portrait painters and landscape artists of recent times.
The emphasis is on the dance, the joy of colour – however interpreted.
 I am delighted to have brought, through all this talent, vibrant rainbows of diverse, surprising, and most enjoyable intent.
The exhibition takes place at 14 Porchester Place, WC2 from Thursday September 9 – Sunday, October 10, from 10am-6pm. More detail here
Picture: © Estate of Bob Collins / National Portrait Gallery, London