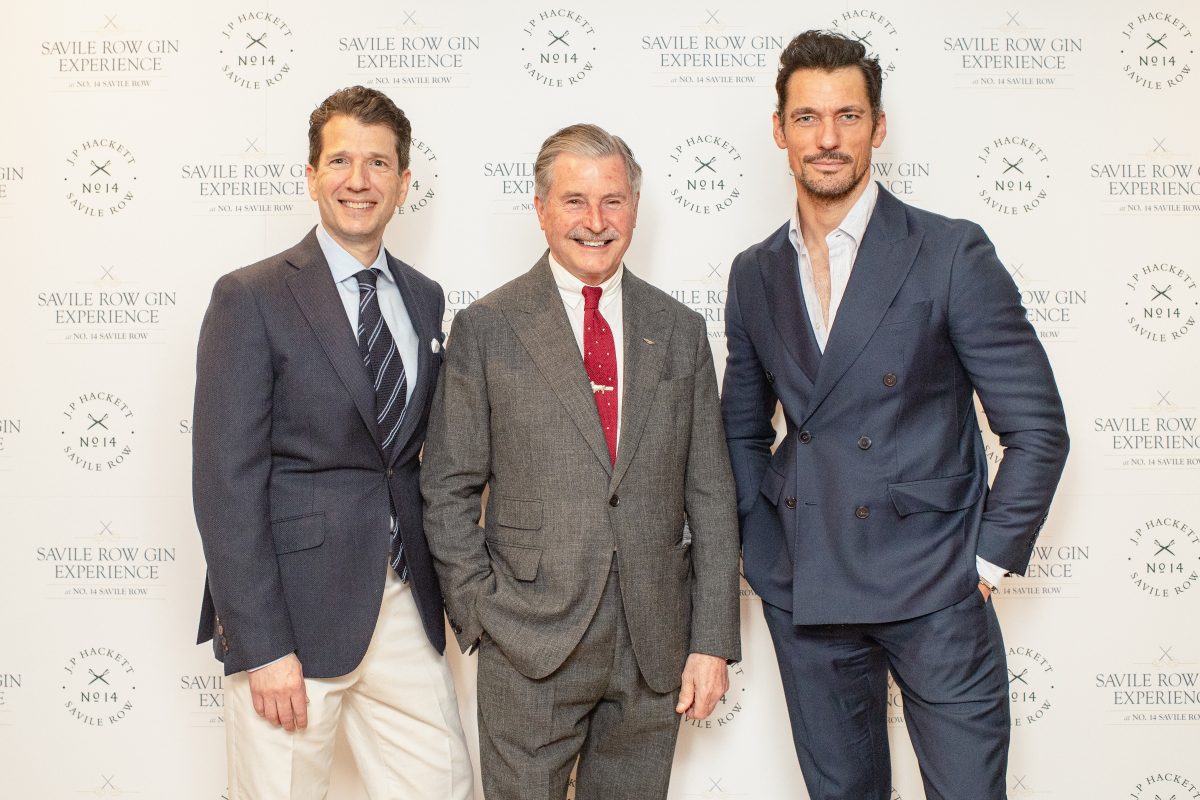 David Gandy, Stewart Lee, CEO of Savile Row Gin, and Jeremy Hackett, founder of Hackett, attend official opening of London's premier gin experience
Savile Row Gin held a stylish party to announce the launch of The Savile Row Gin Experience, where the art of bespoke gin-making meets hand-crafted sartorial flair. It was a night of elegance and taste as Mayfair's newest event hit the ground running. Looking ahead, the immersive, joyful, three-hour experiences will take place on Thursday and Friday evenings and Saturdays from June 9 at the world-famous destination for fine British tailoring – Savile Row.
Stewart Lee, Savile Row Gin founder and CEO, commented: "We have enjoyed hosting many events for the historic tailors in Savile Row. Now we are looking forward to welcoming all lovers of gin, and style, and those that just want a fun night out, to Savile Row. Our team has developed a creative and truly unique experience, with a touch of magic, that is sure to titillate the taste buds and make for a memorable social occasion."
Savile Row Gin's co-founder and Global Ambassador David Gandy added: "It's incredibly exciting to bring together the art of making gin, history and culture to create an imaginative and fun gin adventure. This is a great showcase for Savile Row and the best of British bespoke in all its forms."
The Savile Row Gin Experience will start at the entrance to No 1 Savile Row, the former headquarters of The Royal Geographical Society where famous explorers of yesteryear heading for Africa and the South Pole gathered to plan their trips. Then it's a stroll along the Row, past the iconic window displays of Huntsman, Dege & Skinner and Henry Poole & Co, to No 14 Savile Row, formerly the headquarters of Sir Hardy Amies, dressmaker to Queen Elizabeth II for over 50 years, and now JP Hackett's global flagship store. Here, guests will be welcomed by a perfect Gin & Tonic in the Pink Room and enjoy an insight into the art of fine bespoke tailoring.
Then it's over to the Green Clubroom, and it's Gin time! This stylish and welcoming space was created by JP Hackett for customers to enjoy with its own cocktail bar and where guests will be guided through the process of making Gin – choosing botanicals, learning about the different flavours within them, and what is likely to suit individual tastes. Once the botanicals are chosen, it's time to make Gin in a mini copper still, all overseen by expert Gin stylists and Savile Row Gin's head mixologist who will be serving up Gin cocktails throughout the experience. Come prepared to enjoy some stunning drinks…
What's included:
• A talk on the history of Gieves & Hawkes kickstarts The Savile Row Gin Experience at the world famous No 1 Savile Row.
• A short walk down Savile Row looking at the iconic window displays of the Row's most historic tailoring houses including Huntsman, Dege & Skinner and Henry Poole & Co.
• Come into the home of Savile Row Gin, No 14 Savile Row and a short talk on the art of bespoke tailoring, all while sipping your first drink of the day, a refreshing G&T. We won't give too much away about the décor of the building but expect to be impressed.
• Distil your own Gin on Savile Row and enjoy some delicious cocktails! Each Savile Row Gin Experience serves up a welcome G&T plus at least three cocktails.
• Your own 70cl personally labelled bottle of Gin distilled and bottled in Savile Row.
• A goody bag for all ticket holders. We love our goody bags on Savile Row!
• A personalised certificate of your visit to Savile Row and The Savile Row Gin Experience.
On Saturdays, the venue switches from Green Room to the first-floor drawing room, with views over Savile Row and the space that was once Sir Hardy's private showroom for his customers.
FOR MORE INFORMATION AND TICKETS GO TO: