BETTER THAN A CHRISTMAS STOCKING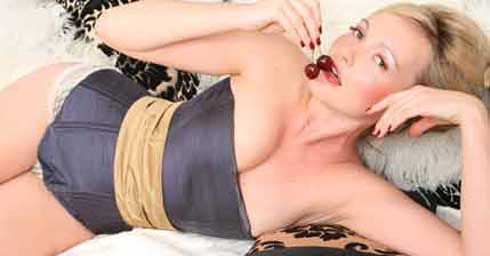 Giving this hand crafted corset with waist accentuating band to the one you love may not be entirely altruistic – but it could bring some excitement to Christmas morning . From the wonderfully sexy Eternal Spirits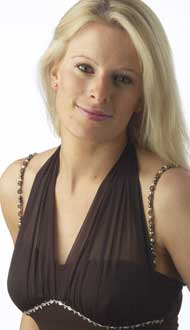 collection, its designer Susi Henson was recently awarded 'Best Corsetiere' title. See more of her luxurious, seductive corsetry and lingerie, made to order, as worn by a gaggle of celebrity names, on www.eternalspirits.com
Alternatively, here's a sparkling idea that caters to the current trend for ladies to show off their bra straps. These jewelled straps may be clipped onto a strapless bra, as here, or worn to cover or complement straps on a bra.
In a variety of beads and crystals, they sell from £15 to £30 a pair, in stores and specialty shops, called simply Glamourous Bra Straps, and the full range is available from their website www.glamourousbrastraps.co.uk
A girl can't have too many fine watches - and the young lady here is showing off two from the a.b.art collection. Ankle wearing may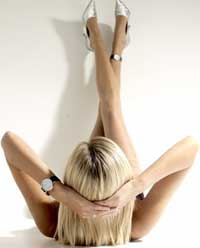 seem impractical but it would bring a whole new interest toasking someone for the time of day - much better than asking a policeman.
These are stylish Swiss watches in the clean, Bauhaus tradition, with soft leather straps in a range of colours.They are likely to be collectors items too, as some designs have been chosen as Modern Classics for the Museum of Modern Art in New York.
Available in the UK exclusively online at www.abart-uk.com, they offer reasonably priced quality at £105 to £235.
Toy to master the combustion engine
Destined to be a great hit for men and women as well as children is a new toy-come-practical kit that reveals the mysteries of the combustion engine.
'Build Your Own Internal Combustion Engine' is a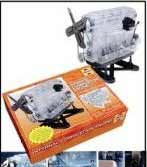 kit that builds up into a realistic working model of the power unit typically found under the bonnet of today's family cars.
Haynes, famous for their manuals, promises that the constructor will be able "to fully understand the workings of a car's internal combustion engine by
lighting up key parts - such as pistons, valvegear, fanbelt and sparkplugs - and providing authentic sound".
They claim that the kit is easy to construct, and provides genuine insight into how real engines work, as well as being great fun to complete. It's an ideal way, they suggest, for children (aged from 10 upwards) and parents to 'bond' over a common engineering goal.
Trouble is father may want to take charge, while the children could be quicker on the building, with mother having to mediate. At just £24.99, perhaps it would be safer to have one each - but definitely a good present. In toyshops, bookshops and other retailers.