SAVILE ROW MEETS THE CREDIT CRUNCH
Spending a few thousand pounds on a suit in the present economic climate may not be the number one priority on every man's shopping list.

So Stowers Bespoke has come up with an idea that chimes with the prevailing theme of recycling and brings Savile Row expertise to bear on the credit crunch. Stowers is offering a "Refurbishment" service.
Savile Row has always provided long-lasting value, and has traditionally provided a repair and alteration service for customers that in some instances has seen people taking back their father's and grandfather's garments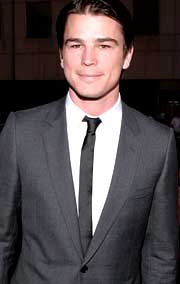 for attention. But Stowers is offering this service not just to their own customers and for their own suits, but to anyone and for any brand of bespoke suit.
Ray Stowers, seen above, who formed the company just last year with two other long-time Savile Row stalwarts, Brian Jeffrey and Brian Pusey, came up with this idea in recognition that many may now prefer to spend £200 or so on revamping an old suit rather than spending considerably more on brand new tailoring. So they will alter, refurbish, repair, maybe replace buttons, put in a new lining, then sponge and press to give a new look to an old favourite.
Meantime, the company has also revamped its Savile Row premises, which it took over when James Levett retired last year. Ray has recently made a successful trip to the UAE, and the company has quite a number of celebrity customers, as Josh Hartnett pictured here.
'MOST WEIRD AND WONDERFUL' TAILOR'S
Bespoke tailoring is by no means confined solely to Savile Row – though some in the Row may think it is. Matching the longevity of many of their establishments is T. Fox & Co., which offers a bespoke service away from the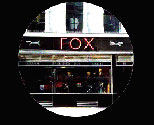 Savile Row environs, in the City of London, and which was recently singled out as London's "most weird and wonderful shop" by Time Out magazine.

Opened in 1868 by one Thomas Fox as a gentleman's umbrella shop, it became a hit with the dandies of the day and went on to offer a barber's shop on the upper floor. Given a magnificent refurbishment in 1935, in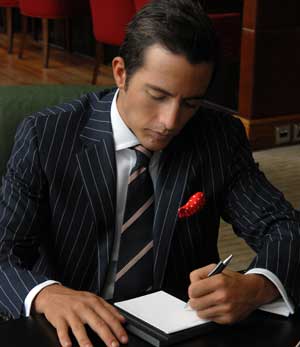 classic art-deco style, as seen above, it is now considered one of London's hidden gems, both in terms of its décor and in the quality of the merchandise on sale.
A new owner moved in about a year ago and is seeking to give the firm a wider appeal and recognition. In addition to its traditional umbrellas, a fully bespoke service is provided by a Savile Row trained tailor, and there is a wide range of ready-to-wear merchandise, accessories and bespoke shoes on sale.Go to www.tfox.co.uk
Classic striped business suit bespoke from T.Fox.
OLD BOOT NEW TWEED
The Desert Boot is celebrating its 60th birthday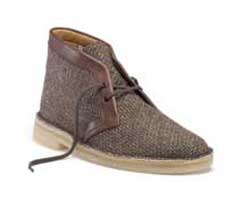 this year,first designed by a young Nathan Clark serving with the West Africa Brigade in Burma in 1949. Its simplicity and comfort have seen it remain popular over the years, worn by such stars as Steve McQueen, Bob Dylan, Paul Weller and the Beatles, to Ghost Face Killer, the Raconteurs, Jonny Borrell and the Arctic Monkeys.
To mark its anniversary, Clark's has designed a special edition range, which includes this classic shape but in an exclusive Harris Tweed cloth. It retails at £89 and should give new fashion appeal both to the boot and Harris Tweed. Go to www.clarksoriginals.com