A new club that brings memories of a famous old one – but with rather more elegance
Are we going upstairs?" That was the question, quivering with tempting delight, that might be the prelude to an afternoon of riotous excess in the seedy confines of an old Soho club known as The Colony – or more familiarly referred to by regulars as Murial's, after the name of the formidable Madame who ran the place. With a sludge green décor long before the prevailing vogue for dark bars came into existence, a carpet that had become more alcoholic than its patrons, and a piano that was as in or out of tune as they were, it was but one of a forest of other such small, dingy establishments that flourished throughout London's West End in the days when licensing laws meant the pubs closed at 3pm.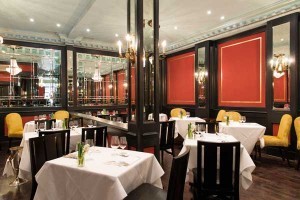 Strange as this may seem today, the licensing law had the intention of sending everyone back to work, albeit somewhat late, after lunch. To visitors to the UK, it was a mind-boggling example of British officiousness and puritanical bureaucracy; and to visitors from out of town, it was equally frustrating. But for locals, it simply meant moving from one sort of hostelry, a pub, to another, a club, where they might be, or more likely were not, a member.
And Murial's was the best bet in town. It drew all the raffish, bohemian, dissipated and boozy elements of society to it like moths to a flame. Forget the somnolent atmosphere prevailing in the grand gentleman's clubs of St. James's. Here was the possibility of a Bacchanalian riot, of drunken oratory, of singing stars trying to follow the piano, of rubbing shoulders with royalty, mafia, artists and vagrants. And over it all presided Murial, calmly putting all and sundry in their place with withering obscenity.
The club and the lady, for she was indeed a great lady, have long since gone to that bar in the sky. But now the question "Are we going upstairs?" may again be asked. For but a short distance from where the Colony once held sway, a new club has just opened that is simply called Upstairs. The brainchild of Laurence Isaacson and Brian Clivaz, responsible for nurturing Home House at its beginning, and in reviving the Arts Club, Upstairs is conveniently positioned upstairs of the grand old Soho restaurant, L'Escargot.
Established here in 1927 in a labyrinthine Georgian townhouse, this French restaurant has attracted a cavalcade of the great and the good over the years, from Coco Chanel to Mick Jagger to Princess Diana. It is stylish, relaxed and now owned by Isaacson and Clivaz.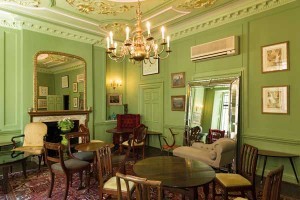 New chef Oliver Lesnik has good form, having trained with Michel Bourdin at The Connaught and with Angela Hartnett. His menu is extensive and though strong on French bourgeois dishes, is not constrained to them. Snails of course feature – from both sides of the channel. And while there are plenty of fine wines on the list, it also starts very reasonably at £18 for a bottle, and there is a good wine to be had every day by the glass.
Up the grand staircase from the ground floor restaurant, the new club sprawls over a warren of large and small rooms, up and downstairs, a wonderful mishmash of comfortable chairs and sofas and small nooks and crannies. This is a 280 year old town house, and it retains its vintage charm whilst having been completely refurbished, and decorated with an extensive and suitably eclectic art collection.
At the top of the house is a stunning barrel vaulted room, the Salon Grande Siecle, with its glass dome revealing a great expanse of the heavens – and sunshine per chance. The smaller rooms provide cosier snugs for eating or drinking or even working! And of course there is the great advantage of having fine fare from the restaurant available, and all day. It is open from 8am to 1am, so it's possible to dine here from breakfast to supper.
The owners are determined to make it a real club, one largely based upon a membership of like-minded individuals – known to the owners. At just £365 annual membership fee – £1 per day – they are likely to find they have a lot of friends.
…this French restaurant has attracted a cavalcade of the great and the good over
the years, from Coco Chanel to Mick Jagger to Princess Diana…